Cut Your Writing Time in Half
Bramework's AI-powered writing assistant helps you write engaging, SEO friendly, long-form content and blog posts that convert.
Join over 3,000+ Bloggers,
Entrepreneurs, and Marketers.
⭐️ ⭐️ ⭐️ ⭐️ ⭐️
"I love Bramework. When I was searching for something related to a blog I wrote using the program and saw my blog ranking as #1 and #3 in search results, I almost cried. I believe the Bramework AI Assistant helped me rank. I am glad I came across the software.
Thank you!"
Suweeyah - Coach
⭐️ ⭐️ ⭐️ ⭐️ ⭐️
" I created my first blog post yesterday using Bramework and I loved it! It was so fast and easy, and I LOVED that we can do keyword and SERP analysis right in the same platform. The outline builder and the photos were an added bonus as well. Thanks for creating a platform that makes sense and that will save me time and sanity 🙂 "
Janice H - Marketing Strategy Consultant
⭐️ ⭐️ ⭐️ ⭐️ ⭐️
" I dig the app. Super helpful tool. Super easy to use and helps to crush the empty page."
John M - Business Owner
⭐️ ⭐️ ⭐️ ⭐️ ⭐️
"Bramework is super tool and easy to use, one think I love in bramework SEO and Keywords search tools, I mean we do everything in one place, WOW."
Zadi B - Blogger
⭐️ ⭐️ ⭐️ ⭐️ ⭐️
"This is one of the best tool to write content very fast"
Manan R - Blogger
⭐️ ⭐️ ⭐️ ⭐️ ⭐️
"This software is cutting edge for sure. After following the tutorials, all I had to do was click two or three words and the AI did the rest. I like the fact that I can reword or add to it..."
Corey H - Teacher
⭐️ ⭐️ ⭐️ ⭐️ ⭐️
"It's really amazing and productive experience to work with this brilliant tool. I am sure, with the passage of time it will improve further."
Faizan M - Blogger
⭐️ ⭐️ ⭐️ ⭐️ ⭐️
"I love it! I think it is great because of the simplistic workflow and integration. The writing experience for me is much better than with other AI writing tools including the relevancy of the recommendations/suggestions."
Mary B - Faith Group
⭐️ ⭐️ ⭐️ ⭐️ ⭐️
"What I like about this tool is that it's so easy to use and understand. I can quickly decide if I should write about a topic."
Liz - Blogger
⭐️ ⭐️ ⭐️ ⭐️ ⭐️
"Overall, I think the step-by-step guide works really well, because it's easy to use for the average non-blogger."
Ivo - Digital Marketer
⭐️ ⭐️ ⭐️ ⭐️ ⭐️
"I think Bramework is an awesome platform. The functionality is smooth and the interface is sleek. The platforms helps with the writing process."
Denise - Marketing Coordinator
⭐️ ⭐️ ⭐️ ⭐️ ⭐️
"Bramework is a game changer for content marketers and SEO specialists, saves me hours of research and writing time."
Ish - SEO Specialist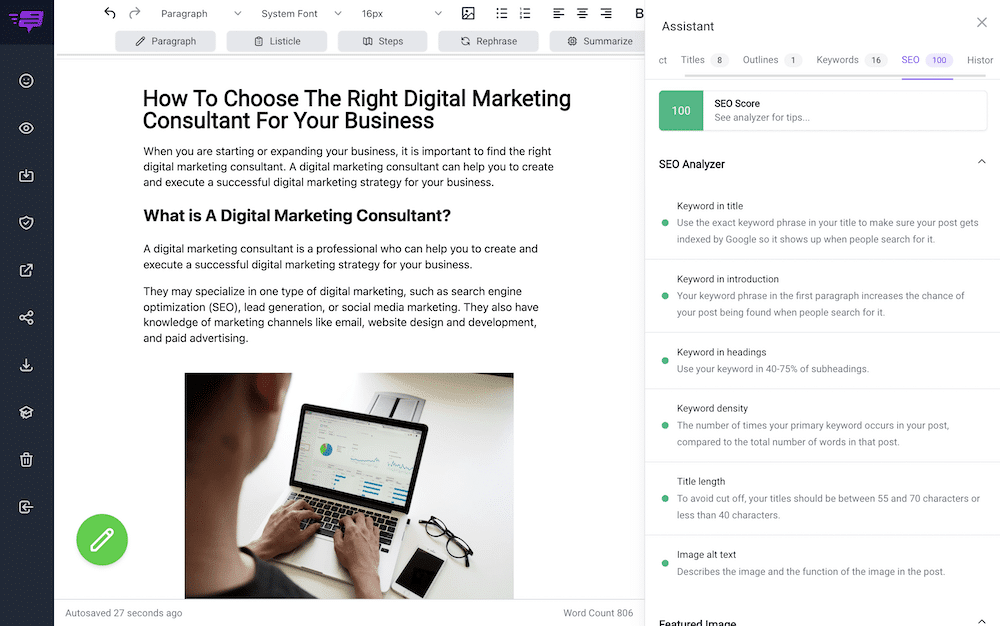 No More Writer's Block
Does it take you hours to write one blog post? 
You have to do keyword research, come up with a title, create an outline, write content, find images, and more – praying that the Google gods will rank your post.
Bramework takes care of all those tedious steps and helps you write a quality blog post faster than ever.
Never stare at a blank page or Google doc again!
Keyword Research Made Simple
Search Engine Optimization (SEO) is important to get the right people to see your content.
So stop wasting time using dozens of tools to figure out if this keyword and topic is worth writing about. 
Our Keyword Analyzer give you phrases, trends, and common questions people are searching for online.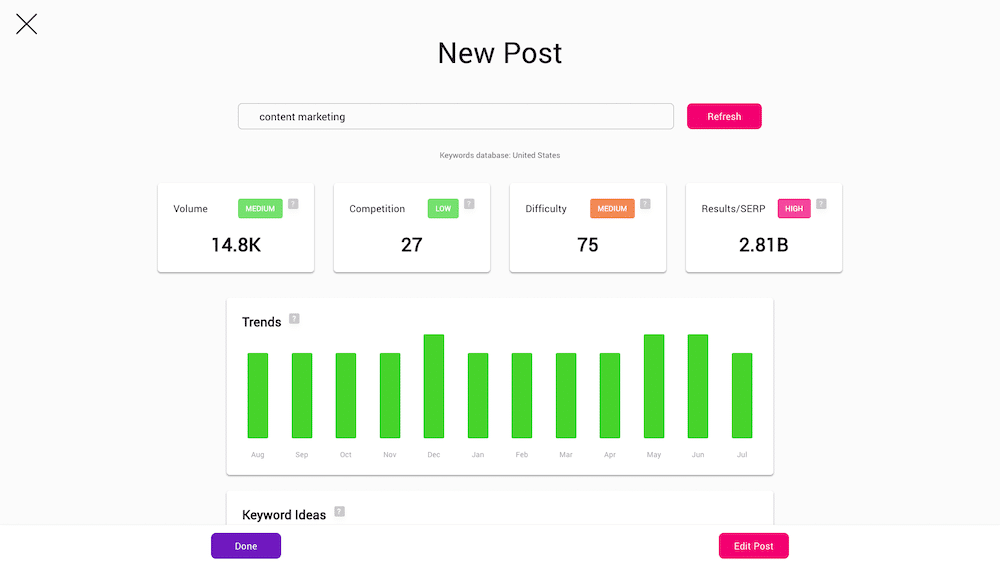 Increase Brand Awareness
You will not win with marketing, if your brand lacks a strong online presence.
Bramework does this by helping you get your first draft done quickly. Taking the pressure off writing and brainstorming.
Reach new readers, boost website traffic, and spread your brand's message.
How Does it Work?
Write faster, better and smarter in just 3 simple steps.
Step 1. Enter your primary keyword or topic.
Step 2. Select or add additional keywords or questions you'd like to cover in your post.
Step 3. Click create and within seconds your outline is generated by our AI writer and ready for your personal touch.
What technology is behind Bramework AI?
Bramework AI content generator is powered by GPT-3, SEMRush and our proprietary algorithms to provide you high quality content.
What about plagiarism?
Don't worry! Although Bramework's algorithms make sure the AI produce original content, we also included a plagiarism checker powered by Copyscape.
How do you charge?
Once your free trial period expires, providing you have entered billing information, Bramework will collect your plan price, any transactional charges from your debit or credit card you stored on your account once per calendar month in advance. We accept all major debit and credit cards (Visa, MasterCard, American Express, and Discover) and PayPal. We only accept USD at this time.
Can I change my subscription at any time?
You can upgrade and downgrade your account at any time from the billing page in your account, you will be able to access the new plan's features immediately and you will be charged or credited proration on your next billing cycle.
Can I cancel my account at any time?
Yes. Email us support@bramework.com to cancel your account. We don't tie you in to any contract, you can cancel at any time before your next billing period and you won't be charged again.
What happens to my data when I cancel?
Your data will remain in your account for a period of up to 90 days from the date of your last payment. If you wish to take a longer payment vacation, you can arrange a reduced payment plan to cover storage with our support team.
How are post credits deducted?
One post credit is deducted once you select or add keywords and questions for the AI to write about. You are not deducted post credits when you generate text using our AI writing tools.
​
What is Bramework?
Bramework's software helps you create blog posts in minutes. Created by digital marketers and bloggers. Our mission is to empower your message to reach a larger audience, faster.