17 Best Blogging Platforms Compared (2023)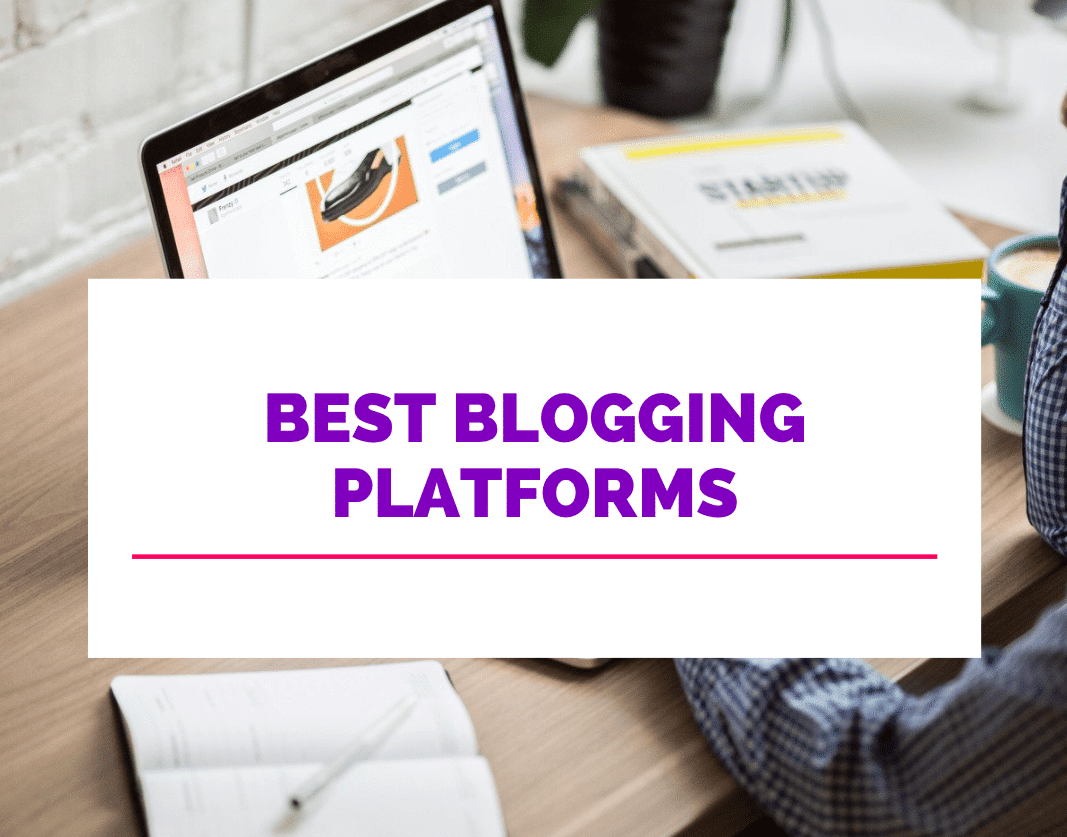 Want to know the best blogging platforms, and find the right one for you?
There are so many different platforms to build your blog on! The good news is that we're going to break down the different blogging platforms for you, along with the pros, cons, pricing options right here.
We researched all the blogging platforms in the world to bring you the 17 best to chose from.
Ready to find get your blog research going?
Best Blogging Platforms Compared
There are a lot of blogging platforms out there. It's important to find the right one for you.
Here at Bramework, we're in the business of blogging so we know a bit about the various platforms and hope to help you decide which one is right for you!
We are reviewing and comparing 17 of the best blogging platforms out there:
WordPress.org
Constant Contact Website Builder
Gator
WordPress.com
Blogger
Tumblr
Medium
Squarespace
Wix
Ghost
Typepad
Drupal
Joomla
Weebly
Strikingly
SITE123
GoDaddy
Cost of Blogging Platforms
Before we start comparing, how much should you budget for your blog?
That all depends on the plan you choose and the platform you choose it on! A website builder can cost anywhere from $10 per month and up. Options such as eCommerce shops, hosting, storage and security, are some of the things that might drive your cost up.
It's true, blogging platforms can be more expensive with add-on costs, but keep in mind these are features that may not be needed. Aside from their monthly or yearly subscription fees, you won't likely need to pay much more than their nominal fee to get your site up and running. You'll need to think about hosting, domain purchase, updates, backups, security, and customization as well.
The benefits of blogging are endless. Set aside a monthly budget that you feel your website is worth – it could generate a lifetime of value. It's worth the investment!
Before we begin to dive into the best blogging platforms, we do have to say something about "free" website builders. We want to be 100% transparent with you in that they are truly never free. They typically have a few strings attached.
Here are a few things you should know. There are limitations like the number of pages, no domain, advertisements, limited storage, limited or no customer support, and restricted features.
Always, always read the fine print.
We are going to compare the best blogging platforms for you.
Looking for the best blogging platform? This article from @Bramework breaks down all the best ones – plus pros, cons, pricing and more! #bestbloggingplatforms #blogginghelp
Click To Tweet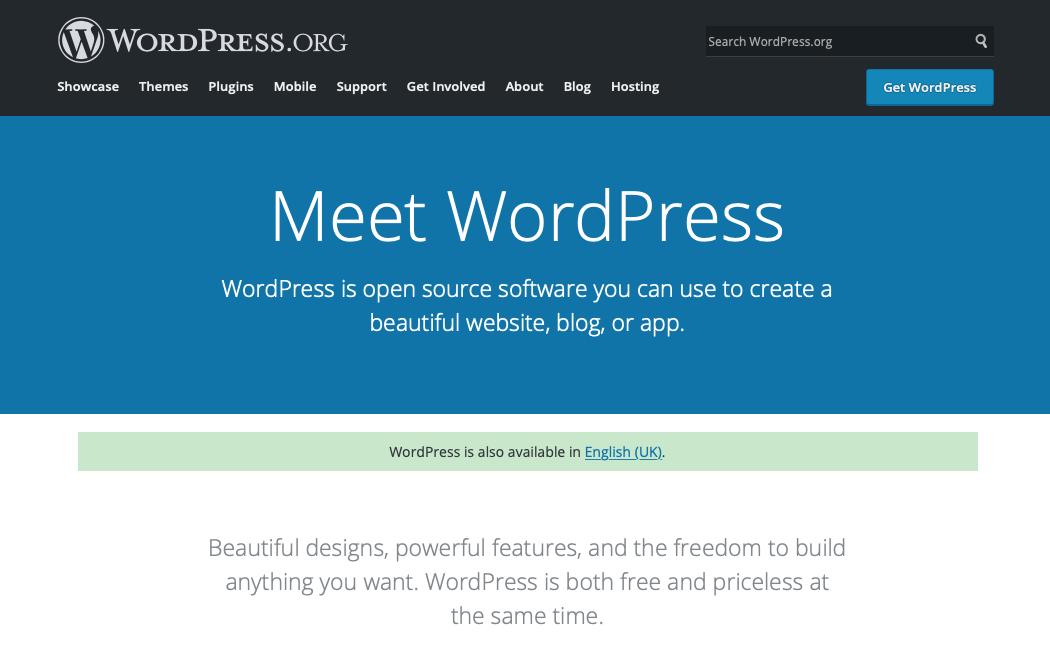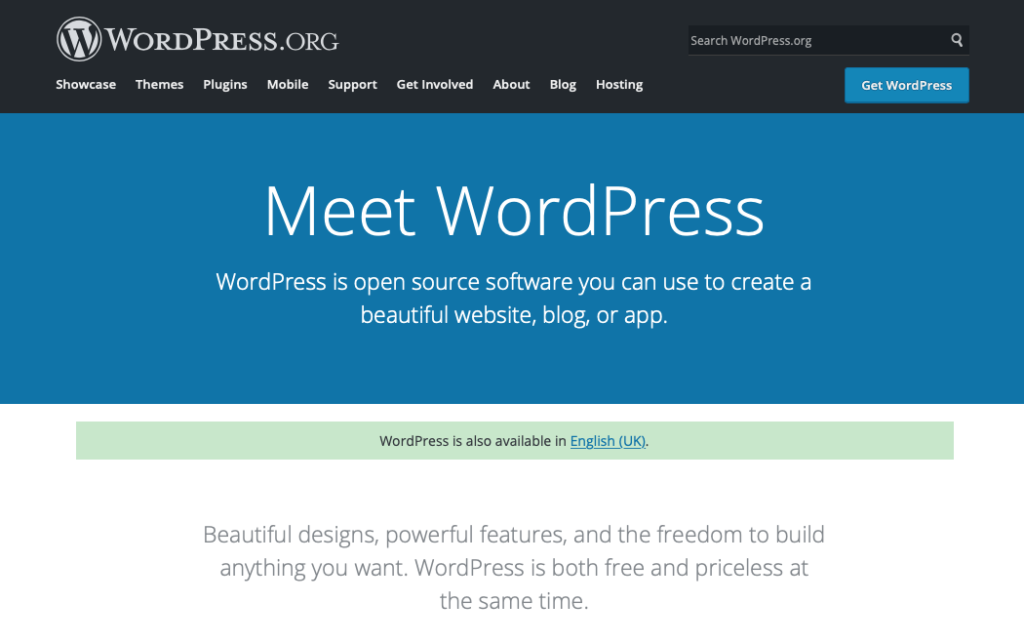 WordPress is the most well known and popular blogging platform in the world. WordPress.org is a powerful open source software that offers multiple features. But did you know there are essentially two platforms to choose from within WordPress? There is WordPress.com and WordPress.org – and they are actually different!
Over 35% of the web uses WordPress and it has a huge supporting community. It offers amazing blog capabilities! Let's dig in.
Pros
Choosing WordPress.org for your blogging platform will allow you to fully customize it with the ability of plugins. You also have 55,000 plugins to make your blog stand out from simple formatting to advanced SEO. And lastly, you will join a very uplifting community that supports WordPress users online for optimal reach.
Unlock the Secrets to a $10K/month Blogging Income
👋 Take the Leap
Join the Waitlist for Our Revolutionary Blogging Academy and Propel Your Blogging Career to New Heights!
Cons
WordPress.org can get very complicated very quickly. This blogging platform can be confusing for non-techy people and may require additional support for creating the "blog of your dreams". With all the different add-ons needed to make your blog the best it can be, there are a lot of overwhelming choices. It also requires a subscription fee for a domain and a host – add that on to your costs.
Pricing
The pricing options for WordPress.org range from free to monthly subscriptions. According to WebiteBuilderExpert, here's a quick rundown of the six WordPress pricing factors you'll need to budget for when using WordPress.org:
Domain name: $12/year
Hosting: from $3.95/month
Pre-made themes: $0 – $200 (one-off charge)
Plugins: $0 – $1,000 (ongoing or one-off charge)
Security: from $50 (ongoing or one-off charge)
Developer fees: $0 – $1,000 (one-off cost)
For what it's worth, here at Bramework we love WordPress.org!
Before you choose a blogging platform, think about the best place to host your blog for maximum exposure.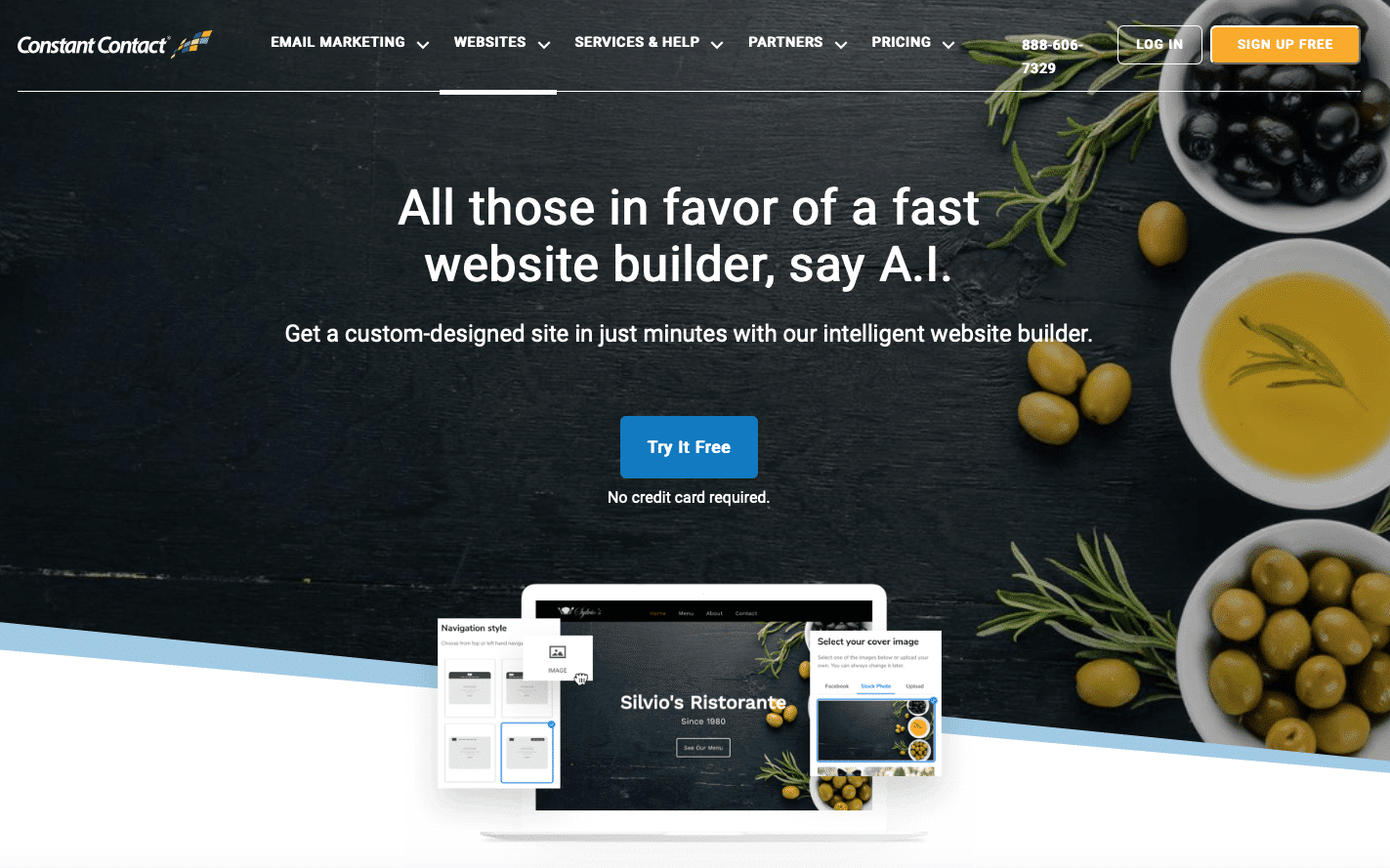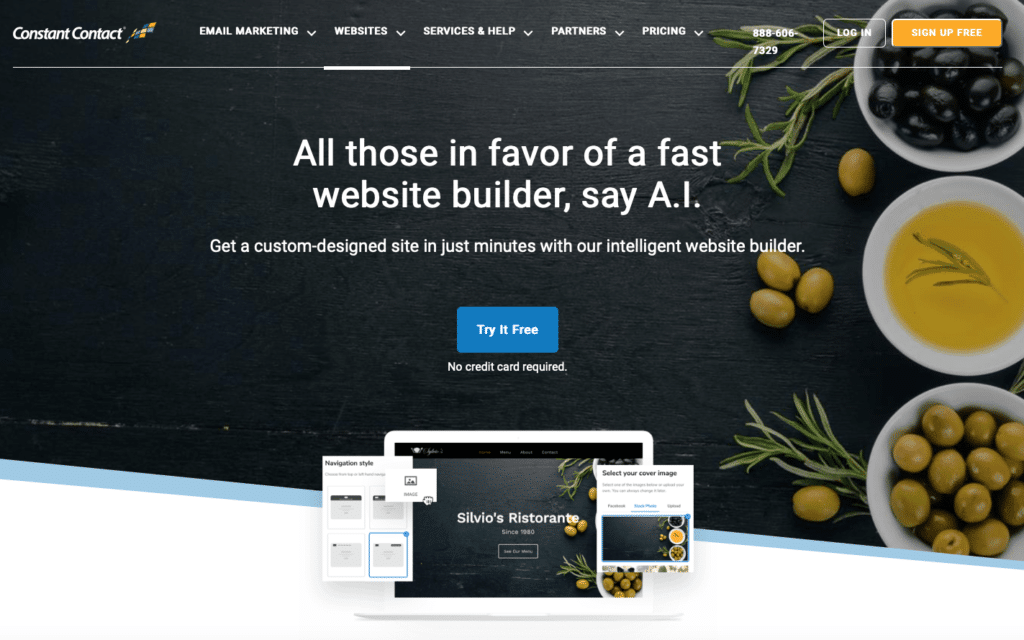 Constant Contact Website Builder boasts they are one of the best blogging platforms and that they have all the tools to help you do just that – blog. If you are looking to build your brand, launch your online presence and grow your audience, it's a great platform. They have a lot of blogging features that are high quality!
Pros
Constant Contact Website Builder doesn't just stop at being a platform for blogging. They offer marketing help and eCommerce assistance which could grow your content in many different ways. It's also an inexpensive option to host your blog with a lot of included features!
Cons
The blog is built right into your website with Constant Contact Website Builder, however in order for you to fully customize, you will need to pay for a plan. The free blogging feature is limited and requires a lot to get off the ground.
Pricing
Try it for free, however, you know what they say about free – you get what you pay for. Website plans begin at $10 per month that include storage, security, blog, analytics and connecting your domain. You will get a pretty fast and inexpensive website option with Constant Contact Website Builder.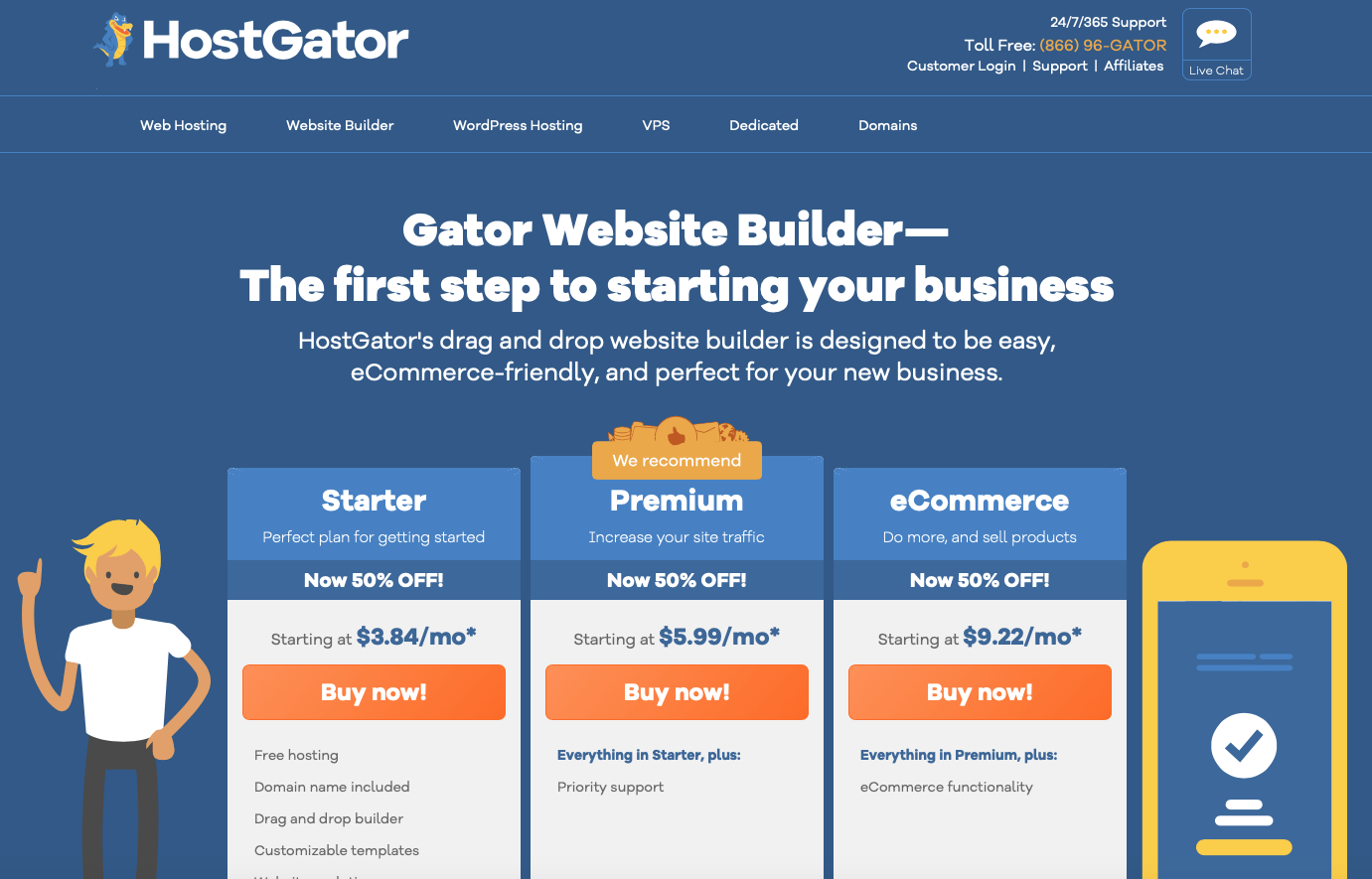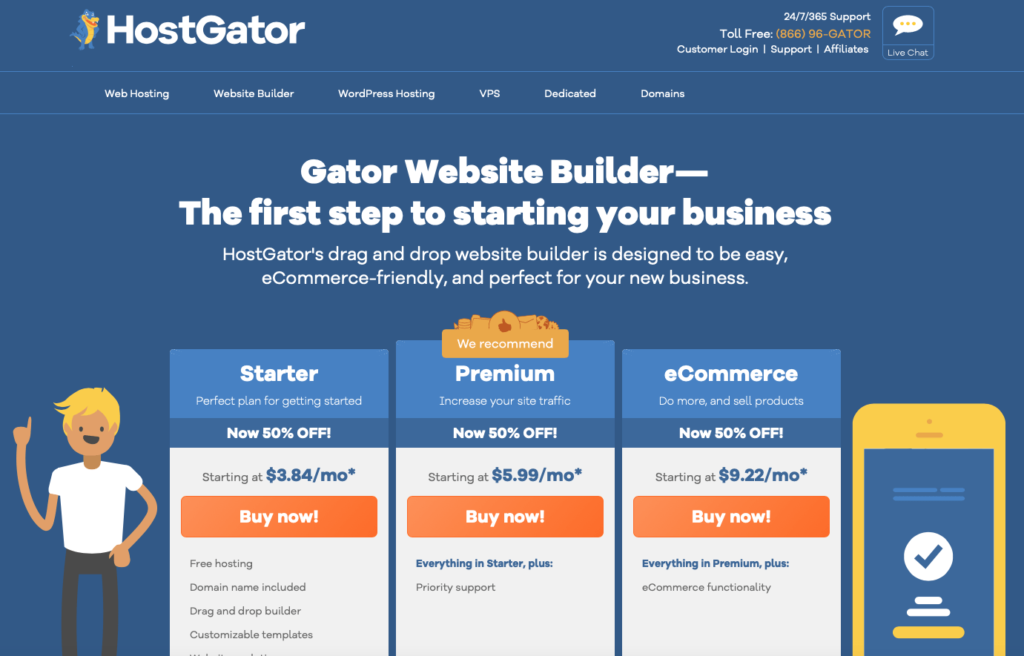 Gator Website Builder, by HostGator, is a drag and drop website builder designed for ease. It claims to be great for small businesses and eCommerce shops. If you like HostGator, you will love Gator. Many of the features carry over to Gator including free hosting! Keep reading for more info.
Pros
Host Gator has so many options, free trials and monthly addon features included that it feels like you are getting a lot up front. The customizability is endless when it comes to your blog if you are willing to put a little money down!
Cons
The blogging platform is available on the free plan but it's not customizable in the least. In order to truly see your blog shine, you will need to go for a paid plan. Be sure to read about the fees there as they tend to stack up.
Pricing
You can test a free trial for about a month…beyond that, you'll have to shell out a bit more dough. Start your Gator website plan at $3.84 and up monthly. That's not a bad price for a website! At $6.99 and $15.99 per month, respectively, both of HostGator's plans are affordable. Watch out for those hidden fees!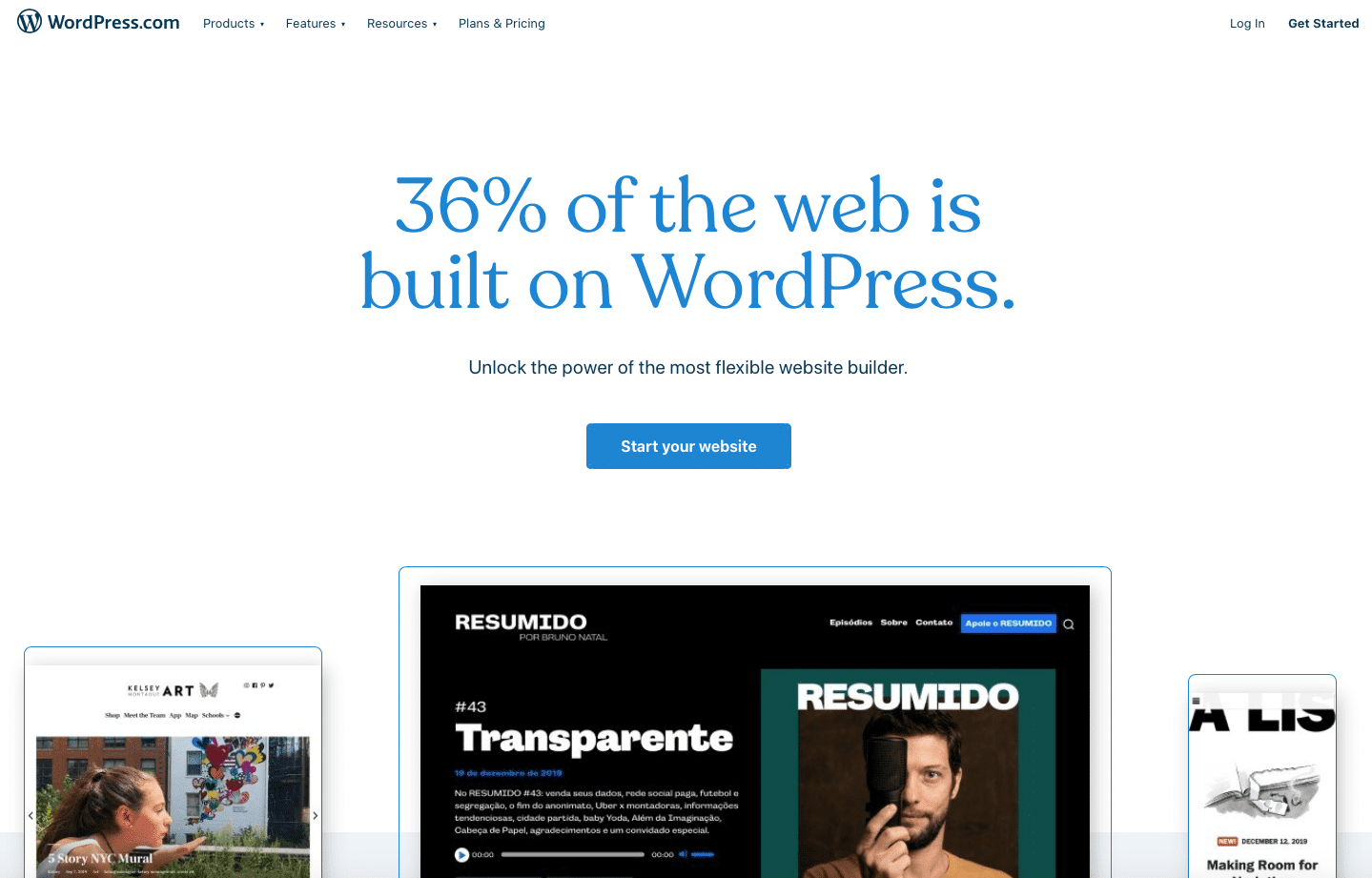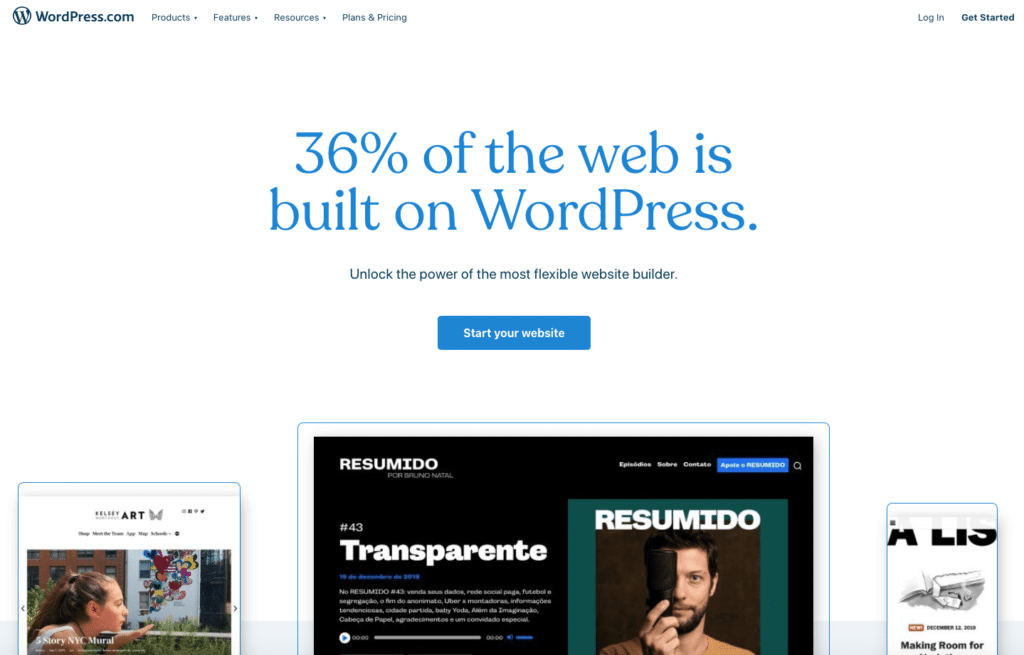 WordPress.com is another great avenue for those that are looking for a personal blog. This is the alternate universe of WordPress.org. You don't need a hosting partner or a domain purchase, it's all rolled into one low monthly plan. If you're a freelancer or a business, this is a great option! You're still affiliated with the wonderful WordPress community too. The blogging platform runs on classic editor or Gutenberg if you're on the lowest plan. Upgrade from there and you have your choice on how to tailor your blog!
Pros
This is a very inexpensive option for what you get! There is no hassle worrying about setting up your hosting partner or domain. You can purchase the lowest plan and you have a website, ladies and gentleman. It's easy at that. Also, WordPress LIVES for blogs! Content is their life, you will have a lot of great customization options there.
Cons
As far as blogs go, the themes and widgets may be restricted on the lowest plan – but Gutenberg drag and drop page builder is easy as pie! You can customize to some extent, but you will have to upgrade to truly install the plugins needed to track and optimize your blog for SEO.
Pricing
Personal sites with limited themes and templates begin at $4 per month. You can upgrade this for plugin access, SEO help and tracking to a business plan or higher. It's worth it! You also get access to WordPress Reader which is a an engaged and sharable social community for content.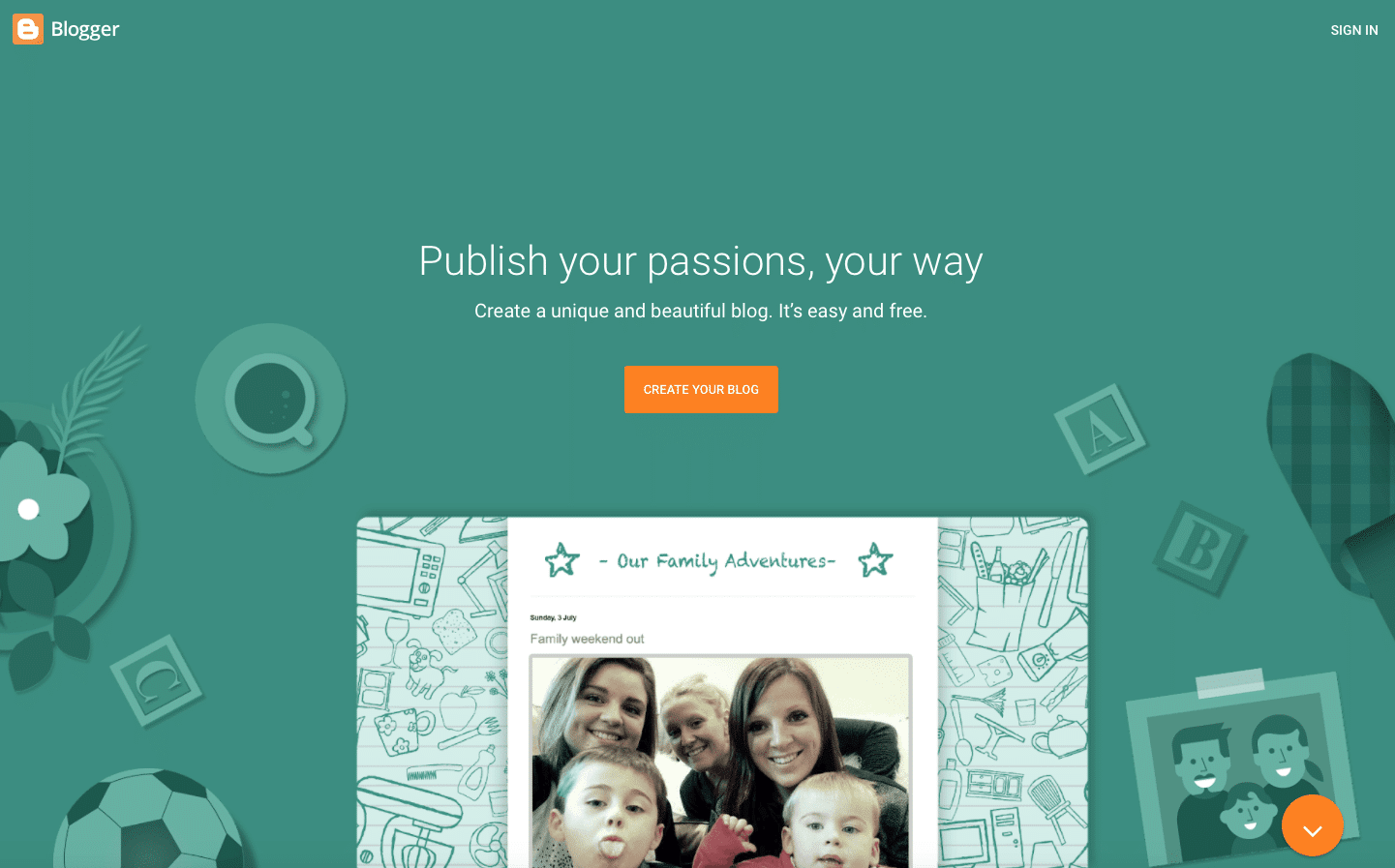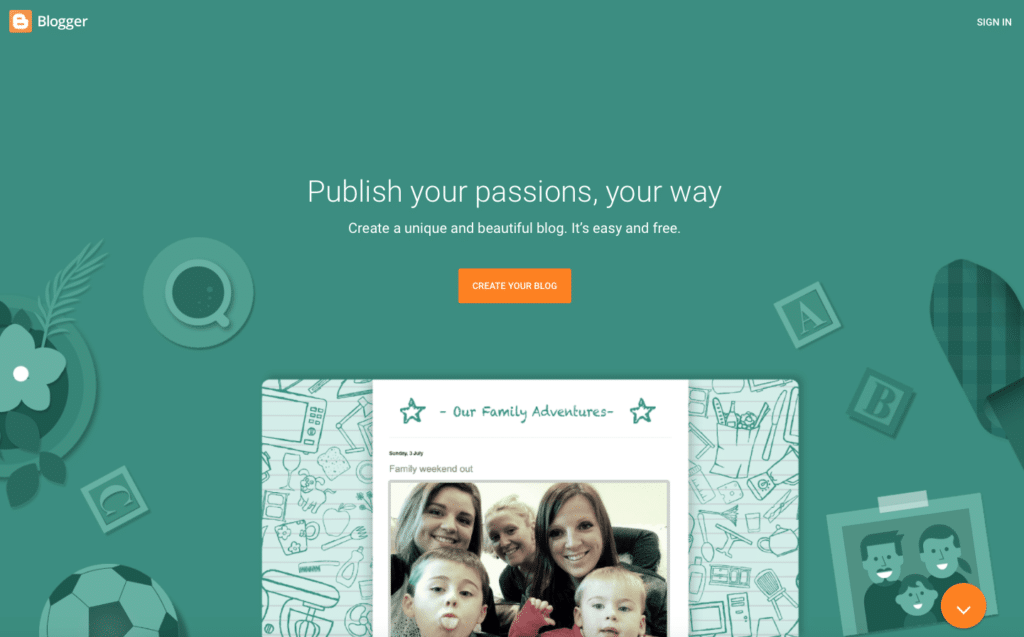 Blogger is Google's blog-focused platform, did you know that? It focuses on accessibility, ease of use, and has freemium options. Blogger made blogging a thing you do on the internet back in the day and still rocks it out. One note about Blogger is that it focuses 100% on blogging, not much else. Let's find out more!
Pros
Blogger is incredibly easy to use! If you're familiar with Gmail, you can navigate this with ease. It has Google integration if you use any other Suite services. It's also fast and performs well according to user reviews. There are a lot of users who are socially engaged and are happy to share, like and comment on content.
Cons
It offers little in terms of content management. It also does not offer customer support. Another downfall is that the product sticks to traditional blogging even with the evolution of content. With integrations on regularly updated websites not available, it's hard to promote content to your social network easily.
Pricing
Blogger is free for a website on the blogspot.com subdomain. You will receive unlimited resources to run your blog. You even get a free SSL certificate, ready to go. There are no setup fees or upgrade costs. There are no ads on your blog unless you opt-in. Blogger is one of the services that Google provides for free, so they bundle Blogger with your GSuite.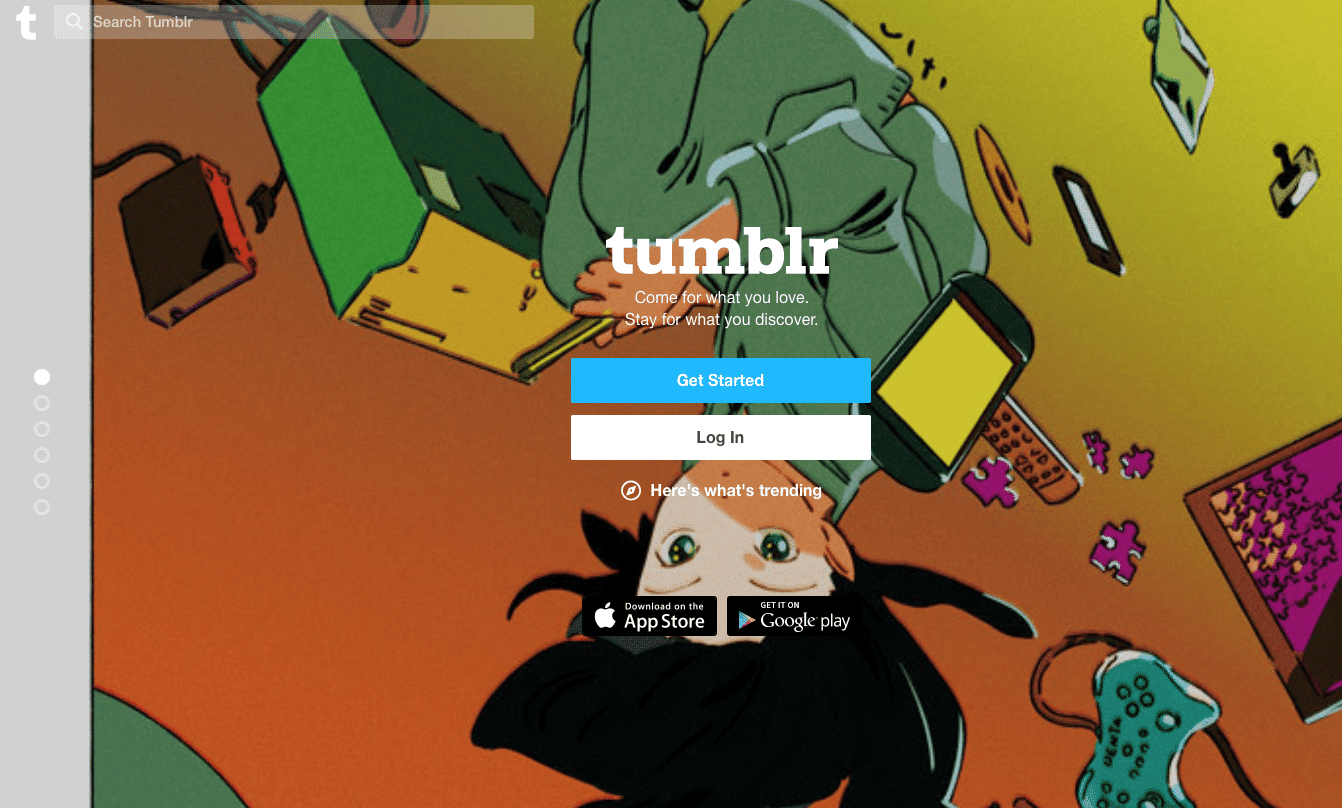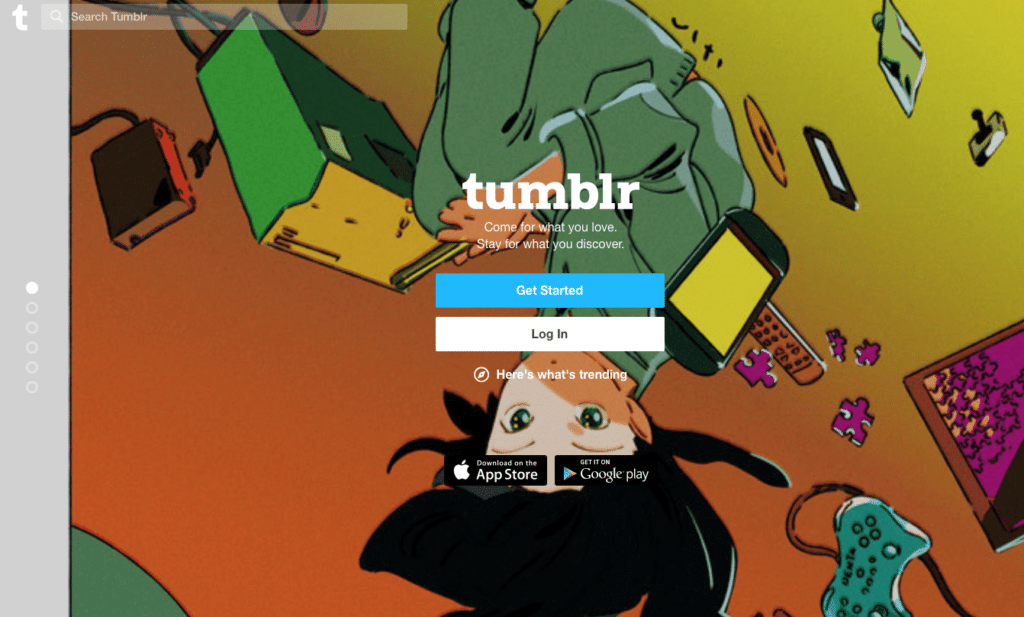 Tumblr is the Twitter (or even Instagram) of blogging! It's filled with a huge community of members that post regularly. It's full of engaged members, stimulating imagery and an overhaul of content. This is an interesting blogging platform for sure!
Pros
Simplicity and community jump out to us about Tumblr. It is an extremely easy platform to set up, navigate and optimize. It is very popular in the social media world (check the age groups associated!) and has a very engaging community.
Cons
You are looking at sharing your SEO with the Tumblr.com world so you will not be able to grow organic traffic to your own website. The formatting for blog options is limited to Tumblr's style only. If you wanted to be completely free in your blog, Tumblr might not be the right blogging platform for you.
Pricing
Tumblr is a free platform. They offer premium versions, ranging from $9 and $49, that give the user the ability to further customize, but the free version is sufficient for a great blog platform.
Make sure you don't limit your content by choosing the wrong blogging platform. Pay attention to the details of every plan!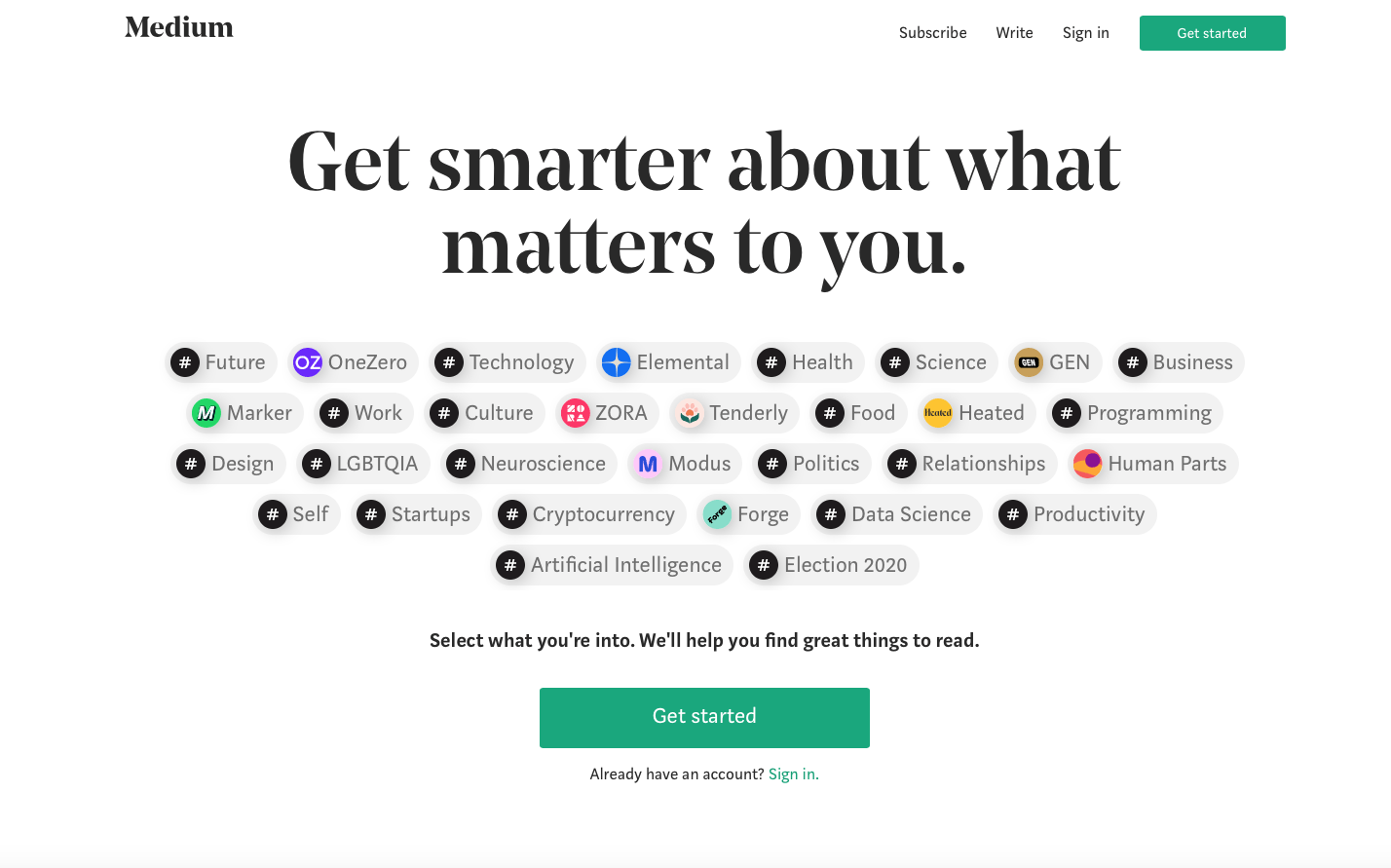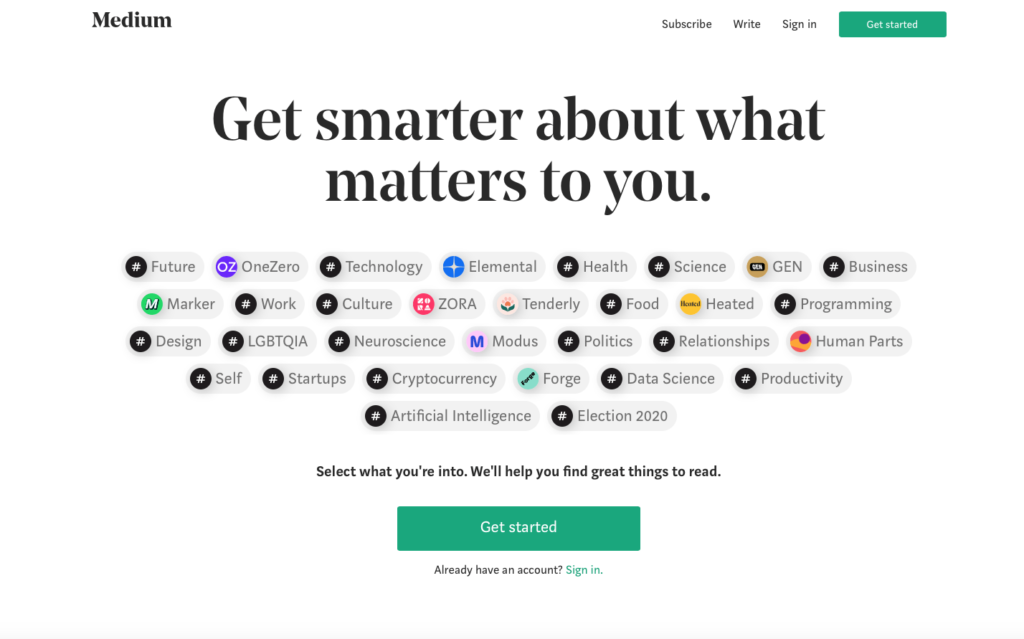 Medium is a lot like Twitter for longer content, except it has an algorithm that helps you find stories that you're interested in. If you're not into building SEO, keep reading. There are many pros and cons to Medium and it is a controversial blogging platform for several different reasons.
Pros
It averages about 60 million readers per month. As a new blogger, you can't beat that exposure starting from scratch. Also, Medium pays! They offer the Medium Partner Program, which pays guest authors based on their system of "claps," which is similar to likes on Facebook. Payment is payment though, right? It also has a great import tool!
Cons
The traffic is not directed to your own domain to increase organic SEO. Medium is a third-party site so you don't have full control of your data and posts. When Medium makes any changes to its plan or design, your blog does too. Sometimes without your consent. There is no metadata control, no CTA tracking, and no republishing. We all know how important it is to repurpose content.
Pricing
For $5 per month you can become a Medium member. Unlimited access is available to all the best stories and gives you unlimited, ad-free access to these. You also get the monthly magazine, intros to exclusive columnists, and themed collections. If that's what you're into, check out Medium.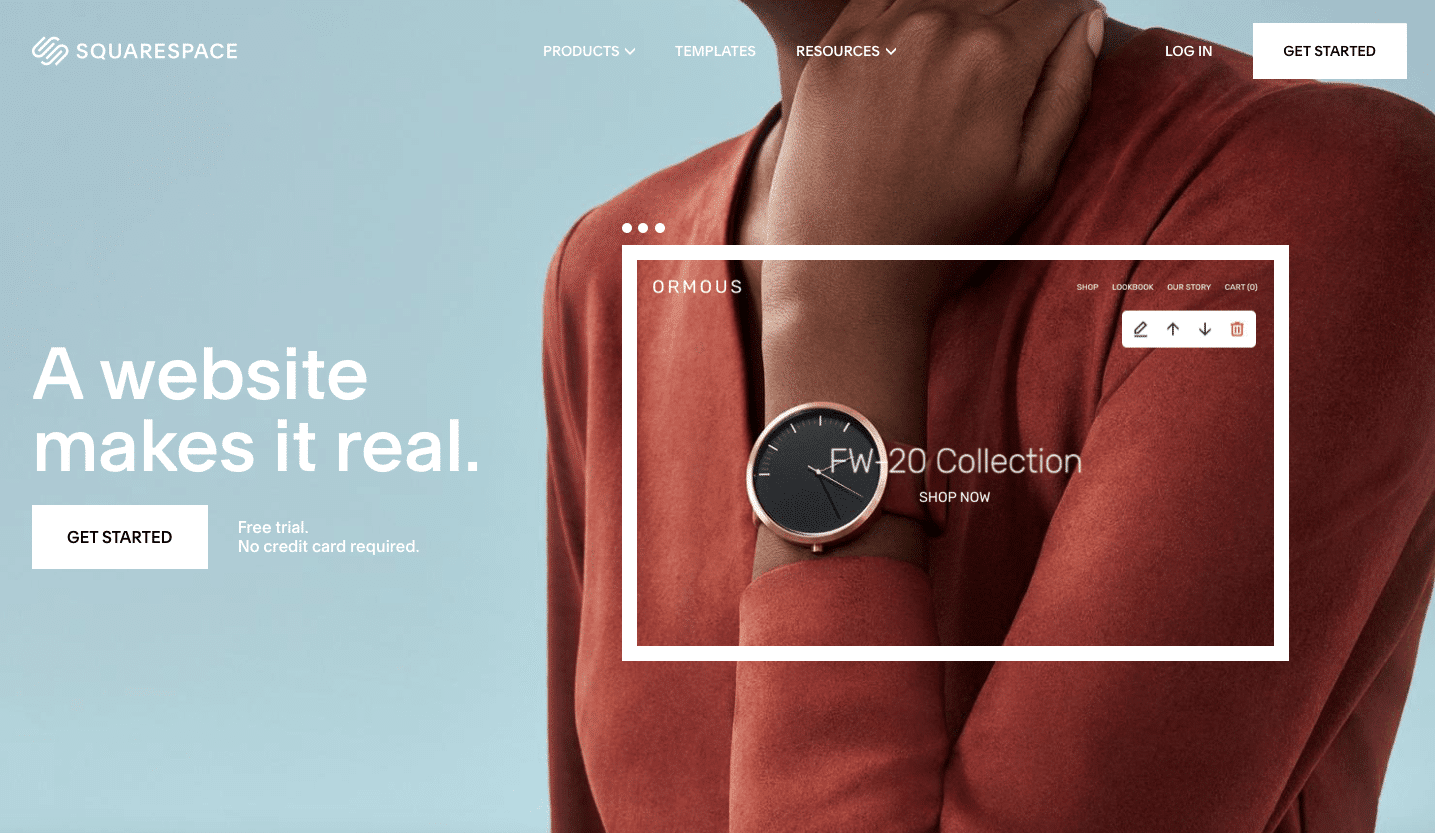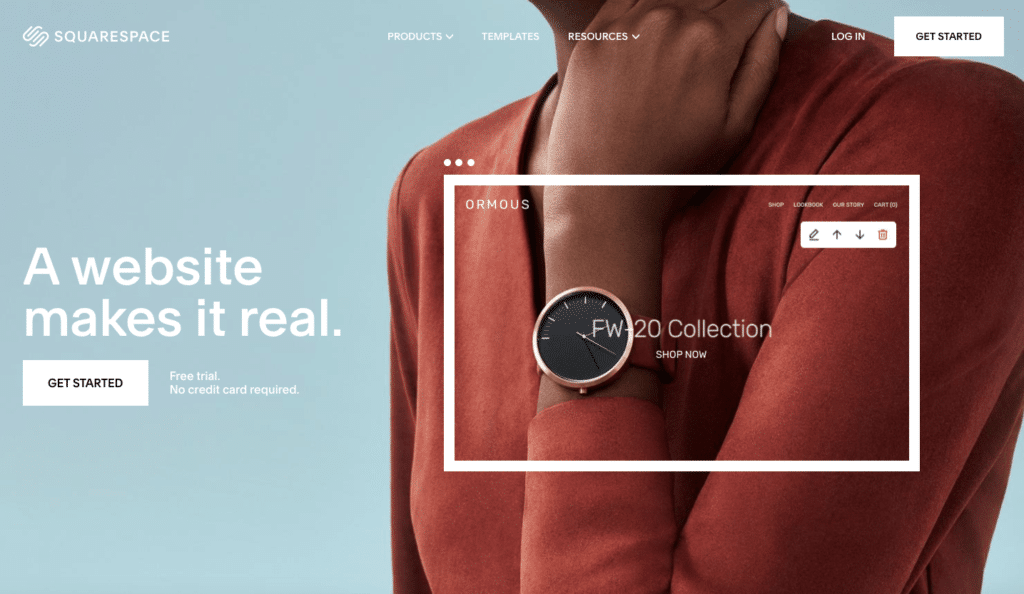 Squarespace is a website building platform that aims at simplicity. You can create a very professional design without coding abilities pretty easily. The ability to edit your website with ease makes it a user-friendly content management system. They rock out the templates too!
Pros
Blogging is their thing at Squarespace. They offer over 100 themes and templates, and extensive blog features. They offer support and mobile app readiness. They pay attention to every detail when it comes to blogging – formatting, fonts, image optimization, and high customizability.
Cons
It is a bit complex when it comes to usability. Squarespace is not suitable for larger websites and is not really able to be multilingual. It also has low ratings on page speed! That's an important one.
Pricing
Starting at $12 per month, the personal plan is a good solution if you don't need eCommerce. They offer business plans starting at $18 per month including transaction fees and advanced online store features that range to $40 per month. Lots of choices!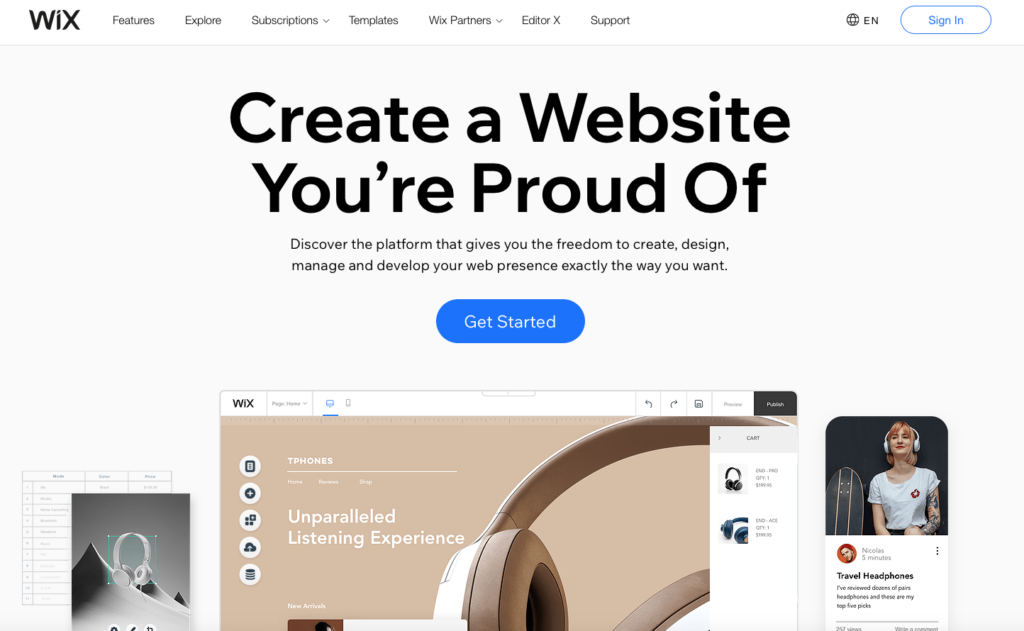 We like to think of Wix as the website for non-techies. Focused on user experience, it has a powerful drag and drop editor which is adaptable to your level of tech knowledge. The workflow is smooth and no coding skills are required. Wix also has a massive list of elements allowing you to make changes to your blog with ease.
Pros
Wix now covers all SEO capabilities that most standard websites need. With over 70 categories Wix covers pretty much every type of business. They offer over 500 professionally designed templates. Wix templates are mobile-friendly. Wix also has a huge help center consisting of thousands of articles, covering the entire platform.
Cons
A few cons of Wix are that the templates aren't interchangeable, on the free plan Wix enables their branding, tracking and analytics require a paid plan, your site isn't transferrable and premium plans are single-site only. If none of those qualifications apply to you, Wix is a great option for a blog
Pricing
You can create a website on Wix for free – however you know there are limitations there. Wix provides several pricing plans including Premium Plans that are well structured. You can spend $5 – $25 per month to get a multitude of upgrades. Upgrading your plan is worth it for your blog's sake.
Are you looking to build SEO, engagement or grow an eCommerce store with your blog? These factors matter when you take the leap on choosing the best blogging platform.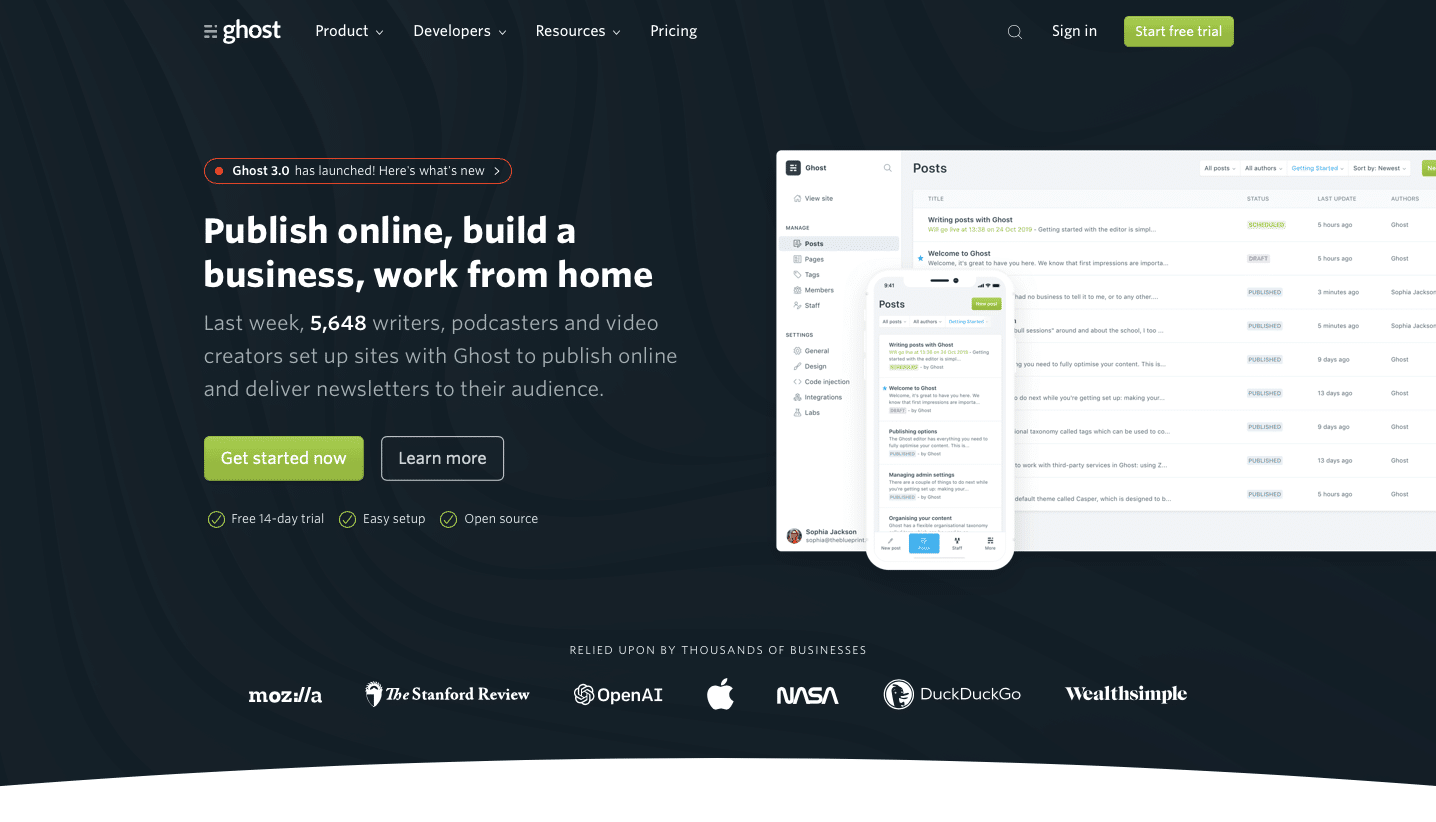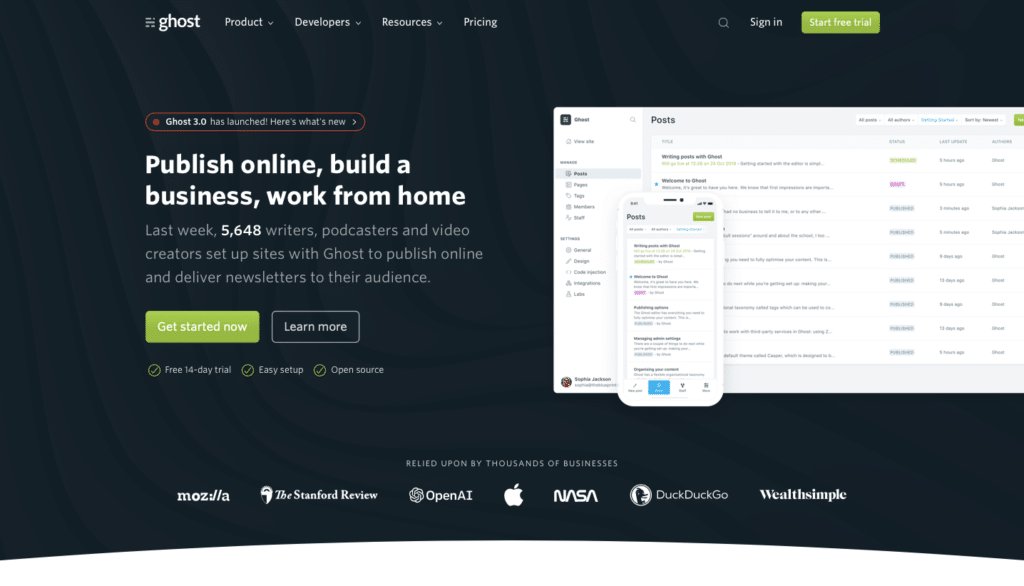 Ghost is a free and open source blogging platform. It's written in JavaScript and designed to simplify the process of blogging. It's geared towards individual bloggers as well as larger online publications.
Pros
With its simple, clean design – it's impossible to distract your reader from your content. Ghost's main mission is to help you create content with built-in SEO and social sharing. It's also very affordable and incredibly fast.
Cons
If you are a plugin lover, Ghost is not for you! There has been some feedback from users that there are some glitches as their team works through different upgrades in the platform. We expect they will continue to make this better as time goes on.
Pricing
Free is free with Ghost. They offer Ghost Pro starting at $29 per month which gets you hosting with a Content Delivery Network. That may seem high for beginners with a tight budget. Reminder: Ghost software is open-source and can be downloaded for free to host your own blog. Take advantage of that first!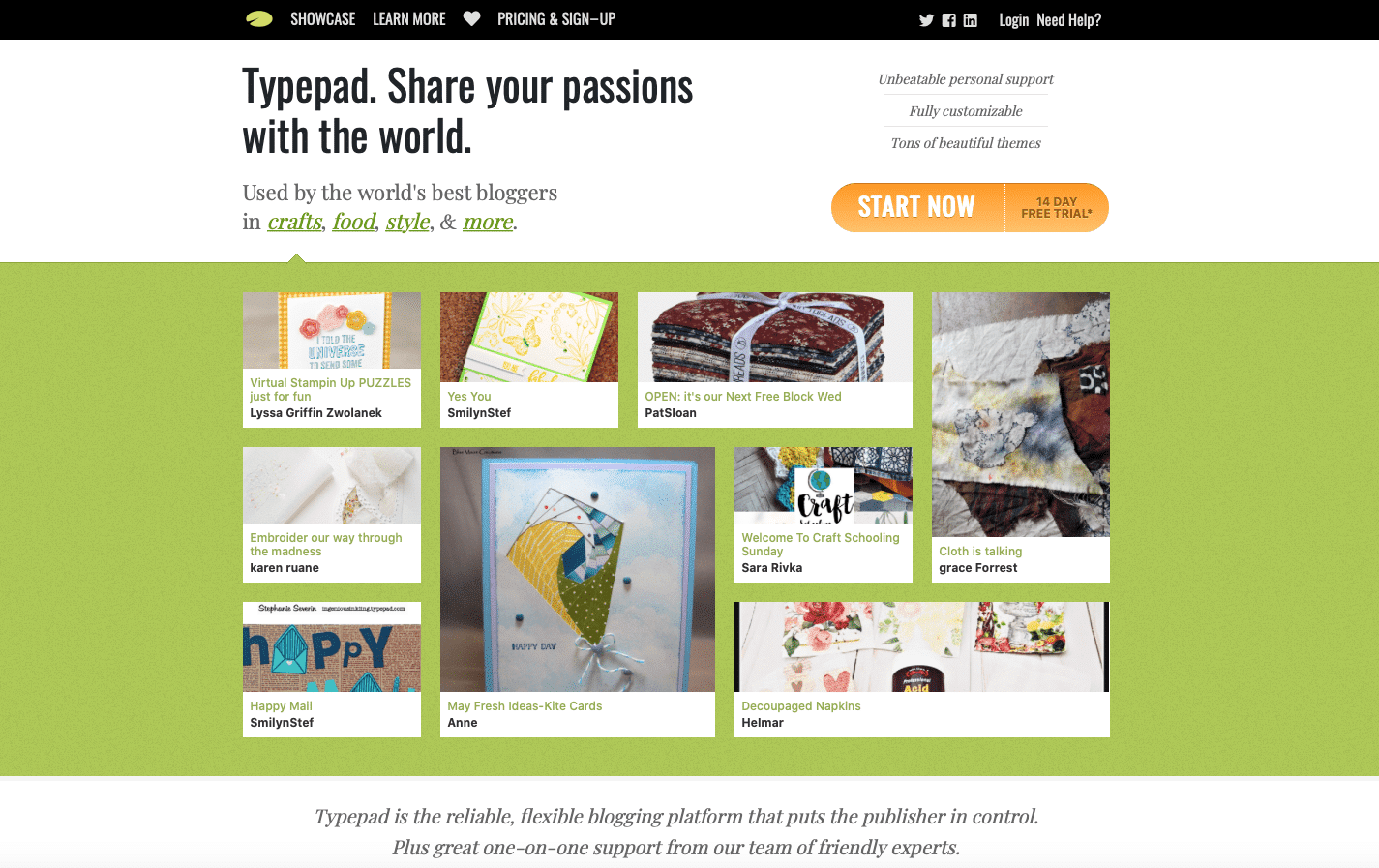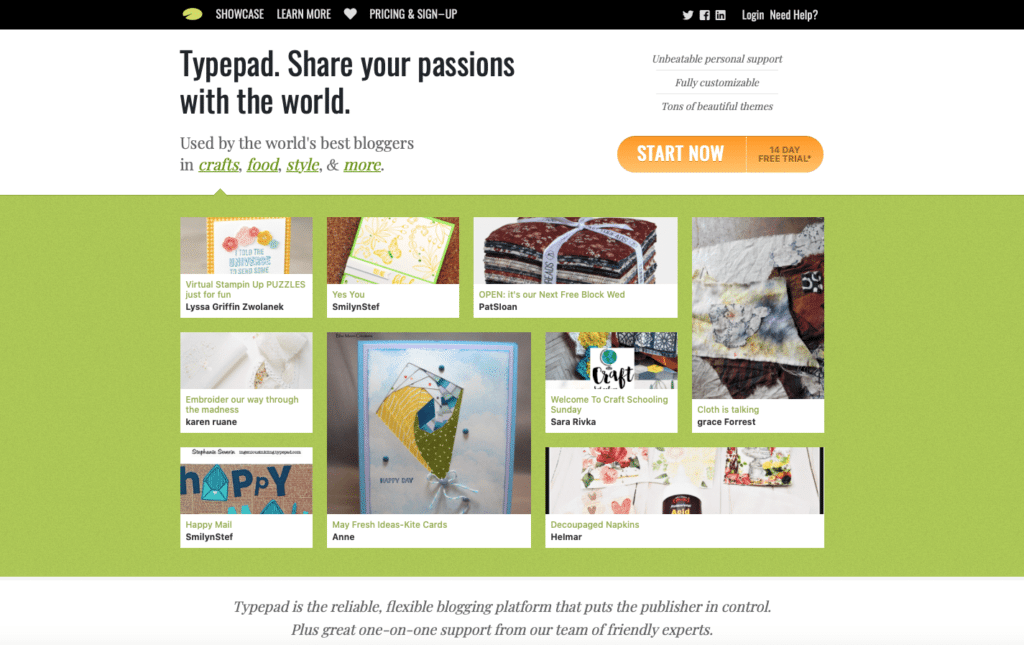 Typepad claims to be used by the world's best blogging platforms in crafts, food, style, and tons more. It really is just that – for blogs. It doesn't boast to be more than just a blogging platform, however, it offers a lot of customizability if that's all you are looking for. What a great title for a blogging platform, right?
Pros
Customizability is Typepad's primary mission. They offer an easy to use interface, the ability to add scripts, the ability to integrate ads, and an unlimited database of images and 200+ themes.
Cons
Other than a free trial, they do not offer a free version. There are very few widgets available to integrate if you are looking for more when it comes to SEO. Security is in question as well – make sure you check out these options if you choose Typepad.
Pricing
A 14-day free trial will start you out on Typepad. Plans start at $4.95 per month and offer quite a bit. The Plus level is the most popular plan on TypePad, it comes at $8.95 per month. The Pro account at $14.95 per month and gives you full control over your themes and templates. More is better! For $15 per month, that's not bad.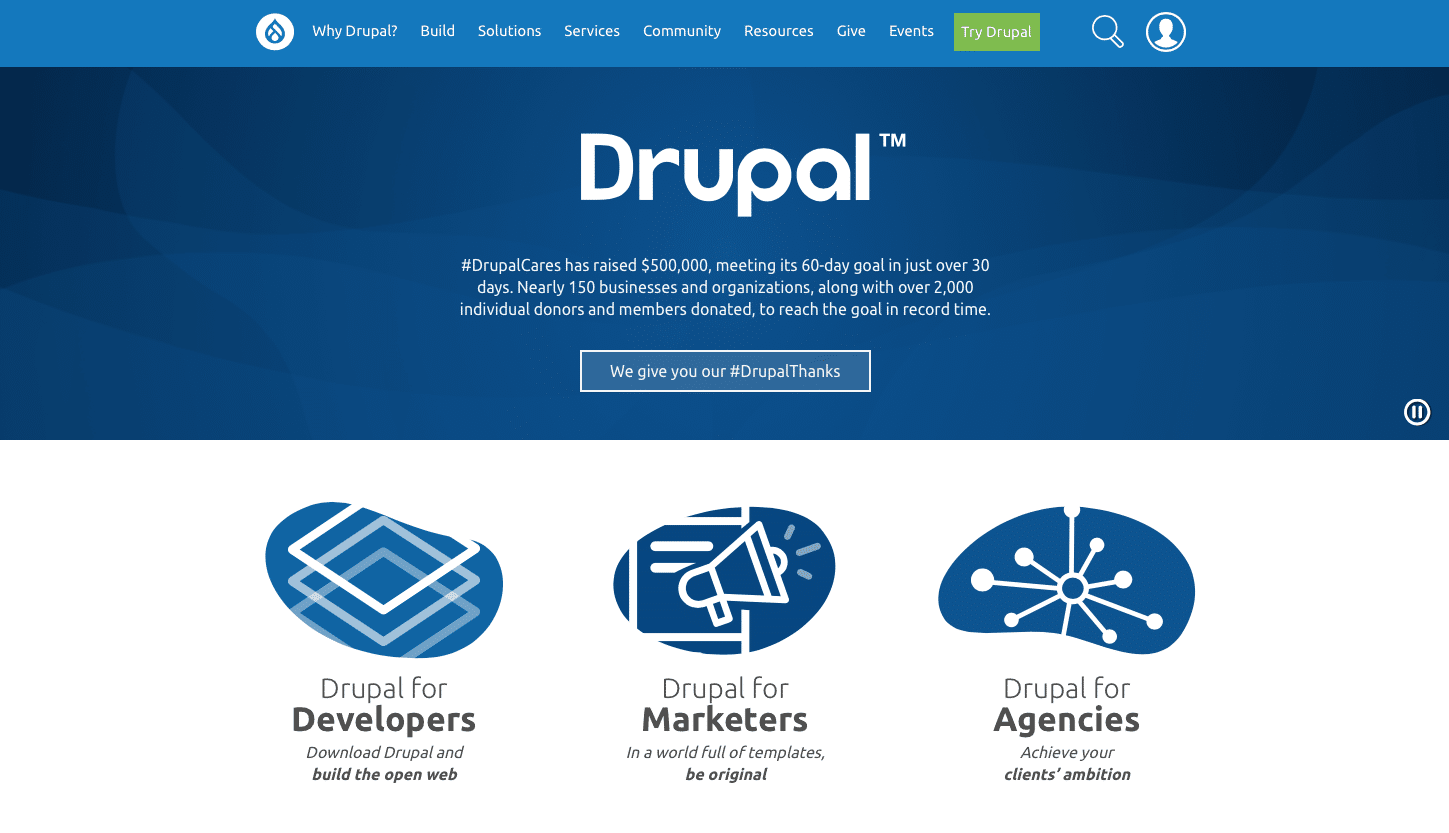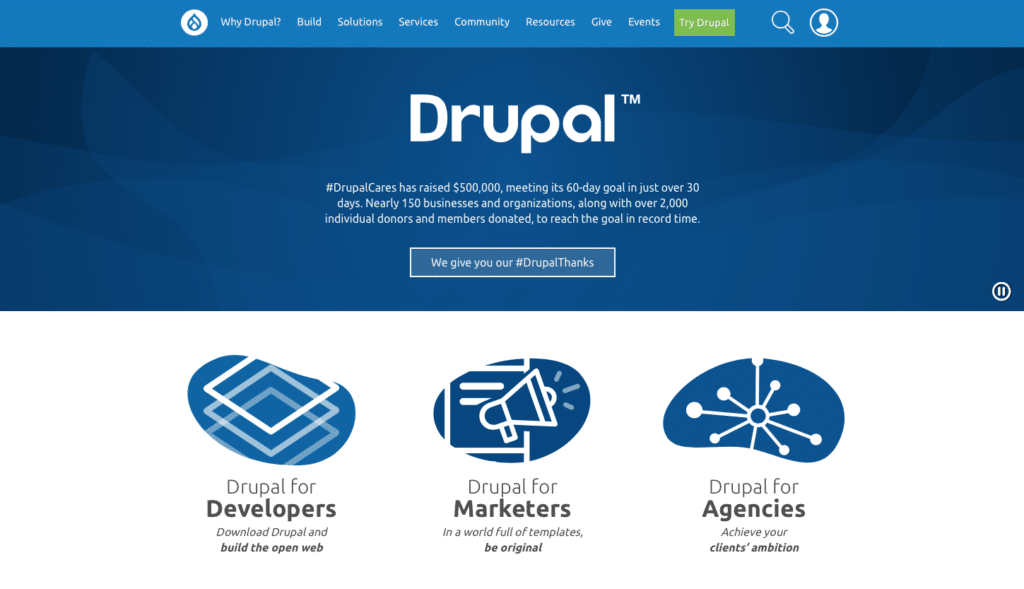 Drupal is an open-source community and is very well known and comprised of developers, designers, editors, and experts. It has mixed reviews for bloggers from all over the world. Some either love or hate it for blogging purposes, it all depends on what you're looking to do with your blog.
Pros
If you're concerned about security (which you should be), Drupal claims to be the most secure CMS out there. It is incredibly flexible, it can fulfill the needs of nearly any complex website or app. It's easy to use and the CMS ships with so many core configurations already installed.
Cons
It has a tough learning curve and is a bit more complex to use than WordPress or Joomla. It does not have good backward compatibility either. It has also been known to load very slowly due to the complexity of the platform.
Pricing
Drupal is free! Can't beat that! They don't list any pricing options and they offer support options. If you get started on their site and connect with a Drupal representative, you can chat with them about pricing addons and options.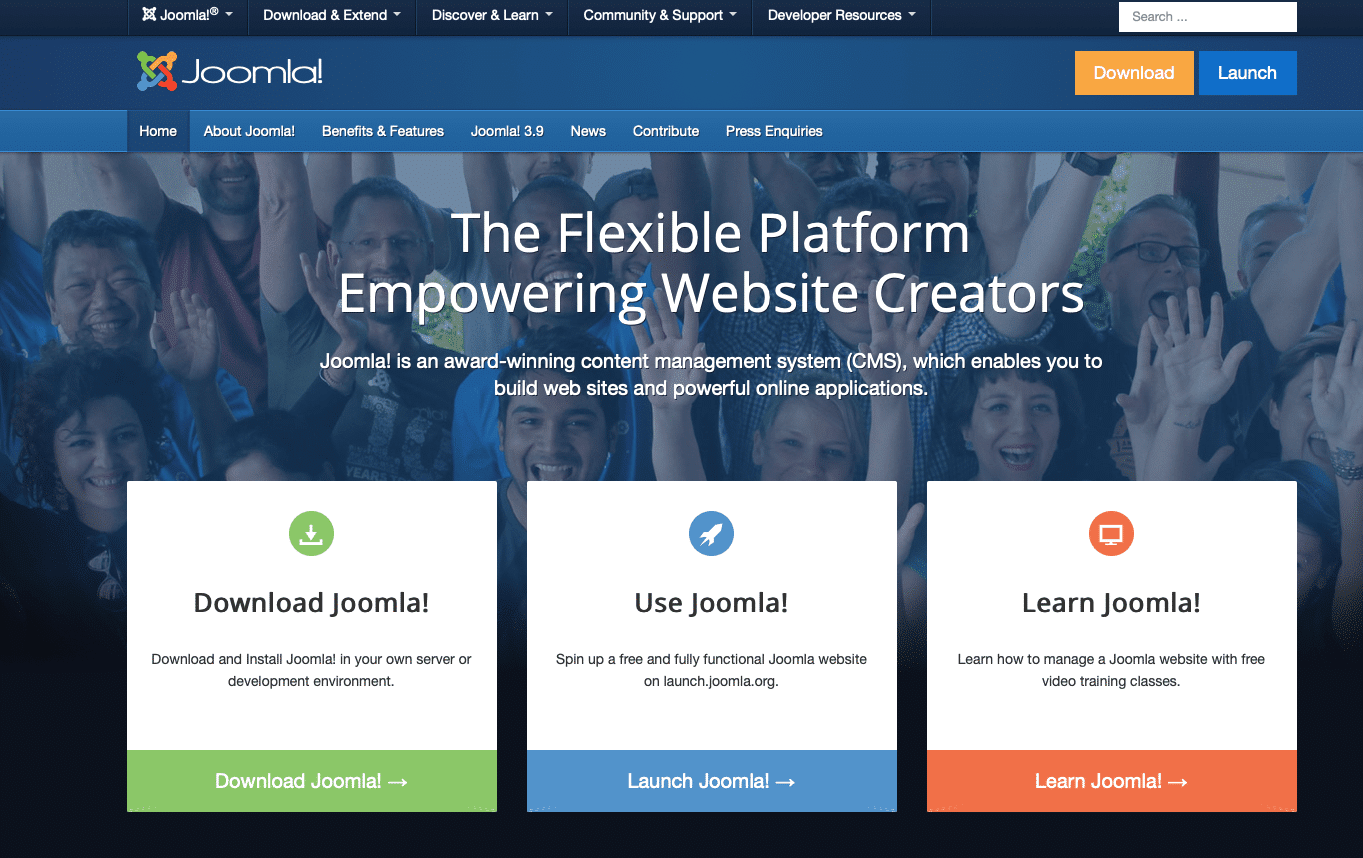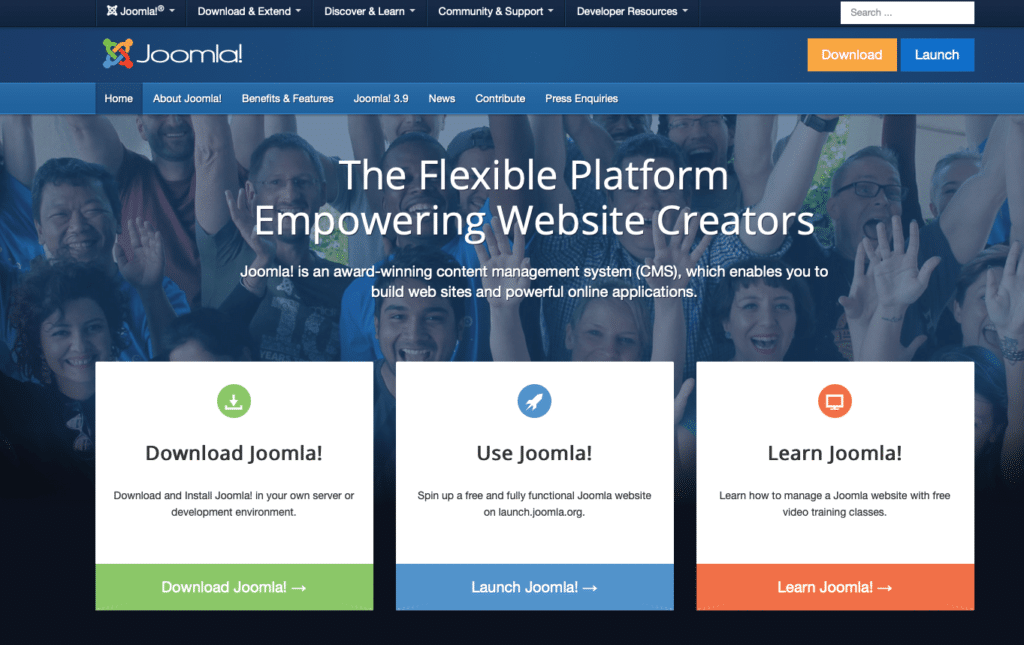 Joomla is one of the best blogging platforms for technical people. It can be used independently of the CMS. It's a mobile-ready and user-friendly way to build your website. Here we have another free and open-source content management system for publishing web content.
Pros
Choose from thousands of features and designs. It's SEO friendly, easy to use, plays well with integrations and has an active community. With tons of extensions to choose from, you can customize your blog for optimum reach.
Cons
If you aren't a developer, Joomla is bit complex. Using it for content management doesn't take an extensive amount of time to learn, you just have to dedicate time to do that. It also may have compatibility issues when you simultaneously install different extensions and plugins.
Pricing
Joomla is free and open source. It can get pricey though. If you want to embrace the full power of it, you will need Joomla tools which range from $99 – $399/month. With this wide range, anything is possible.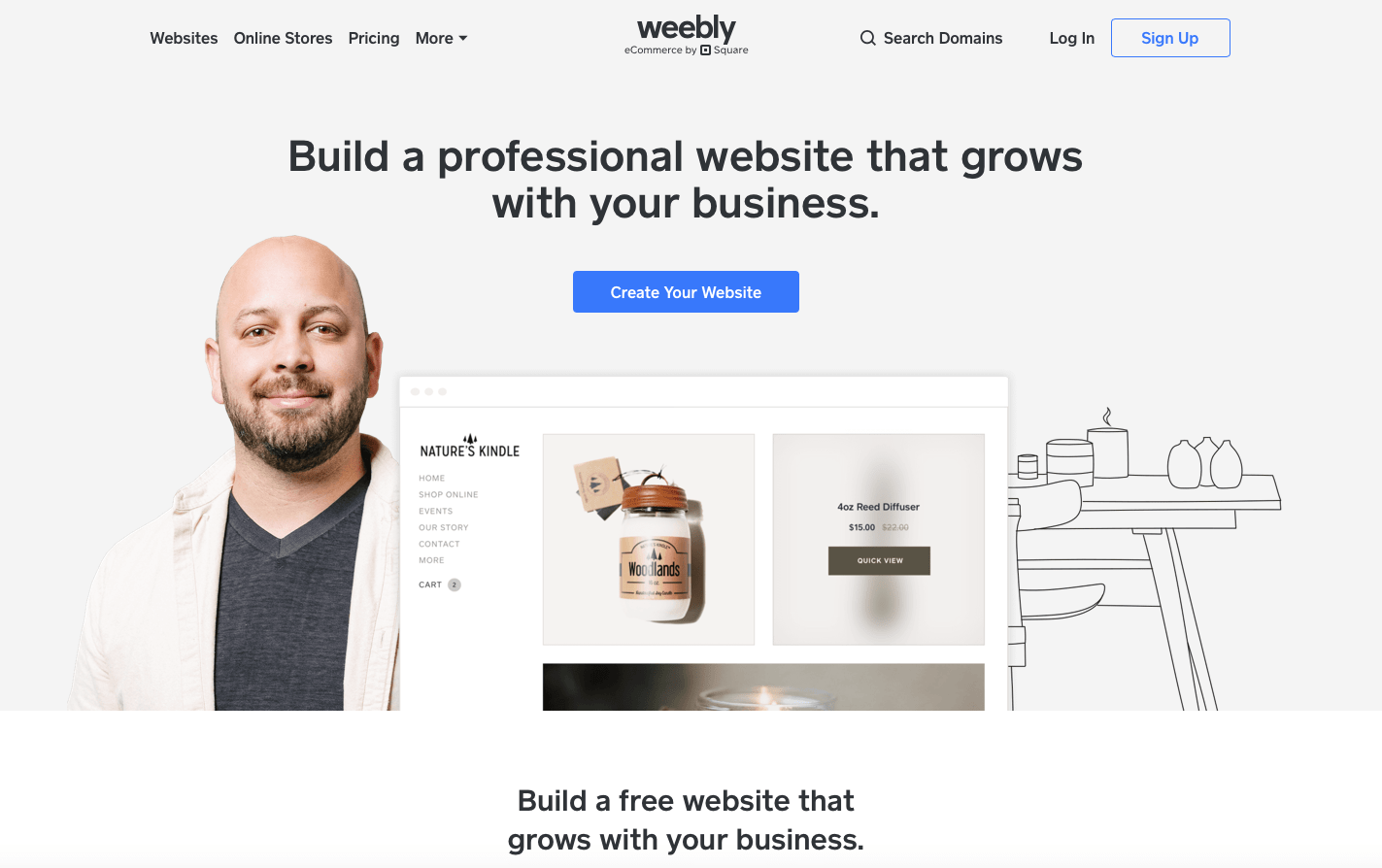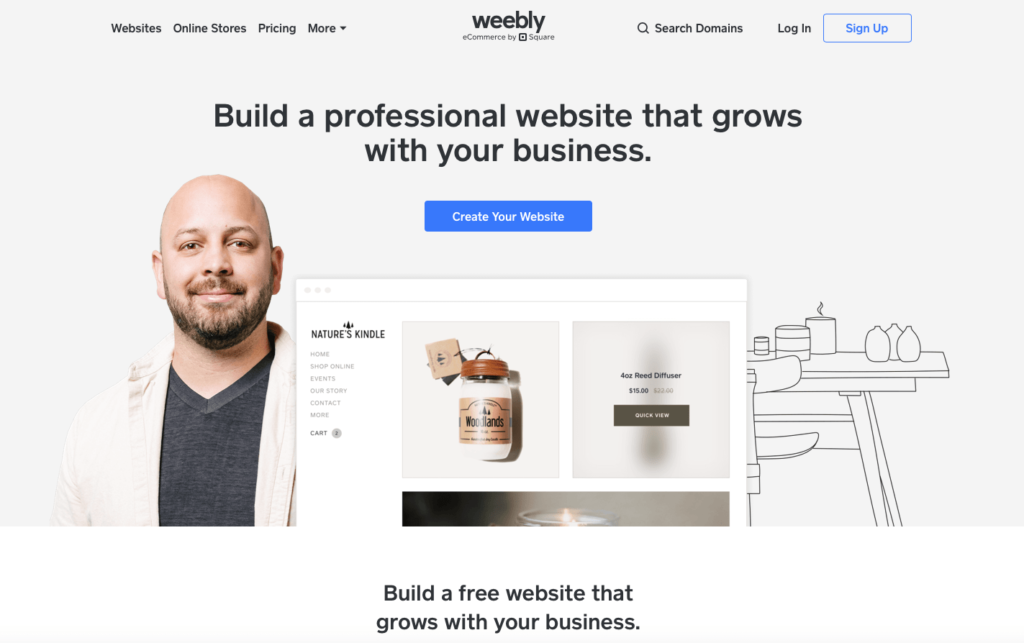 Weebly is a web hosting service, but don't let that lead you to think it's not blog worthy. Its parent company is Square. We feel that Wix and Weebly are on the same level for a lot of reasons. With over 625,000 downloads since 2018, we think people like it. But is it good for a blogging platform? Let's find out.
Pros
Let's run through the list of pros here: It has great page speed, a few quality templates to start, easy to use editor, and mobile app capabilities. Along with a strong app center full of customizations.
Cons
If you opt for the free version, you are stuck on the Weebly domain. It has limited blogging tools and zero help with images. The only solid option is to pay for a plan because there is no support available unless you wanted to go through the online content for help.
Pricing
Kickstart your Weebly site for free, but that won't get you far. Monthly plans are available for $4 to $12 per month. Once you go above those, the Pro and Business Plans are for more extended optimization. These plans allow options for eCommerce and you're paying more for transaction fees of 3% that Weebly earns on your sales.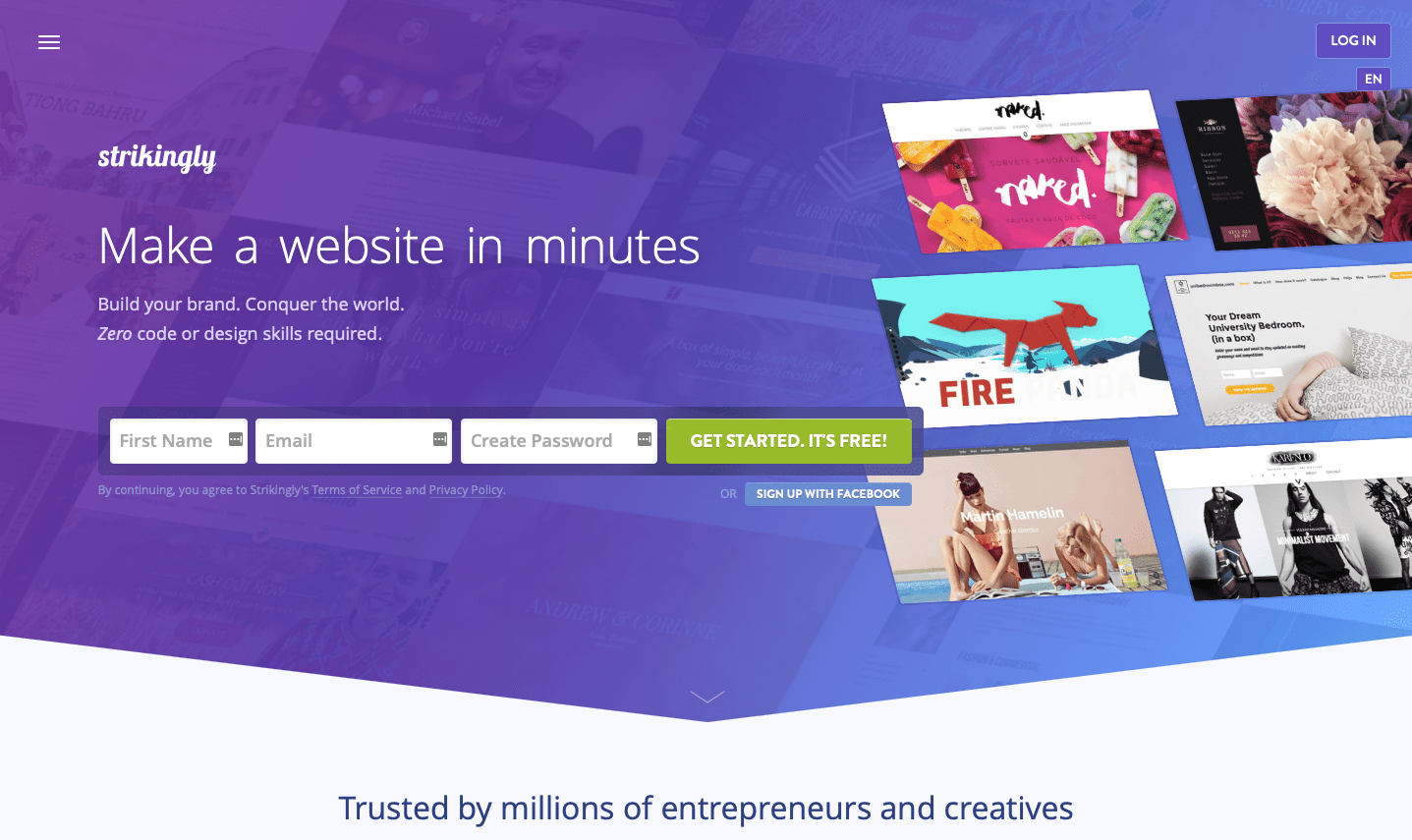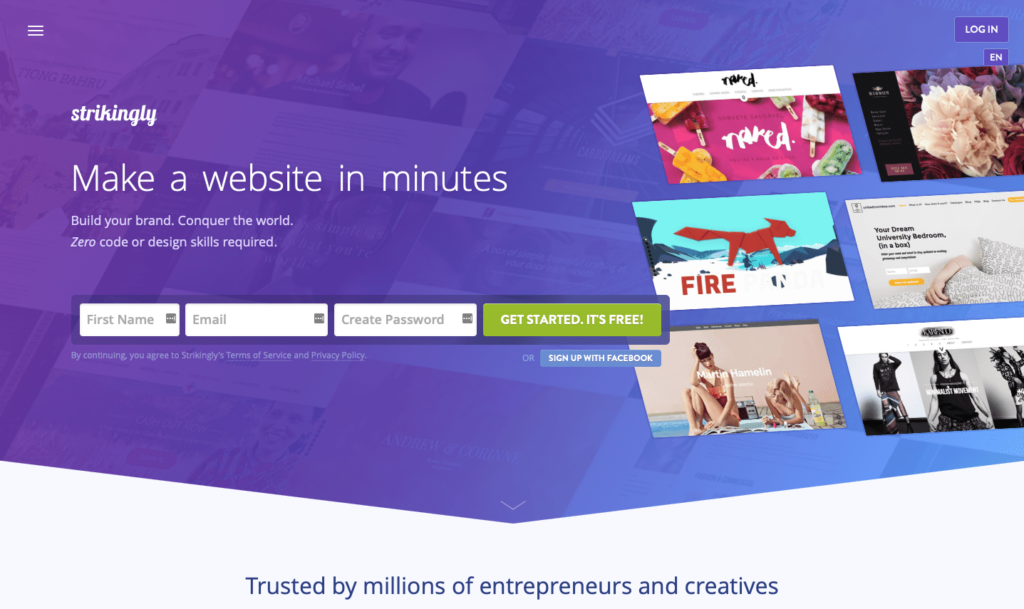 Strikingly is a website builder that allows the user, with little or no development experience, to create mobile-optimized websites "within minutes". Strikingly is a website builder that's tailored to helping entrepreneurs get up and running online quickly and easily. Their platform requires zero code or design skills. We know a thing or two about creating something in minutes vs hours.
Pros
One of the biggest pros of using Strikingly is how easy it is to get up and running on the platform. They also offer a wide selection of template designs that are responsive and blog ready.
Cons
The feedback from users is that it offers limited features when it comes to blogging. As far as SEO is concerned, there's no options for Schema, Open Graph settings, etc. – much less highly advanced options.
Pricing
Strikingly allows you to try any plan for 14 days. All of their plans come with some sort of limitation, whether it be domains, the number of "pro" sites you can publish, or even storage. The price ranges from $14 to $49 per month.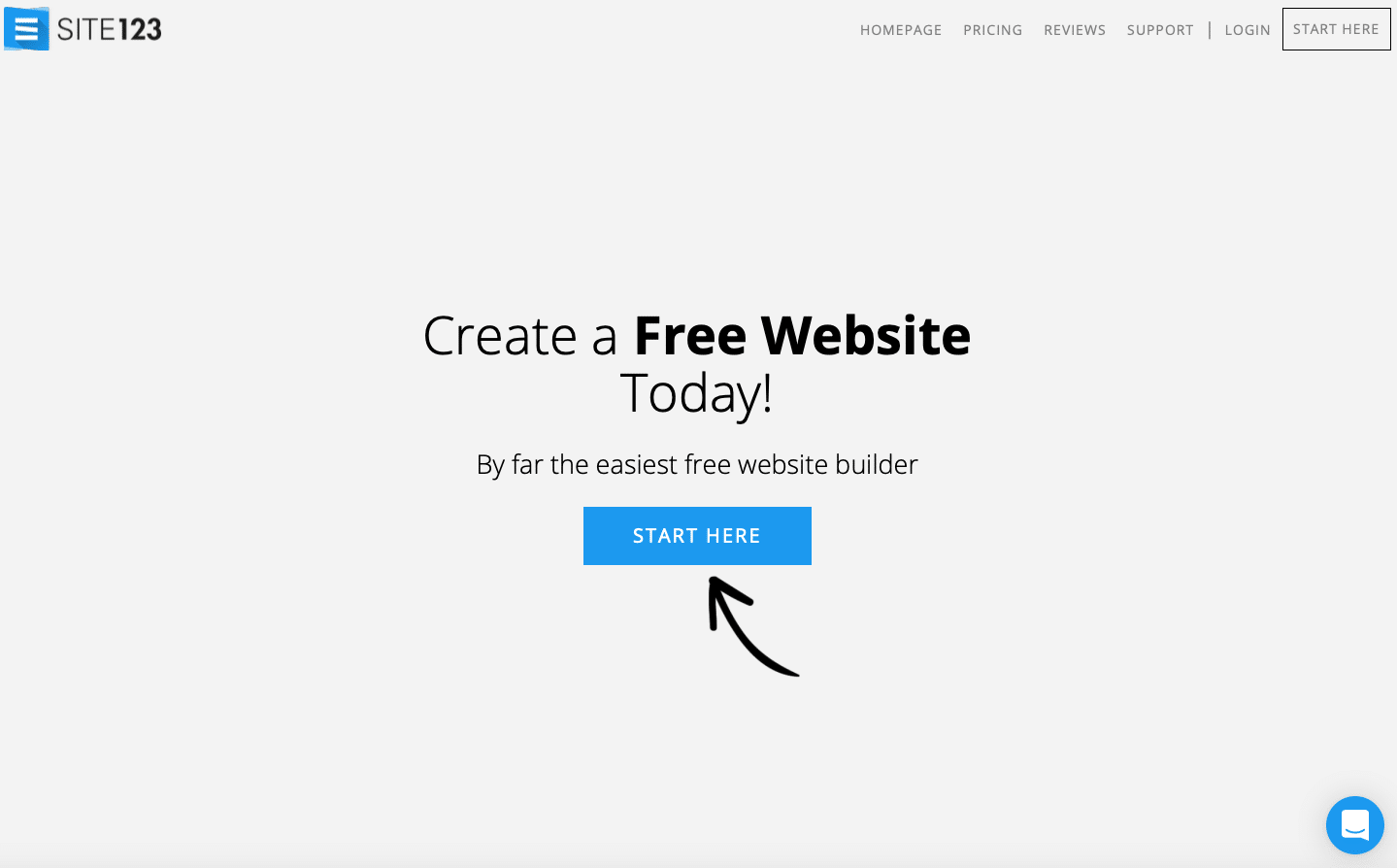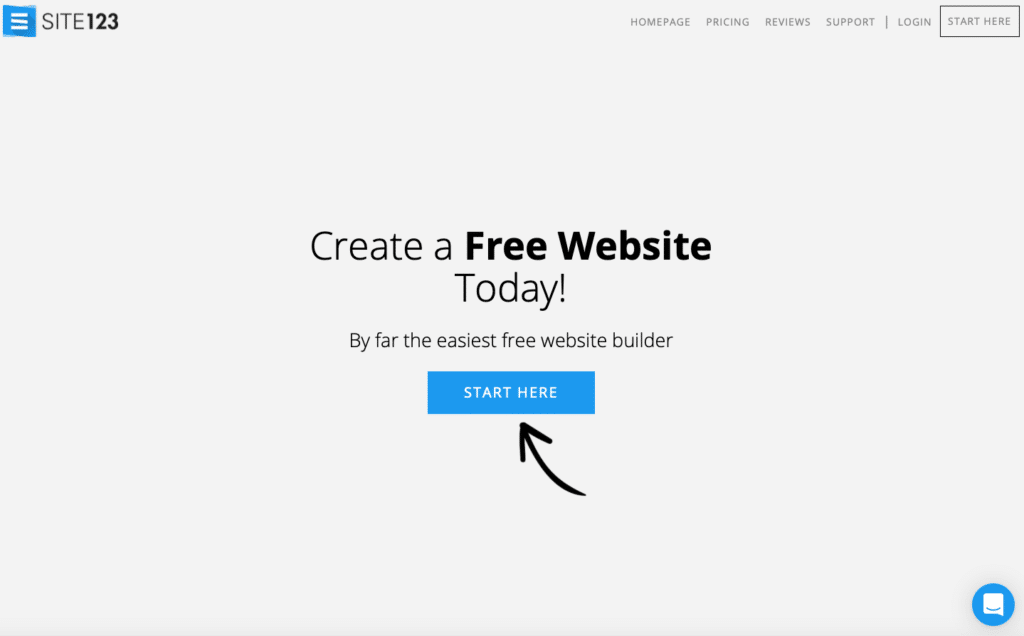 SITE123 is a website builder designed for users to create a website easily. It has an online store builder that enables you to transform it into an eCommerce site to start selling products and processing sales transactions. People that have used it, love it. As for one of the best blogging platforms? We will find out.
Pros
They have a straightforward, no extra fee sign up process. It's insanely easy to use, great for beginner bloggers. Another benefit of SITE123 is their extensive list of product integrations.
Cons
Changing templates can be a very big hassle, so customizability needs to be done up front when it comes to your blog. Prices are higher for beginner budgets. Site123 does offer additional features through plugins and apps, but you're limited on integrations, add ons, and edit tools provided.
Pricing
SITE123's paid plans start at $12 per month, which includes a free domain for a year. The ability to connect your domain, great storage, bandwidth and the ability to send 100 email messages out per month. It also removes their branding that comes with the free plan.
17. GoDaddy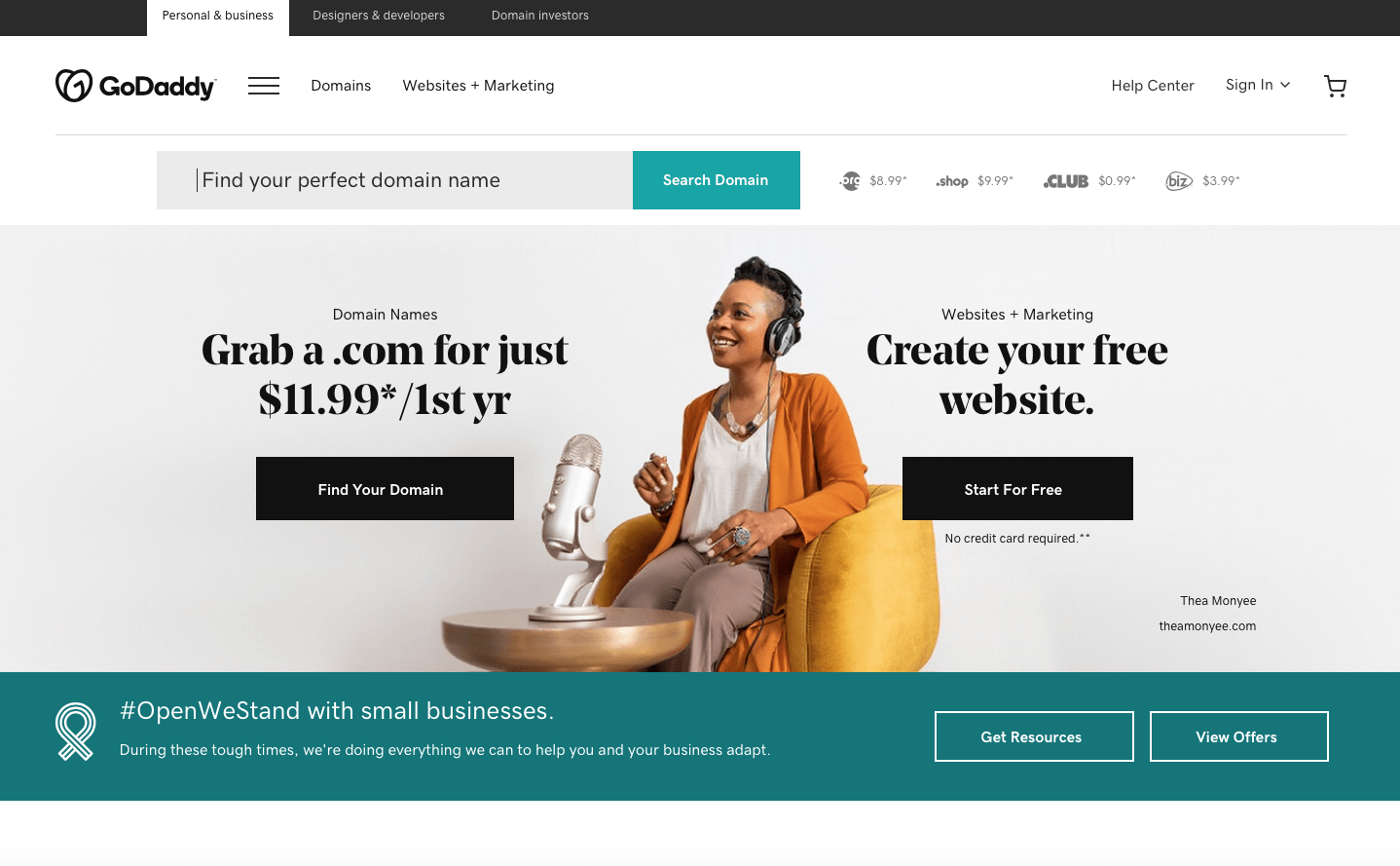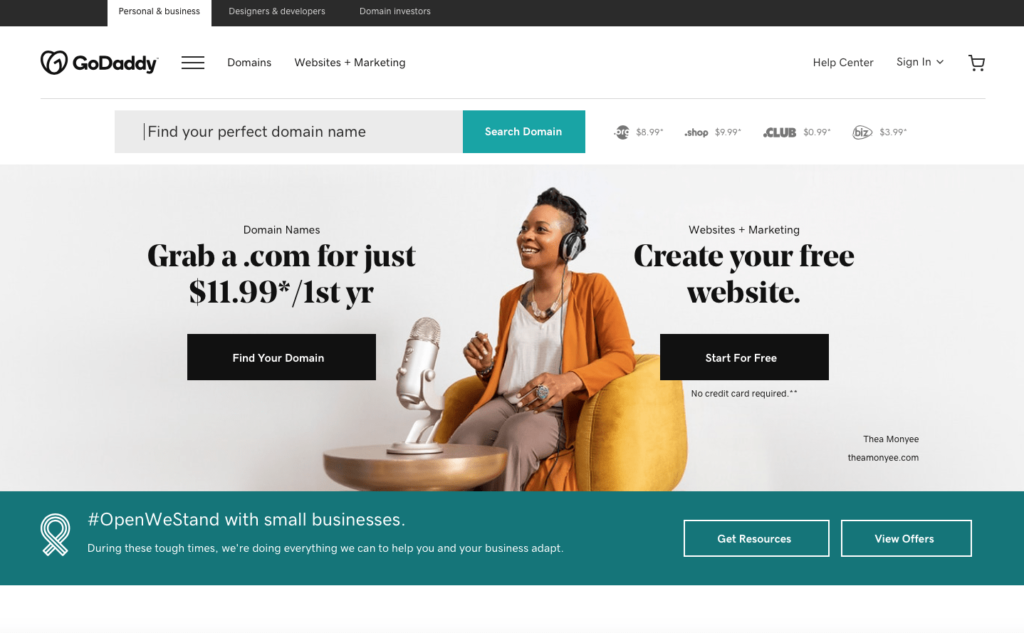 GoDaddy has a website builder! They are one of the best blogging platforms out there. It's is a domain registrar and website host at its core. This means that you can buy domain names and also host your website there as well. Among other services, GoDaddy is a solid choice overall. GoDaddy is a trusted service used by thousands.
Pros
Prices are super affordable and GoDaddy is well know in the community of bloggers. You get a free domain with a yearly plan. The blog options equal WordPress and security is their prime mission. They know that customization is key, so the integrations and extensions are readily available.
Cons
With some plans you have to sign up for 3 years to benefit from the advertised discounted prices; Limited live chat support, which is nice. There are also a few upsells at checkout, watch out for those hidden fees.
Pricing
They go big when it comes to free trials – you can get one month free of GoDaddy. Domain registration deals are offered that allow you to register for under a dollar. If you choose the economy plan, the price can be as low as $4 per month. There are also coupons and discounts offered regularly. Plans range from $4 to $139 per month.
Bramework Wrap Up: Best Blogging Platforms For You
Your search for the best blogging platforms is over!
Whichever platform you choose, we are so excited you are creating one to begin with! it takes a lot of time and should be done right. If you feel we could help you build your blog better, please reach out to us at Bramework to try our tool for free!
How can we help? We help you create original and repurposed blog posts in half the time using our AI Content Creator to generate suggested content. We enable you to show your expertise with regular and consistent content that increases your exposure to the right audience.
Watch our tool to do the keyword research for you based on your topic, so you increase your search rankings on Google.
Find the best blogging platform and begin writing! It's that simple. We can take it from there.
Image credit: unsplash.com, bramework.com
(Original Article Date: 5/26/2020 Updated 11/04/2022)
Get Your FREE AI Generated Blog Outline
Cut Your Blog Post Writing Time in half
✅ No More Writer's Block
✅ Instant Post Structure
✅ Write 5X Faster!