What Does the Keyword Information Mean on Bramework?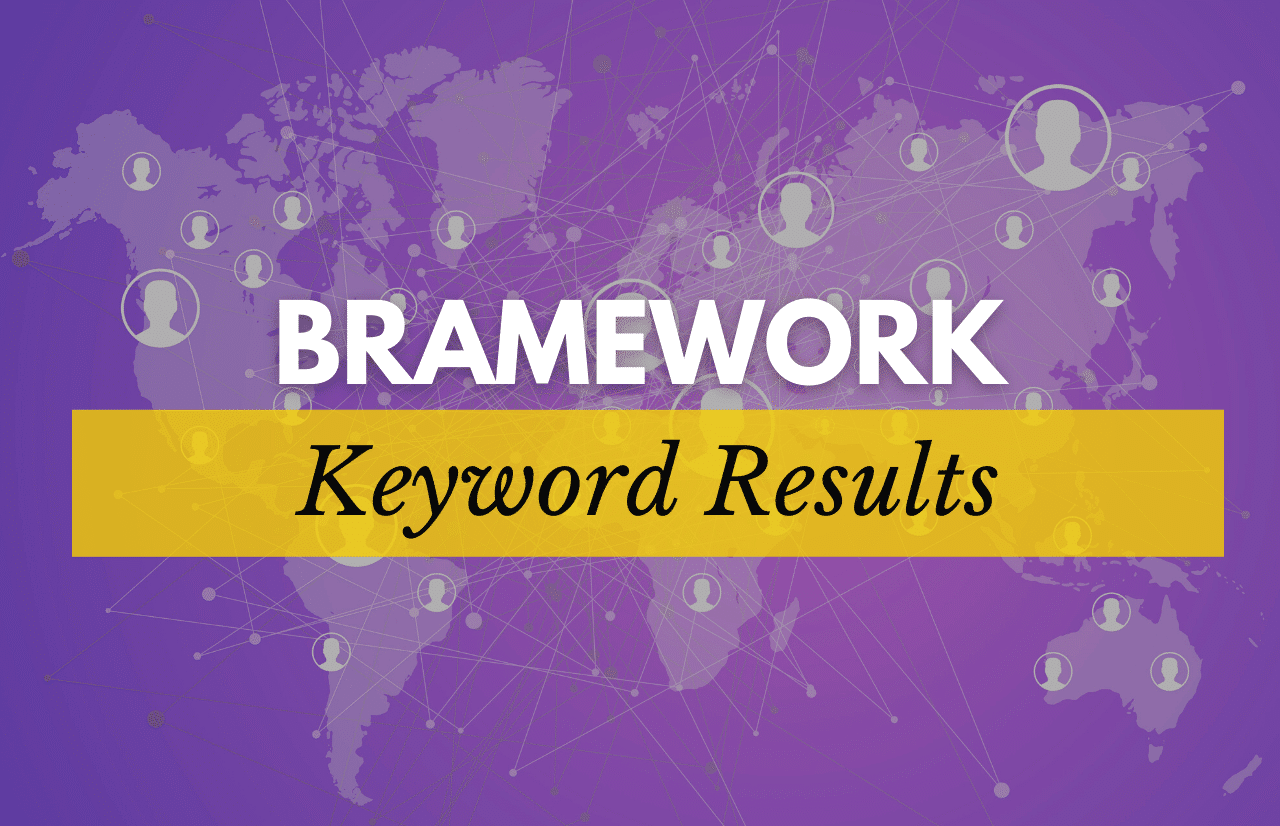 Today we're going to go over what each piece of information means in the Keyword Analyzer tool on Bramework.
Keyword Analyzer Statistics and Information on Bramework
On Brameworks' Keyword Analyzer, you'll notice four Results, a Trends' chart, Keyword Ideas, Related Questions, and the top ten web pages ranking for that particular keyword.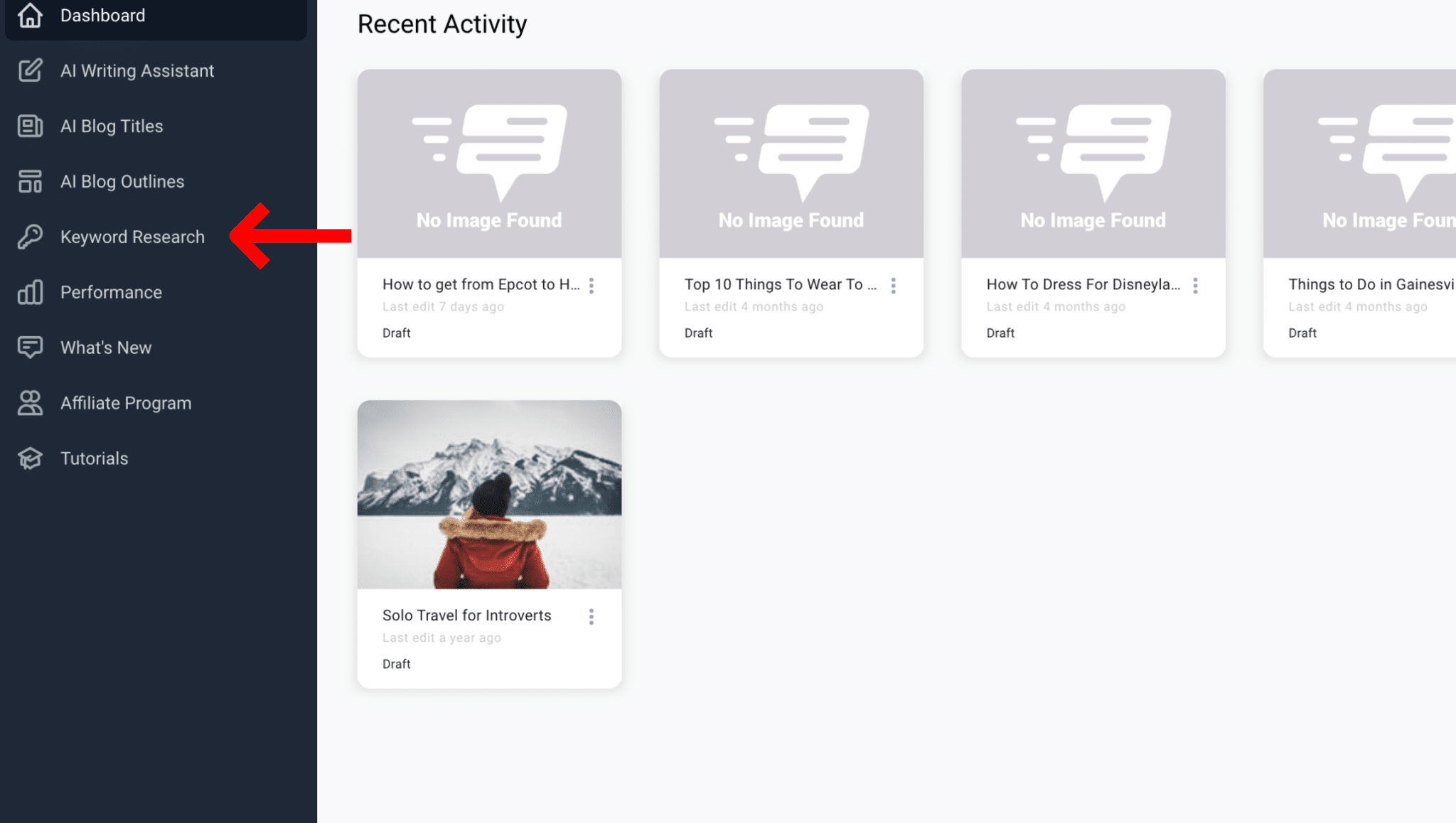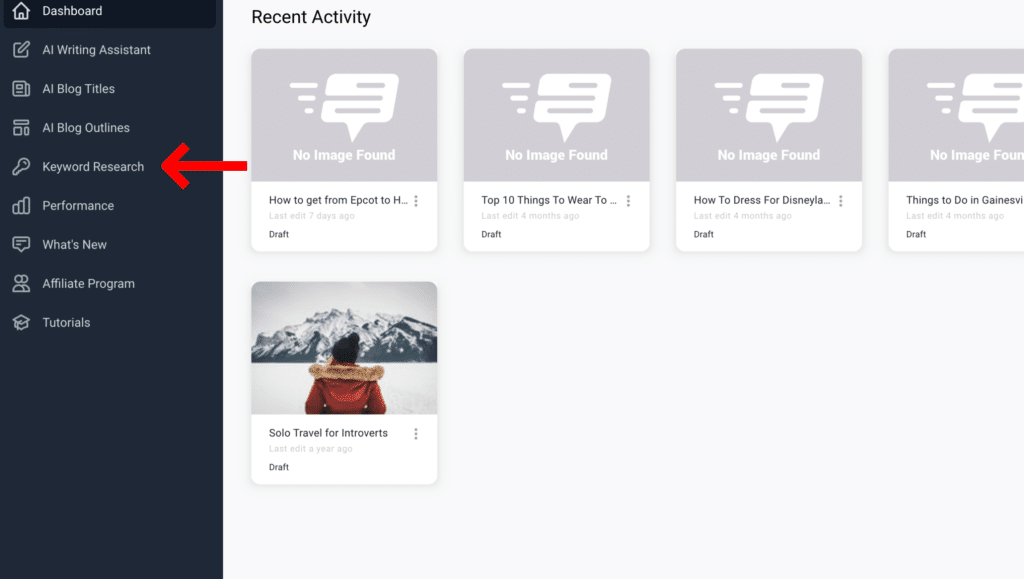 1. Keyword Results
Below are the different stats that you'll get at the very top of the Keyword Analyzer page on Bramework.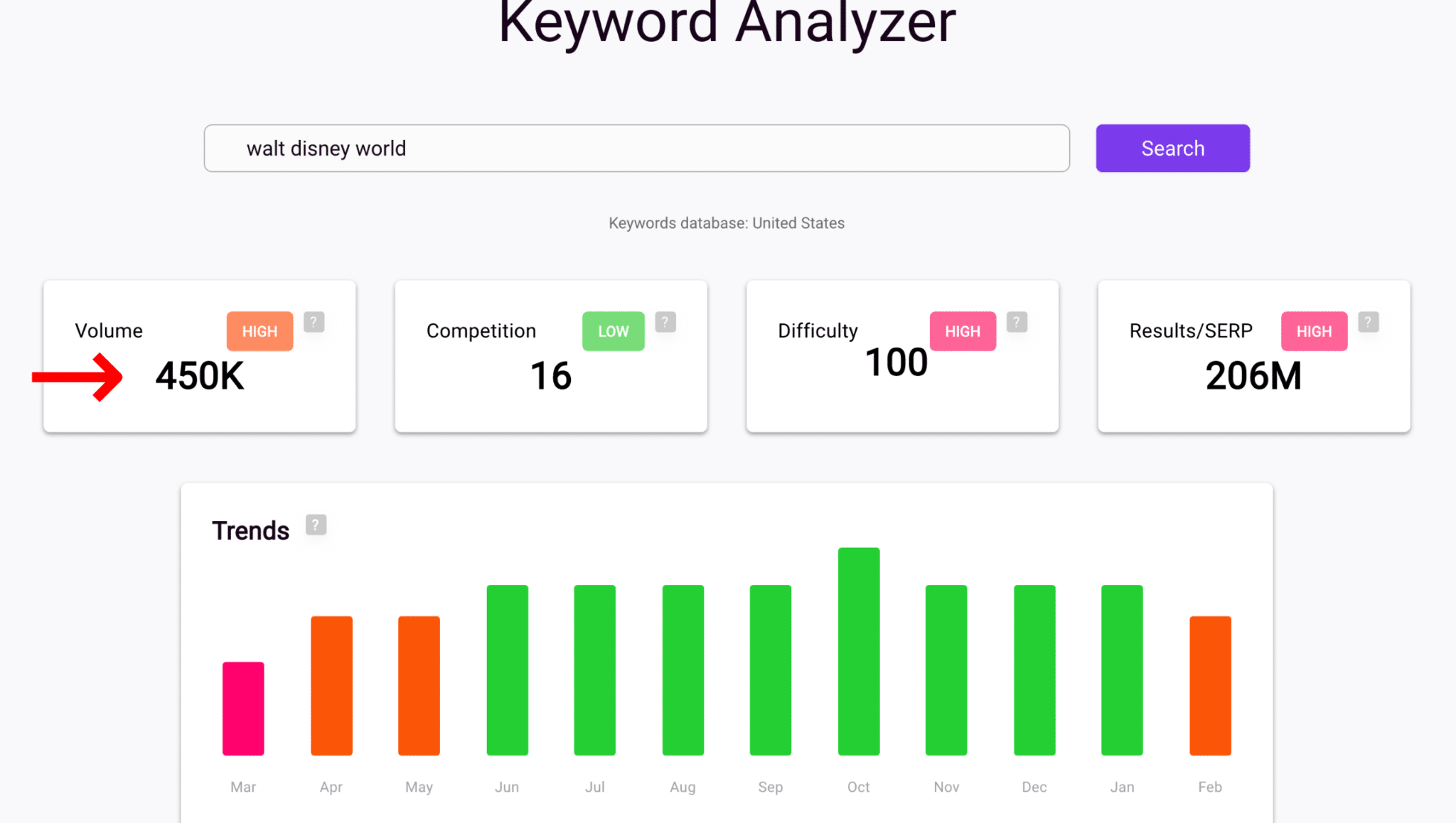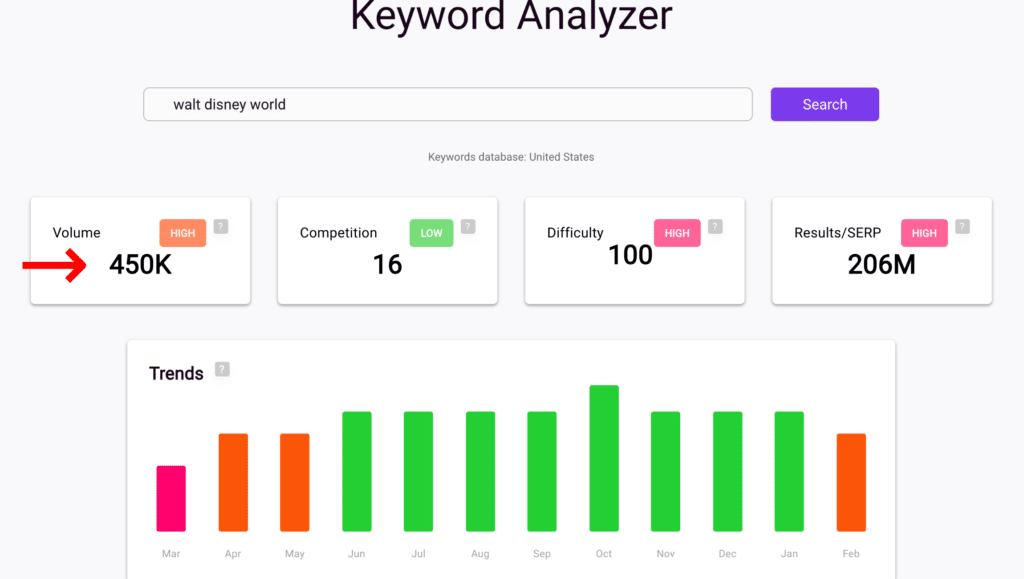 Volume
This is the average number of times a particular keyword phrase is searched each month.
Tip: The minimum volume recommended to write a post is 50. If you go below 50, you may not get enough traffic to your website. Above 100,000 there's too many people searching the keyword and it's harder to find your website. Stay out of the red!
Competition
This is the estimated competition level for paid search. The information lets you know how difficult it is to pay for traffic instead of getting targeted traffic to your website organically.
Tip: The lower the number, the lower the cost to advertise on search engines.
Unlock the Secrets to a $10K/month Blogging Income
👋 Take the Leap
Join the Waitlist for Our Revolutionary Blogging Academy and Propel Your Blogging Career to New Heights!
Difficulty
This section shows the difficulty to outrank a post currently sitting in one of the top 10 positions organically ranked for this keyword on search engines like Google.
Tip: The lower this number, the easier it is to outrank the competition organically. The difficulty is based on a range between 0 to 100.
Results/SERP
This shows the number of results on search engines for your keyword.
Tip: The lower this number is, the easier it is to get a first page ranking on search engines with a well-written and highly optimized blog post.
2. Trends
The trends section shows the average number of searches for this keyword over the last 12 months.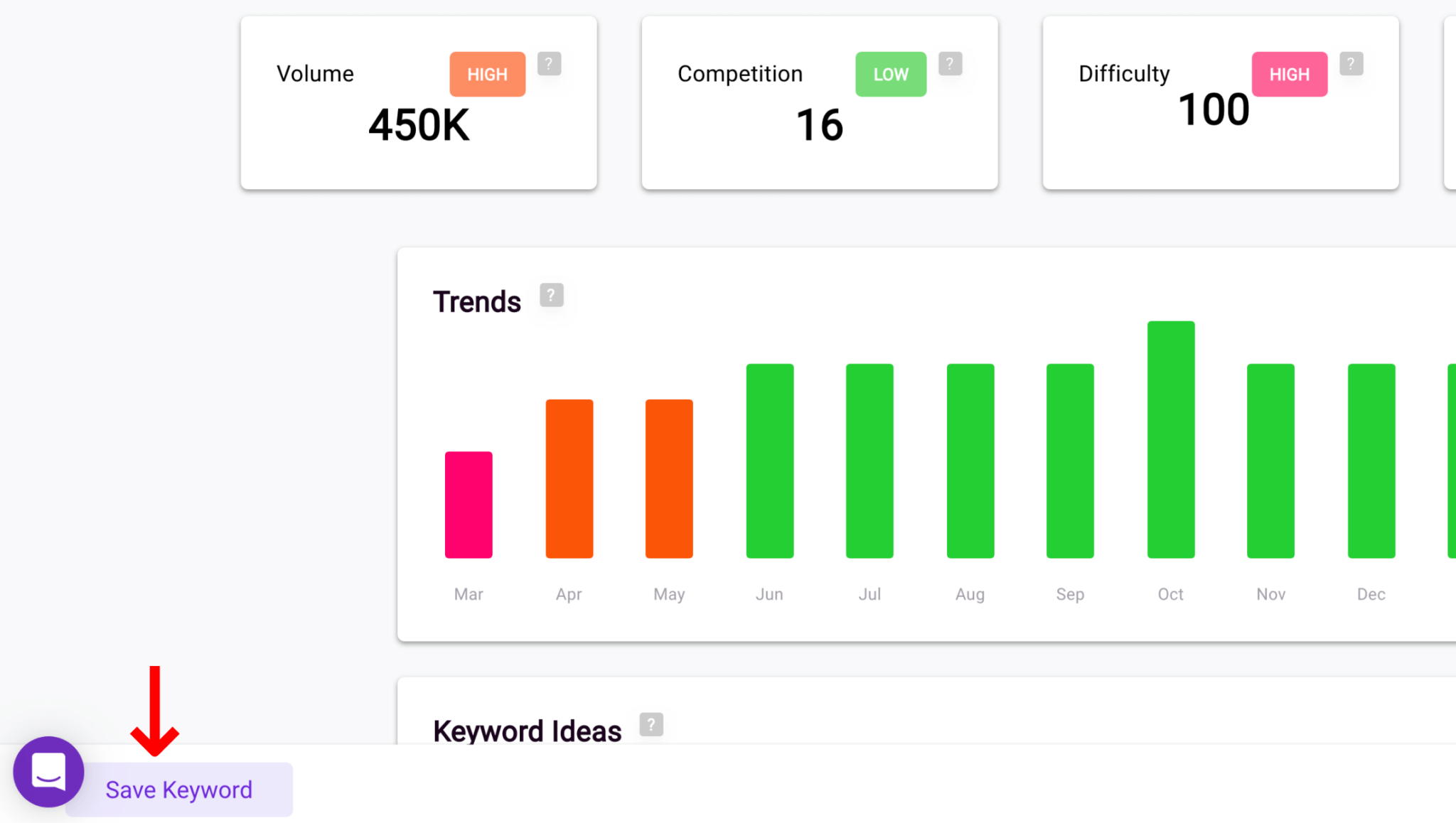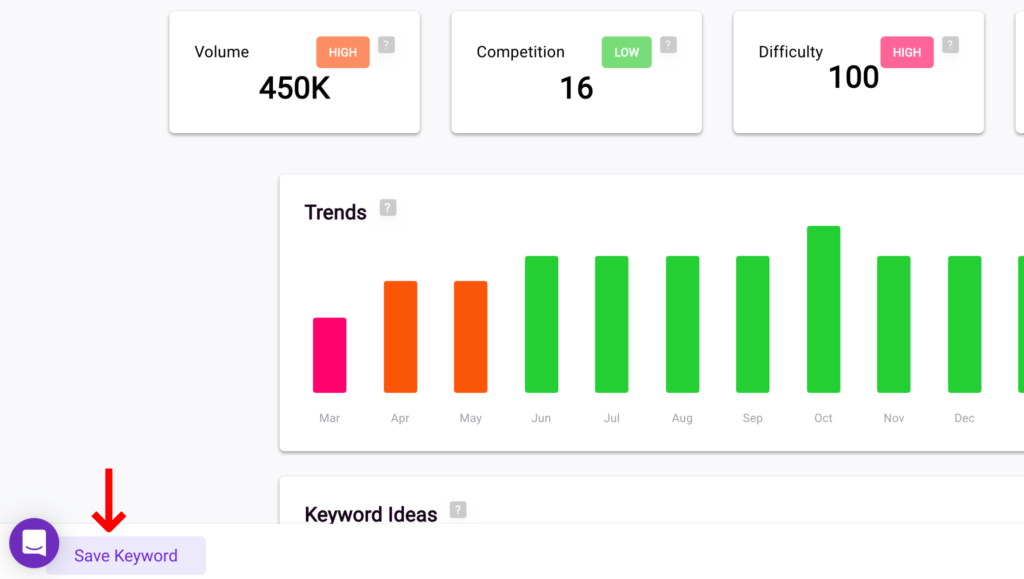 Tip: It can take 3 to 6 months for a blog post to reach its maximum ranking potential, so plan ahead if you're using a seasonal keyword.
3. Keyword Ideas on Bramework
This area shows suggested keywords or phrases that are relevant and related to the current keyword that you have entered.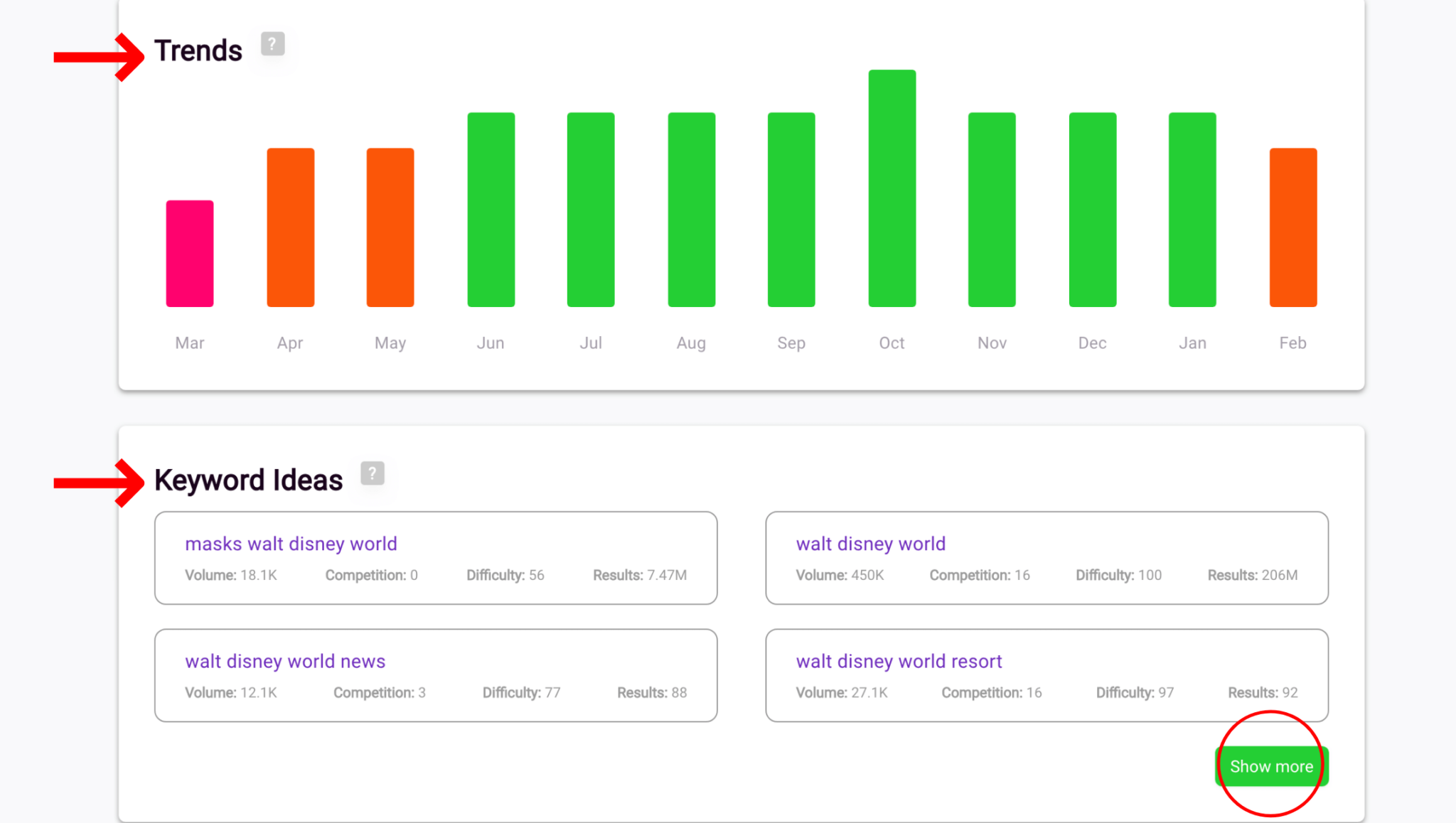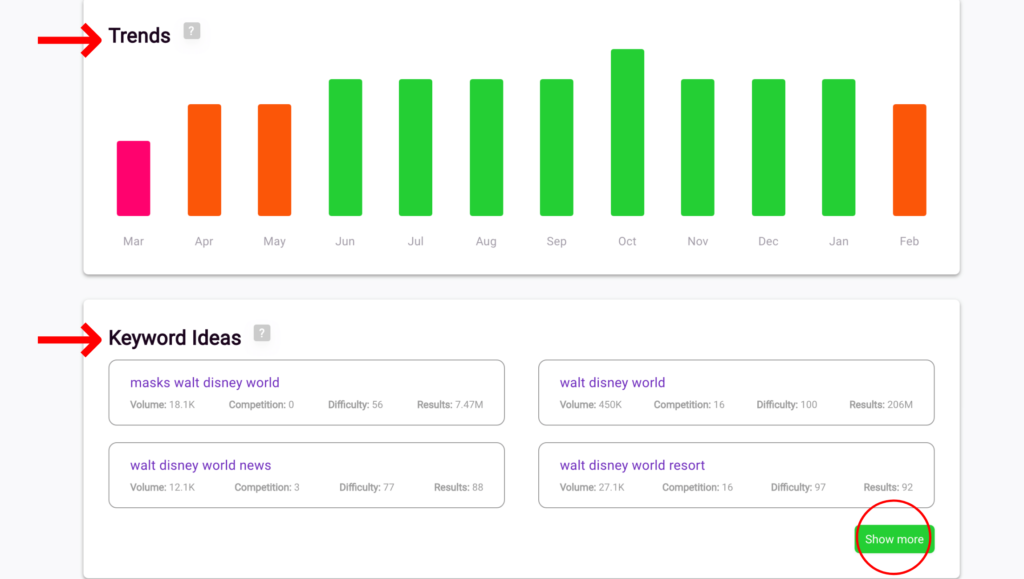 Tip: Click on additional keywords for more posting ideas.
4. Related Questions
These are the top questions readers are asking that are related to the current keyword that you have entered.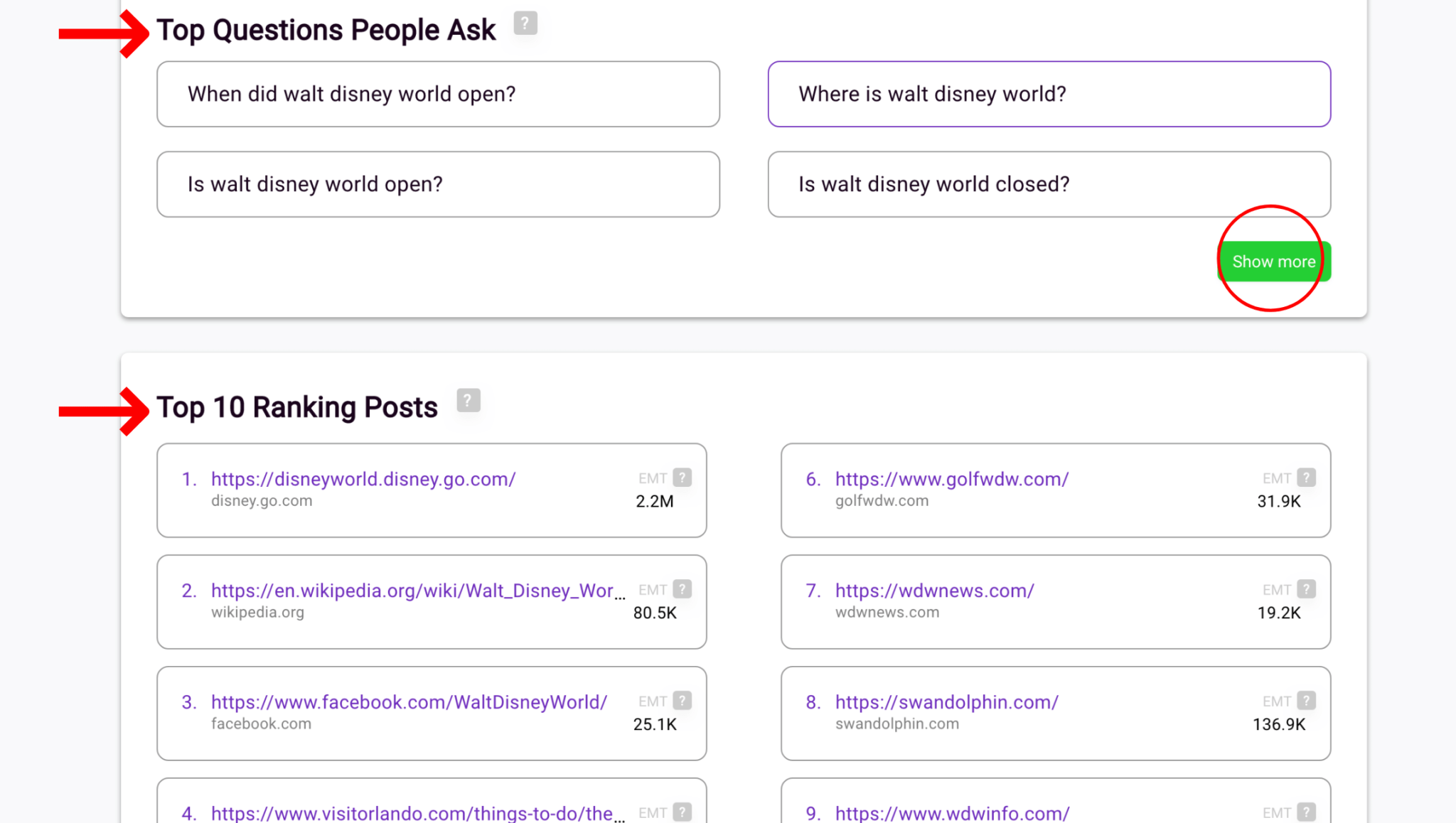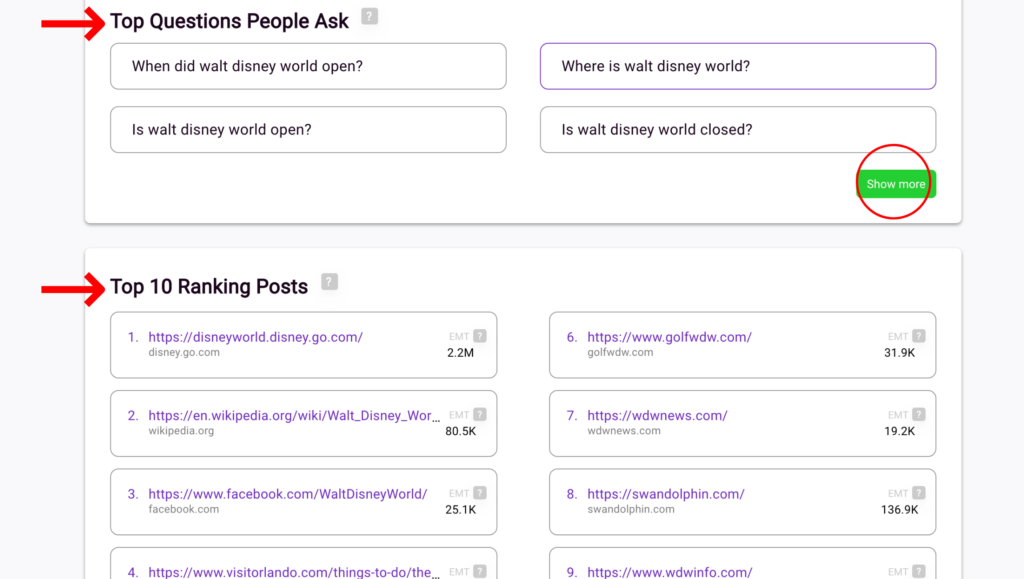 Tip: Answering these questions in your post will increase your chances in ranking for that particular keyword. You may even be featured on the Google "People Also Asked" section if you answer the question the best!
5. Top Ten Web Page Rankings
These are the top 10 posts you are competing against. Keyword rankings refer to a domain's position in the search engine results page. The goal of good rankings is to drive traffic to your website organically.
The SEO keyword ranking metric measures your search engine rankings for targeted keywords and analyzes changes in that rank over a period of time.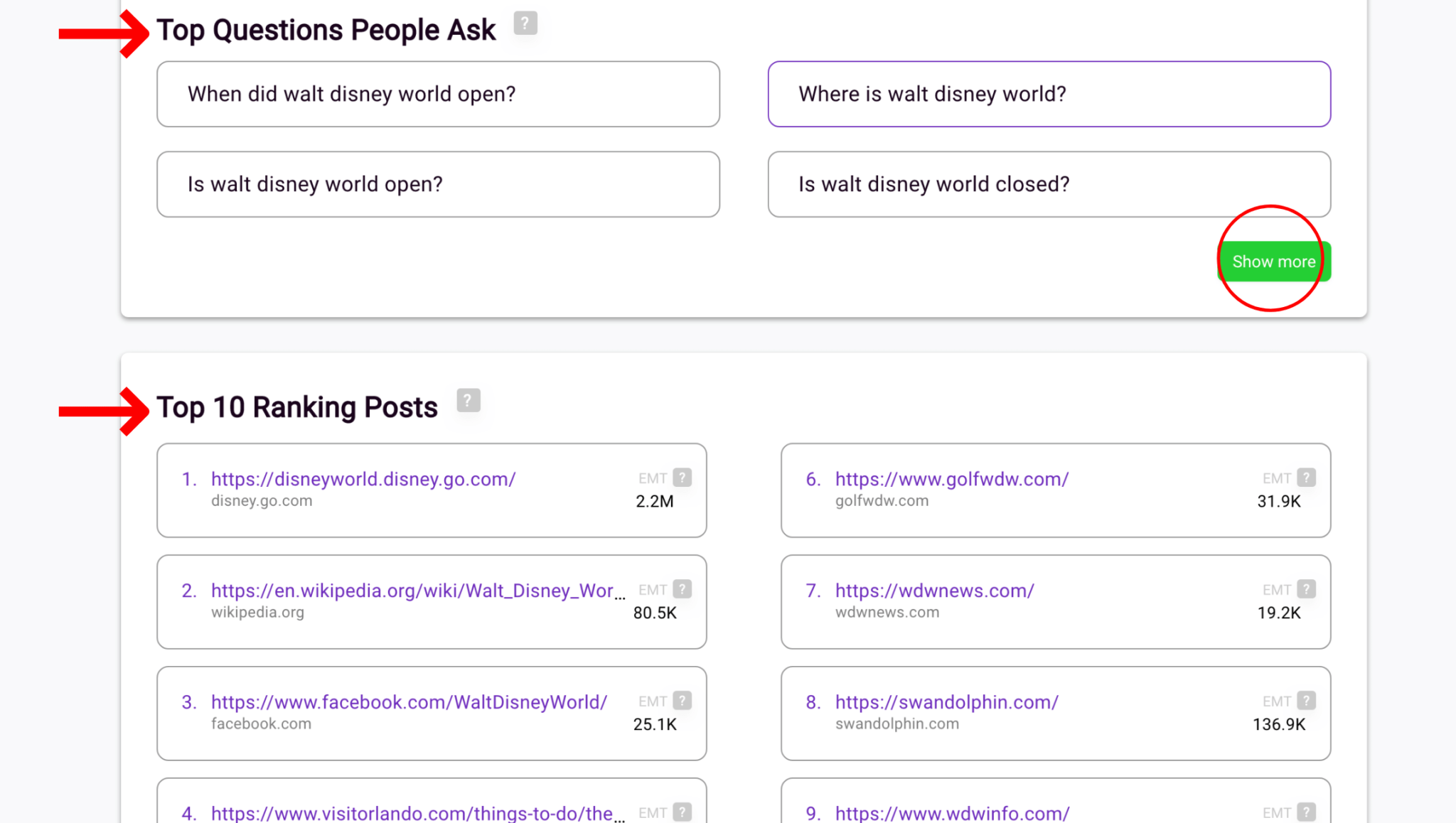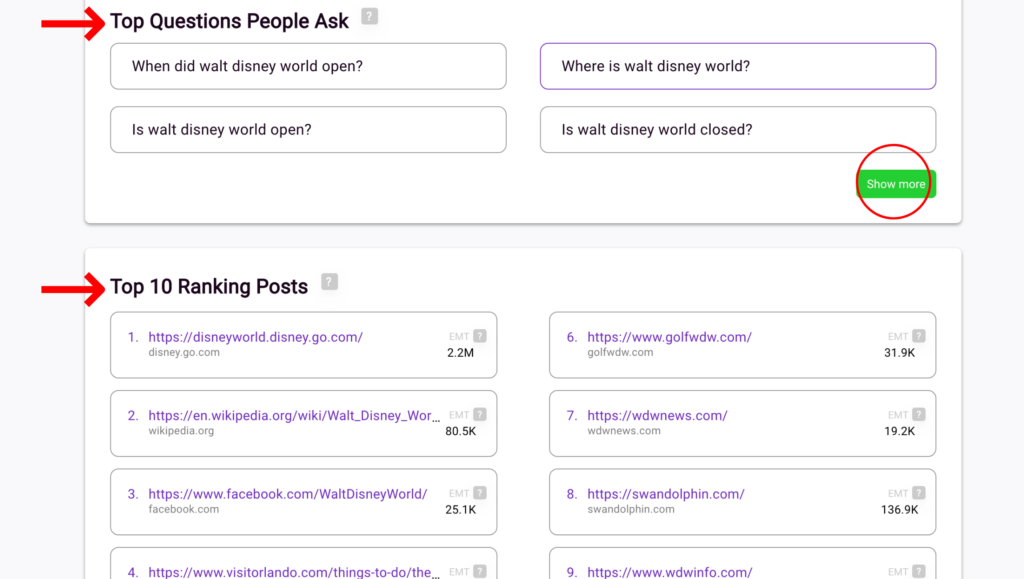 This helps marketers, bloggers, and content creators determine the effectiveness of which your website is getting ranked on Google and attracting organic website traffic.
Tip: Study their post, see what they are missing and add that to your post to increase your chances of ranking higher.
There you have it! You have officially begun your blog post creation. We hope this tutorial has helped you find your BEST keywords using Bramework.
Get Your FREE AI Generated Blog Outline
Cut Your Blog Post Writing Time in half
✅ No More Writer's Block
✅ Instant Post Structure
✅ Write 5X Faster!