Does Blogging Help SEO? 8 Easy Ways to Optimize Your Blog Posts for SEO!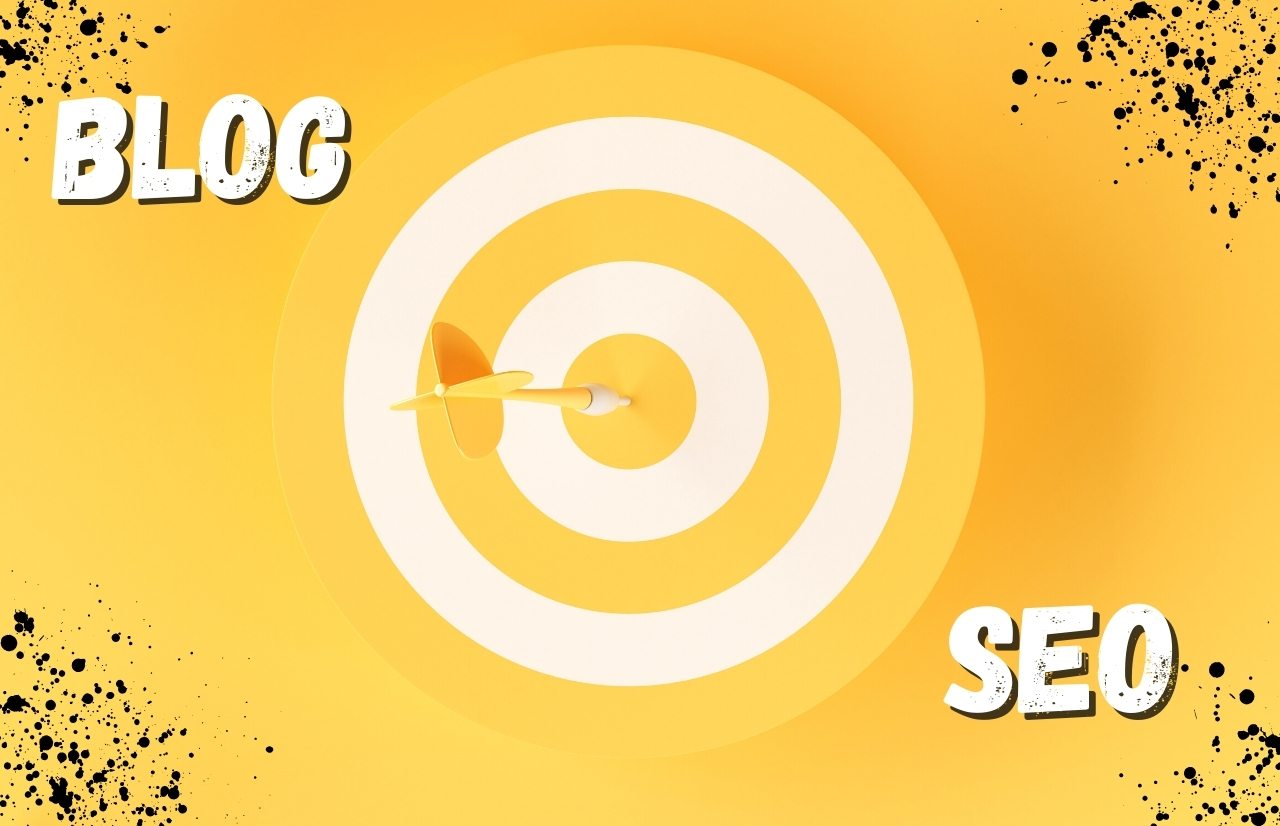 You may be wondering, does blogging really help with SEO? As you learn the power of your content you're going to want to tackle how to optimize your blog posts for SEO.
What does that mean, exactly?
Optimizing your blog for the search engines "gods" means that you are following certain policies, rules and protocols that will help it to be found easily online.
As a brand, you want to stand out. As a brand sharing content, you want to be known in the search engines for standing out. It's important to know how to do that so you can build authority on the web.
I am going to teach you how to make a blog SEO friendly. Here we go!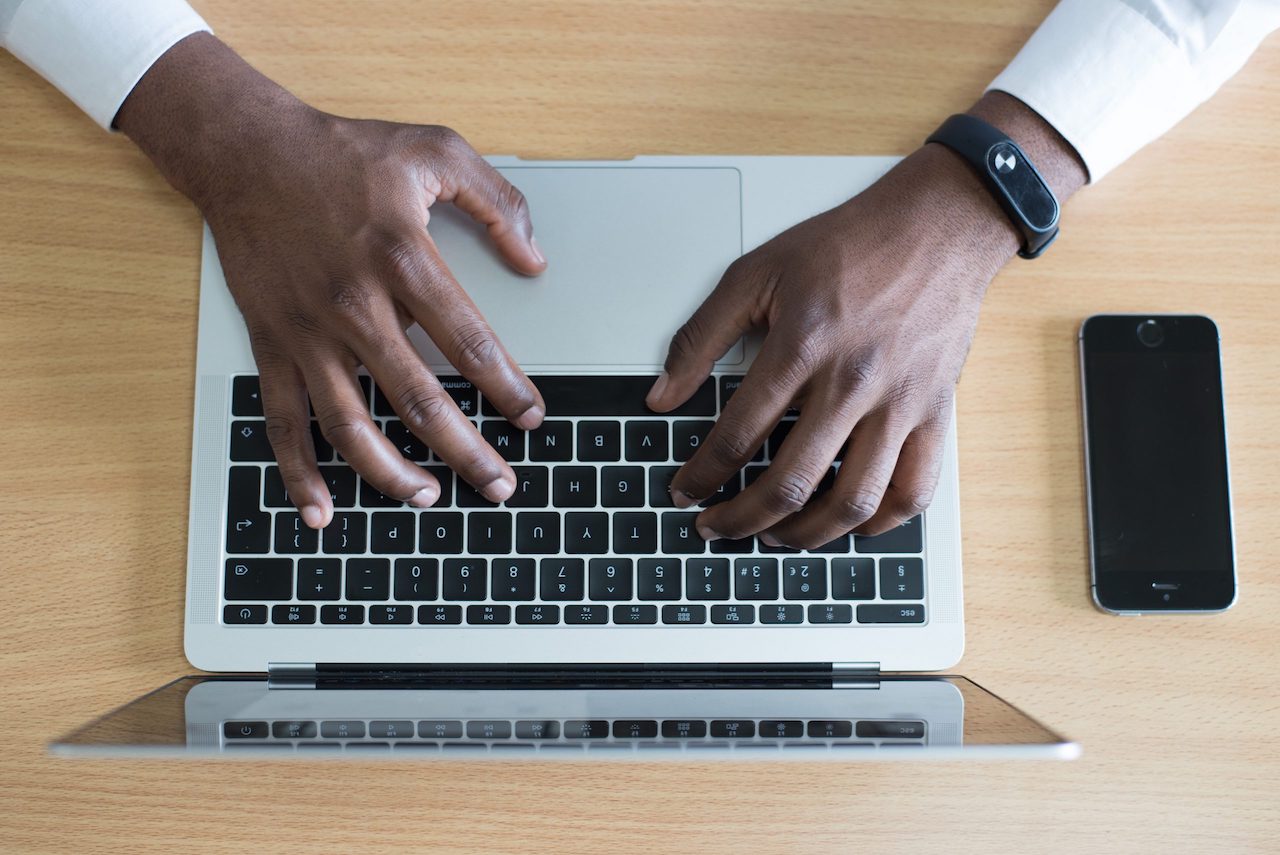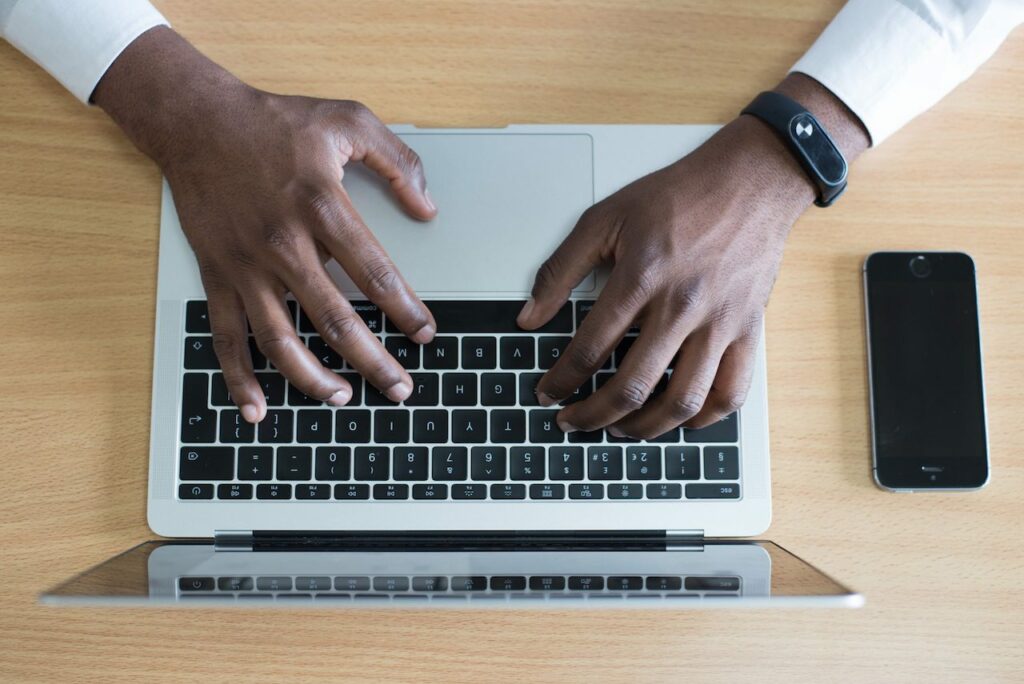 Blogging for SEO Success: What is SEO and why is it important for your content?
What is SEO and why is it so important for your blog? Great question!
SEO or search engine optimization is the process of optimizing content to be easily found by users searching for terms that are relevant to your brand.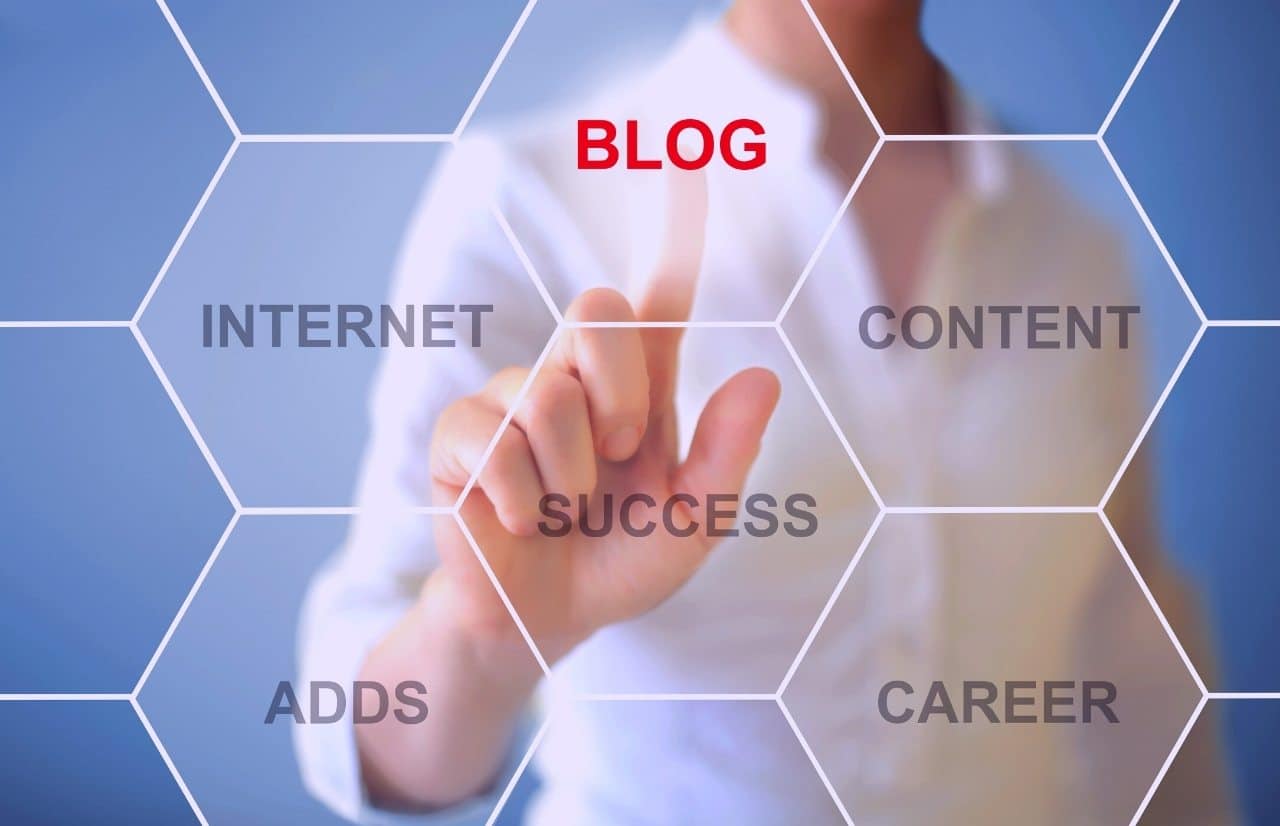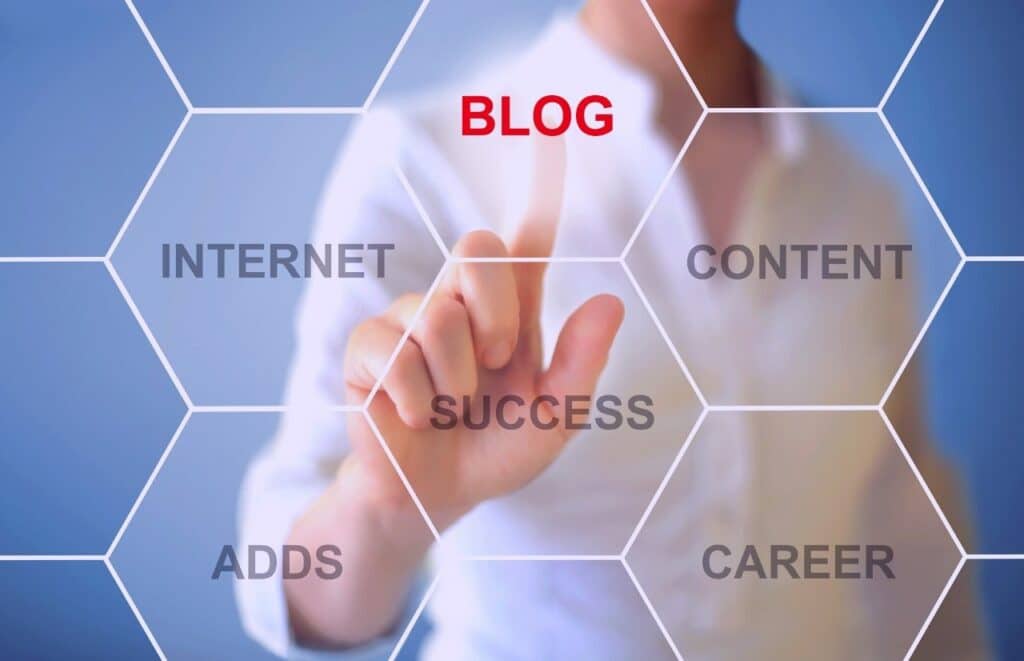 The term SEO also describes the process of making websites or landing pages easier for search engine indexing, known as "crawlers," to find, scan, and index your site. That includes your blog!
Why "SEO" Your Blog?
Your content gets indexed from these search engine "crawlers". You will want to use the right words to be found.
When it comes to SEO and optimizing your content, they go hand in hand. Here is what I'll cover:
Keyword Research and Placement
Image Optimization
The URL Rules
Meta description Updating
External Links and Influencers
Internal Links and Rules
CTA Management
Monetization (Optional)
The most important aspect of SEO is how you can leverage it to drive organic traffic to your website! It increases brand awareness and eventually, sales. #optimizeyourcontentforSEO by @bramework
Click To Tweet
8 Easy Ways to Optimize Your Blog Posts for SEO with This Checklist
Now that you know why blogging for SEO success is important, let's go over the perfect little blog post SEO checklist below that can help you with each article.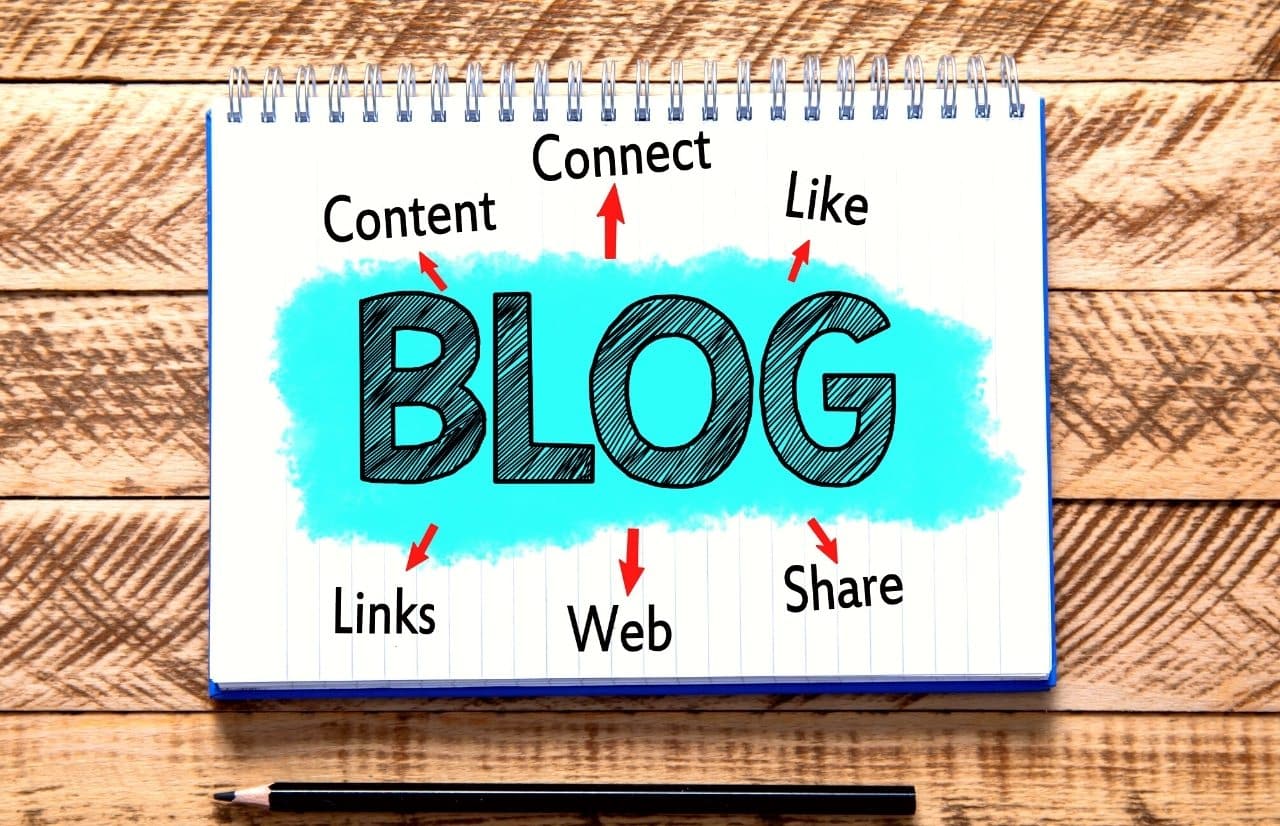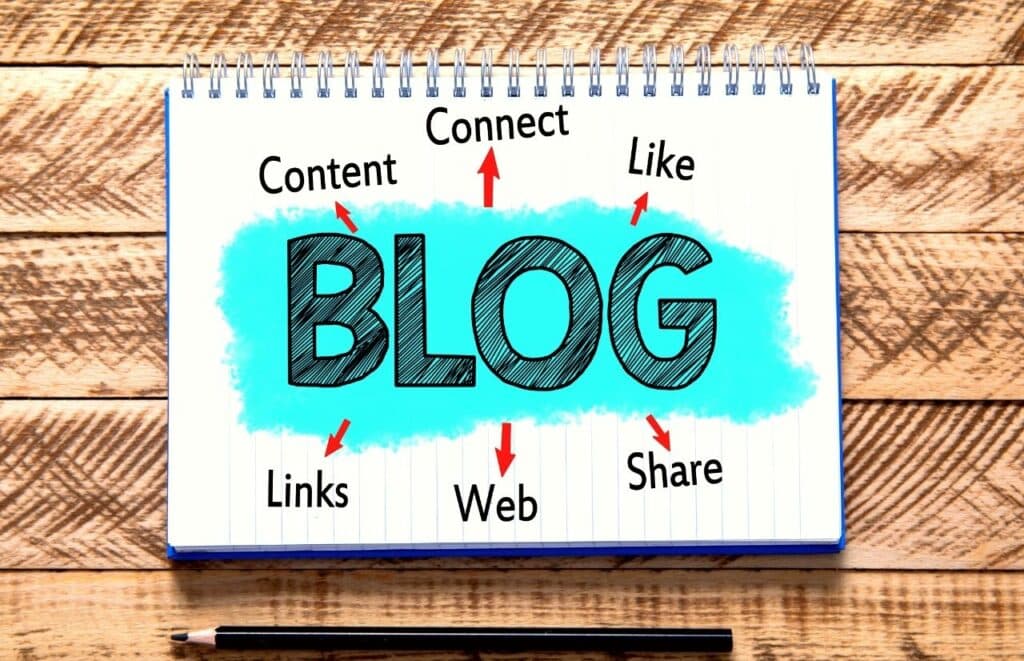 Unlock the Secrets to a $10K/month Blogging Income
👋 Take the Leap
Join the Waitlist for Our Revolutionary Blogging Academy and Propel Your Blogging Career to New Heights!
1. Do Proper Keyword Research and Know Where to Place Them
The keywords, as always, are the core of all content. Your blog is made up by your keywords, so they are pretty important for optimization.
Keywords are what you're trying to rank for in the search engines along with beating out the competition!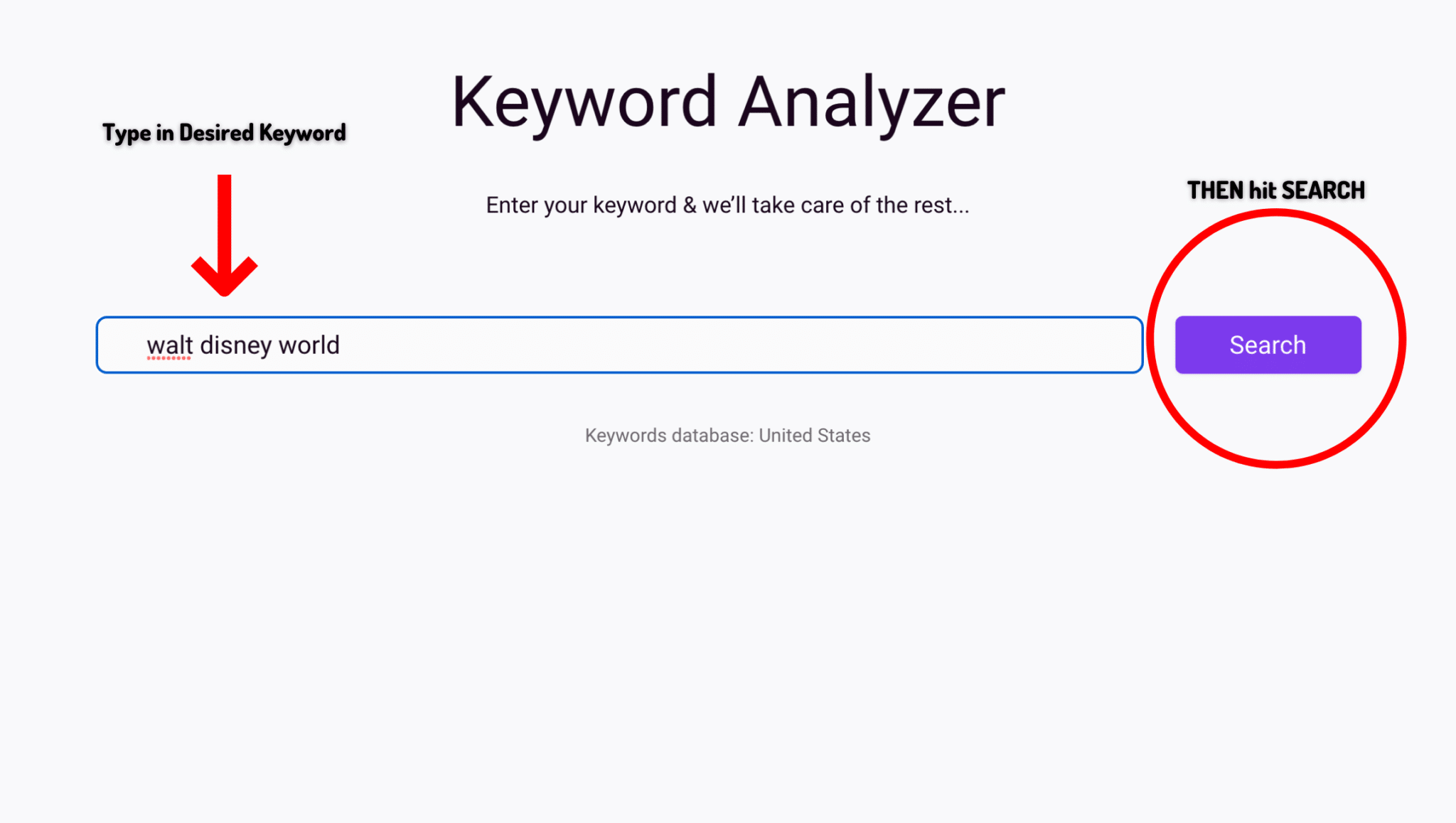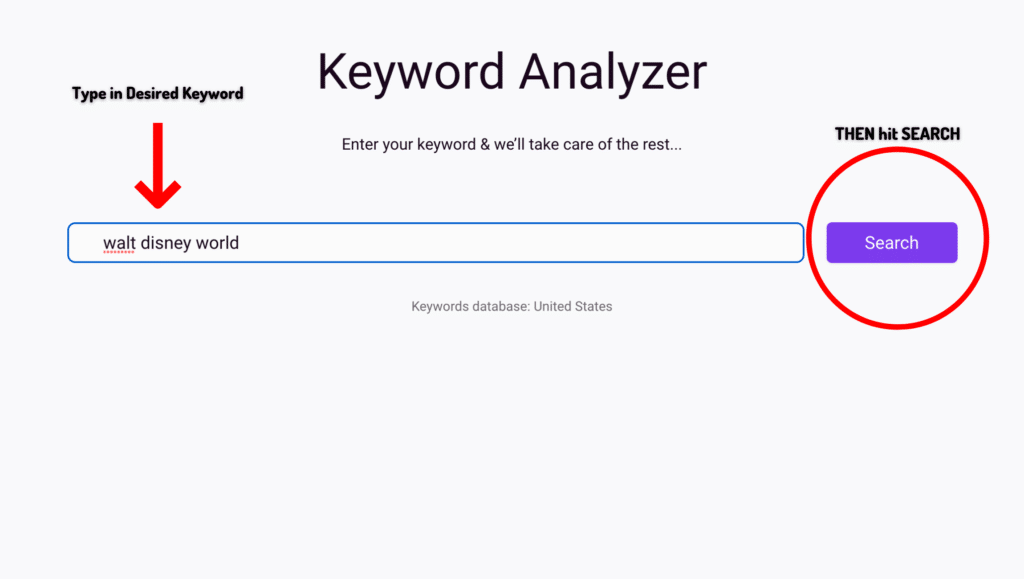 When you write a blog, you'll want to include them prevalently throughout the article – in a natural way. It's one of the best ways to optimize your blog posts for SEO.
The first step is to do a little keyword research! We make that easy at Bramework with the Keyword Analyzer.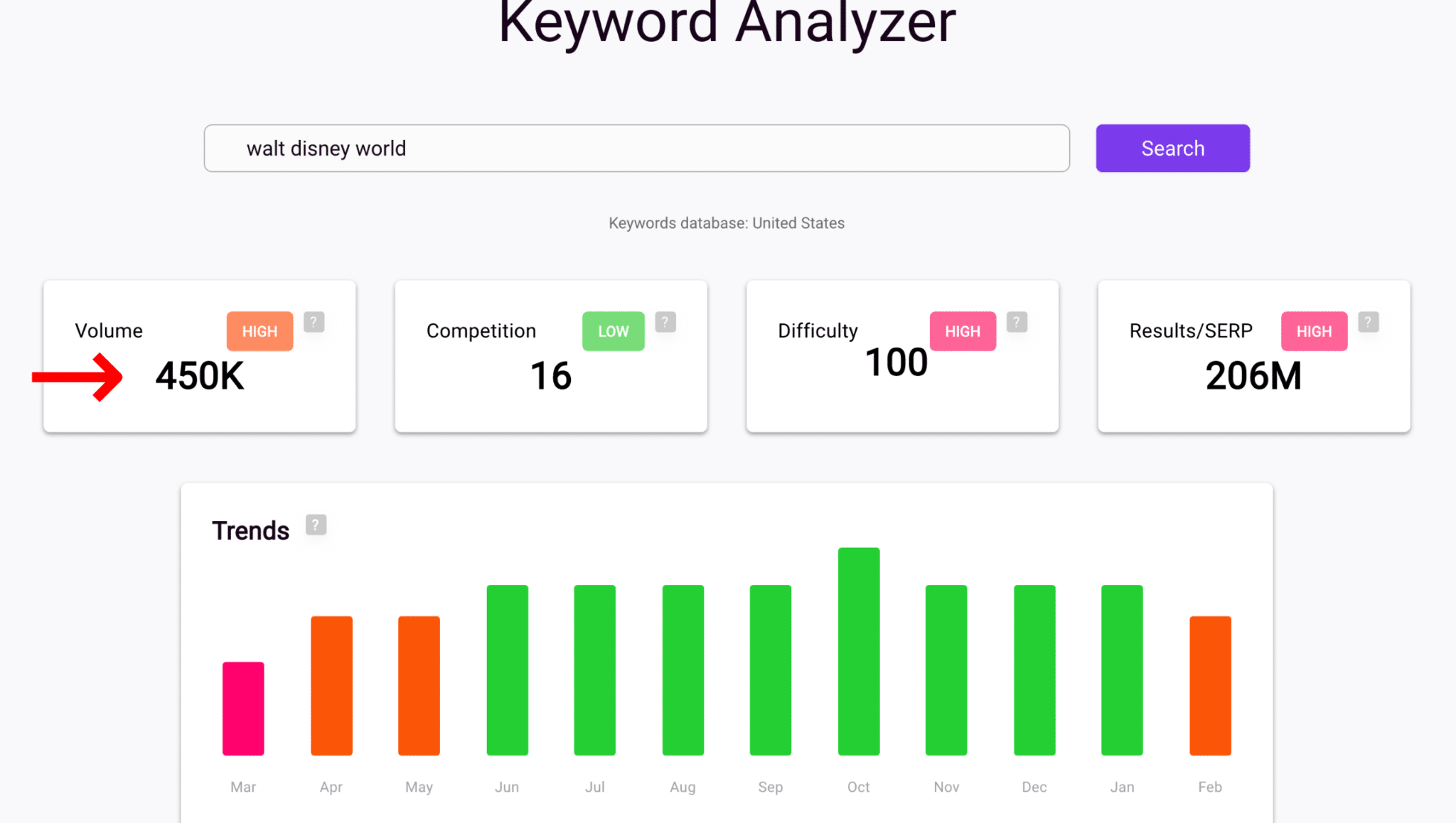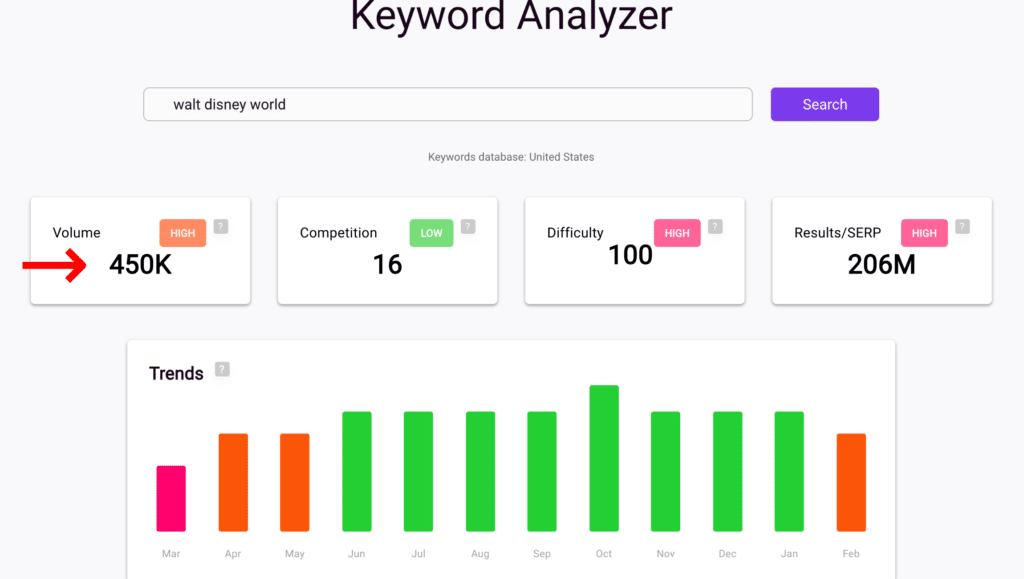 We've also written a few resources that will help you understand keyword analysis. We put together a complete guide to optimizing your keyword research and analysis in one easy to break down toolkit.
Blogging for SEO Success: How to Choose Your Keywords
You will have both a primary keyword you are trying to rank for and secondary keywords as well. Now you will have short-tail and long-tail keywords that will help you to reach that rank better.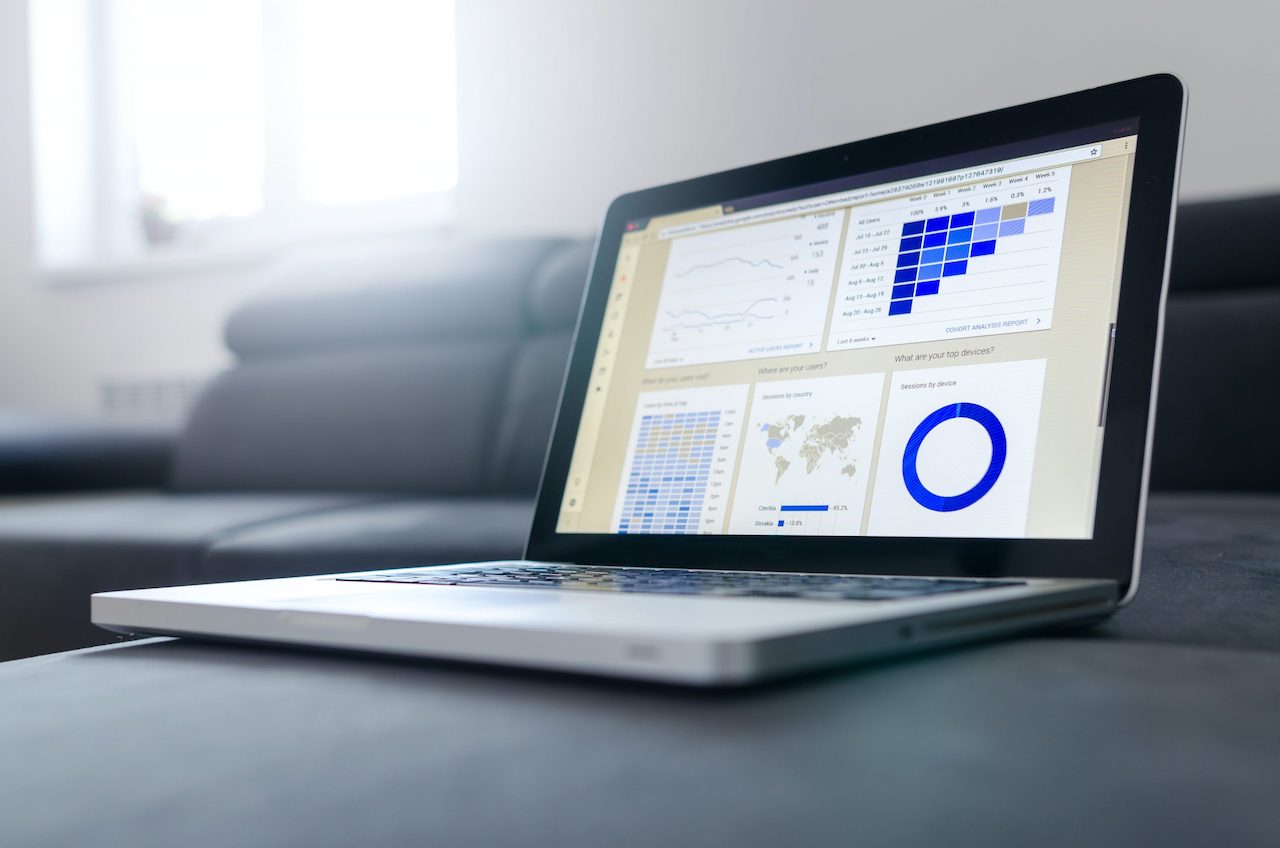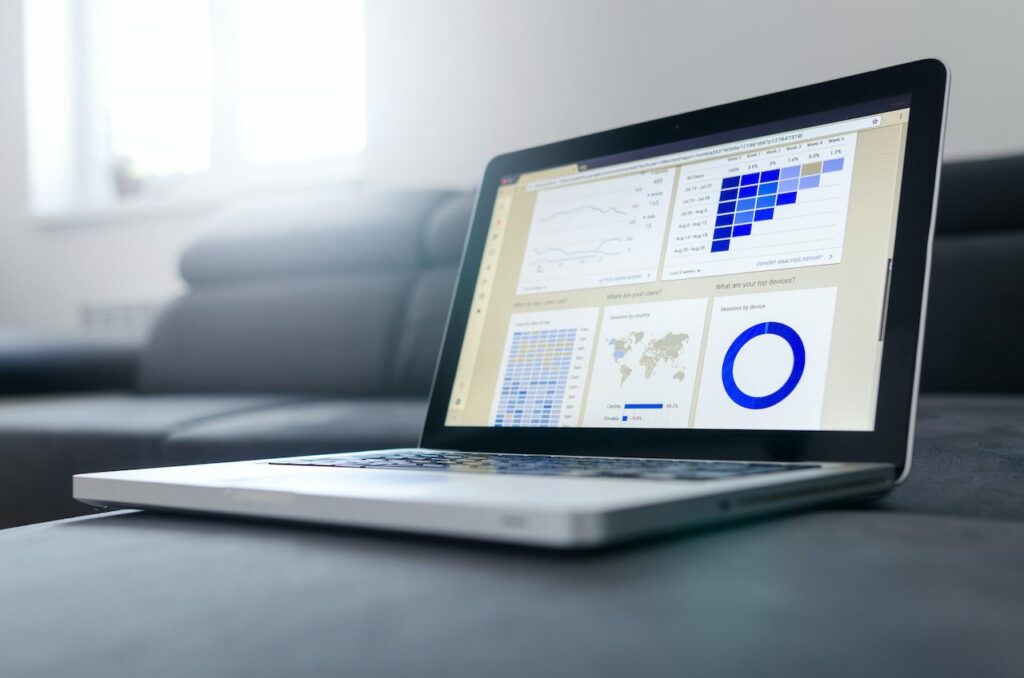 Create at least five secondary keywords that correlate with your topic. Keep track of all of this for future content!
You'll now have your primary and secondary keywords listed, you can start to place them in your blog or article.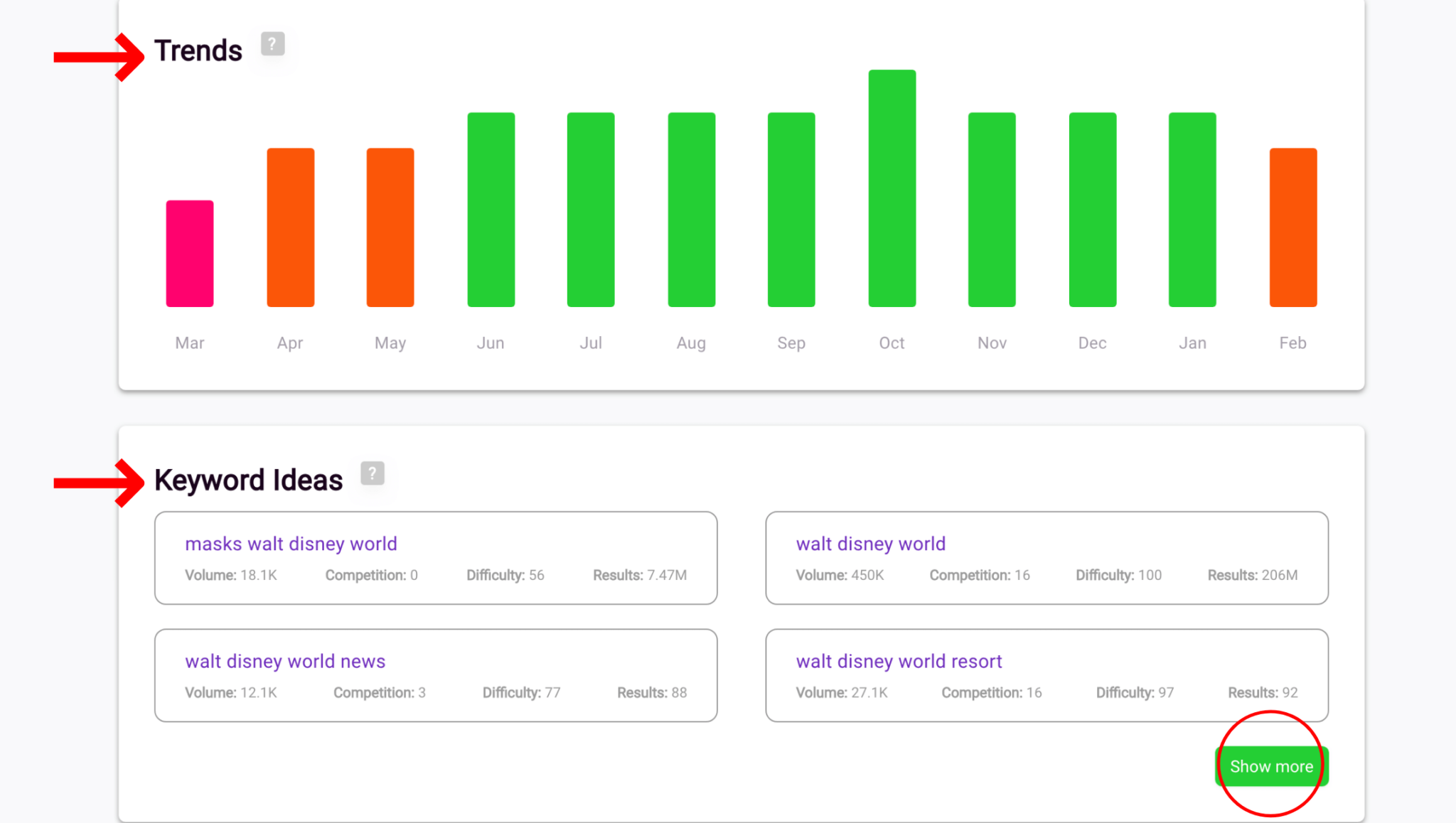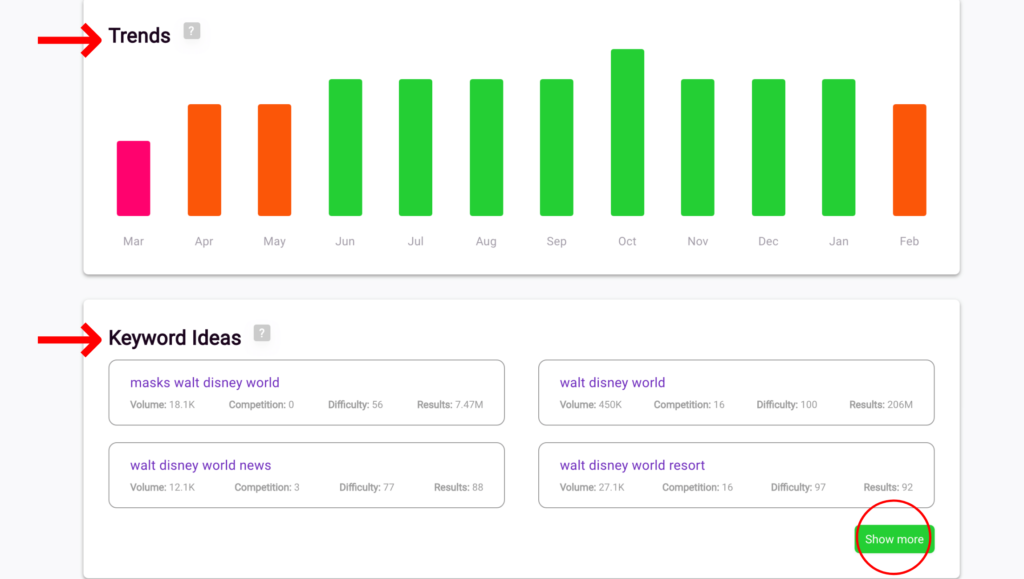 Note that this should be done prior to writing the article so that you can include them more naturally.
Here are the rules when it comes to keyword placement in your content. They MUST include:
Your primary keyword in the title of the article, towards the front of the title as possible.
Primary keywords in at least 1-2 subheadings.
Your secondary keyword in at least 1 subheading.
Primary keyword periodically throughout your content at least 5-10 times.
The secondary keywords 3-7 times throughout your article.
Your keywords naturally in sentences that stay on topic.
Different variations of each keyword, if possible.
Use the Bramework Blog AI Post Builder tool to ask questions about your keywords!
It will also recommend keywords and phrases, provide trends, and show top competing articles to improve your SEO and build brand awareness for your business.
2. Optimize Your Images for SEO
Images in blogs give your content that visual boost it needs to drive engagement. The images you include are important for SEO!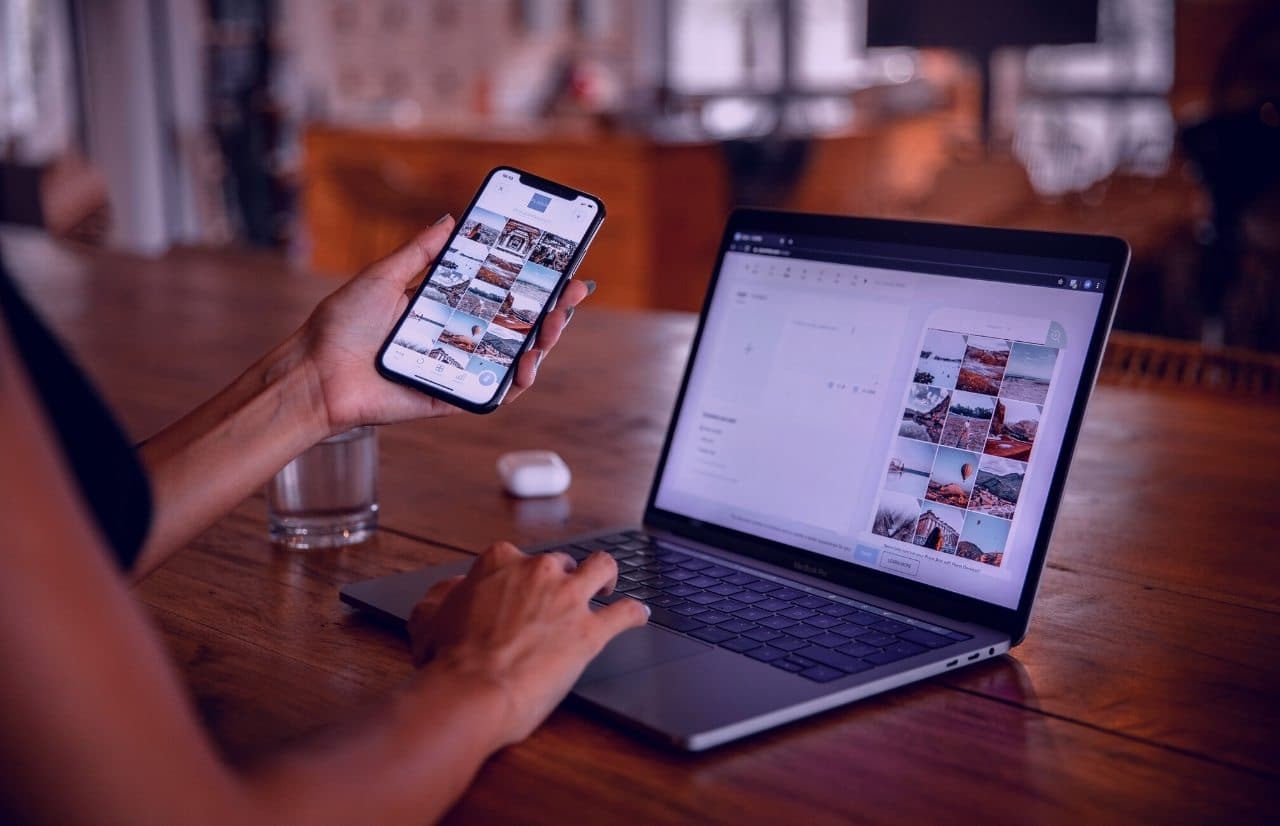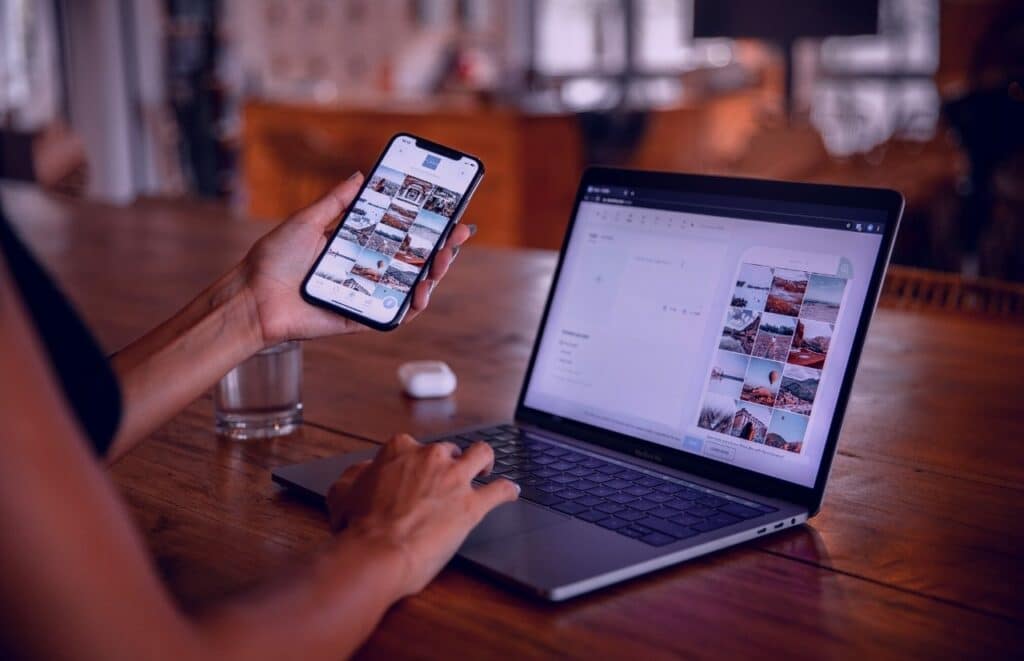 When you're learning to optimize your content for SEO, you'll want to choose images that are high-quality, large resolution and impactful. They should be relevant to your keywords and fall in line with the topic of your blog.
Make sure the images you're choosing are royalty-free with no copyright issues!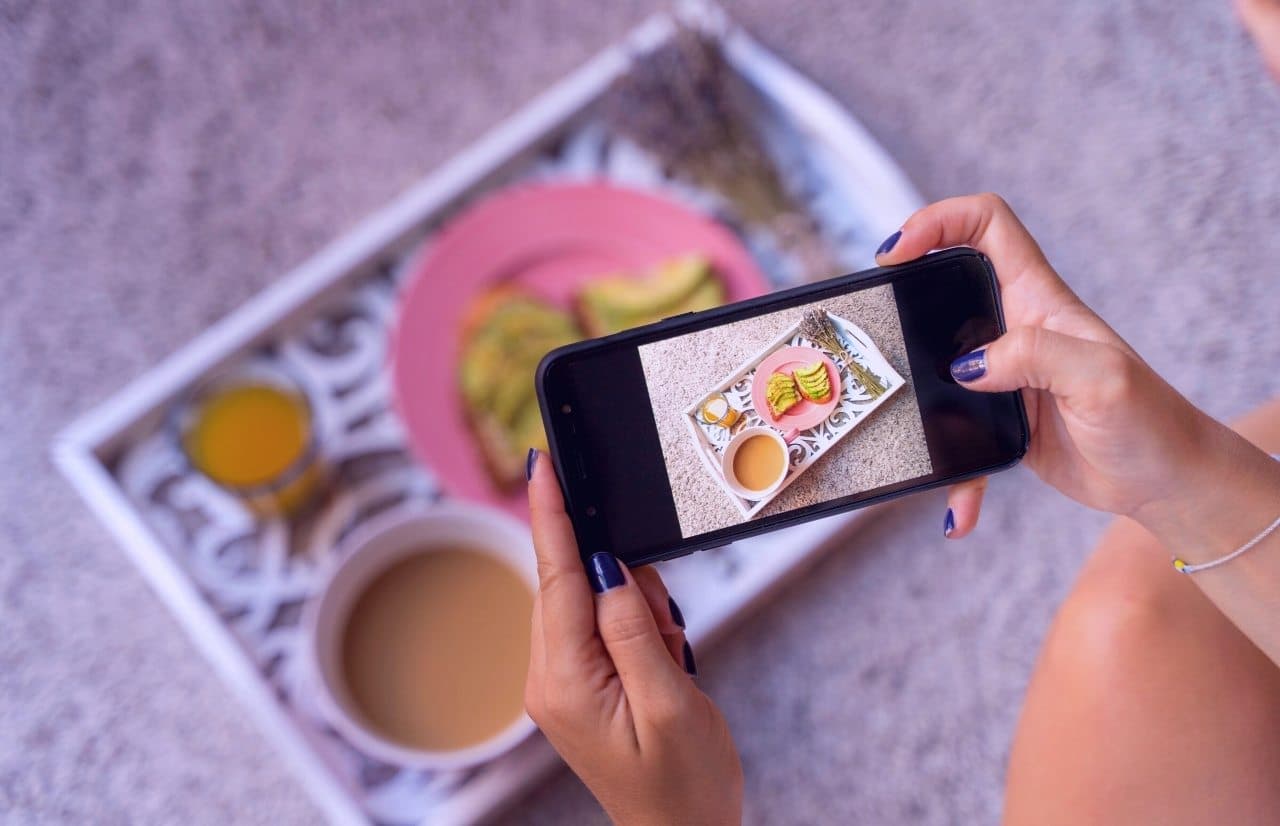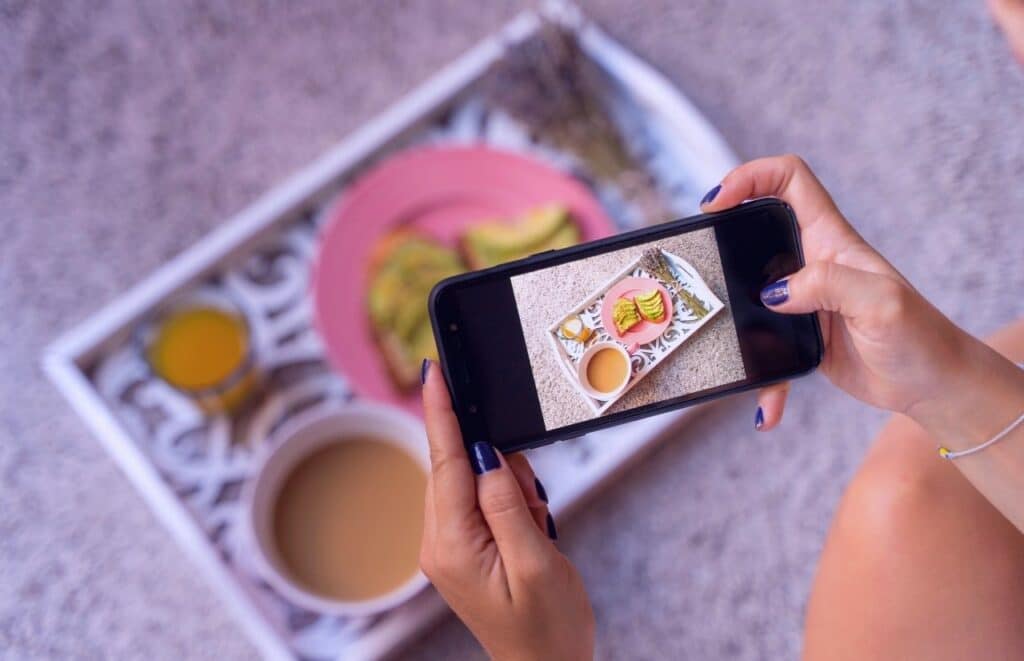 If you would like to design your own images to include in your blogs, that works as well.
Here are a few stock imagery sites that will offer quality photography without any infringement. Make sure you give credit to the photographer or the website you chose it from.
Blogging for SEO Success: How to Optimize Your Blog Images
There are two rules when it comes to adding images to your content. Before you upload, be sure to give the image a title – preferably with your primary keyword in it! It's one of the best ways to optimize your blog posts for SEO.
It will then live in your CMS library with that keyword which will be indexed by the search engines. The second rule is to update the metadata of an image or just fill in the Alt text.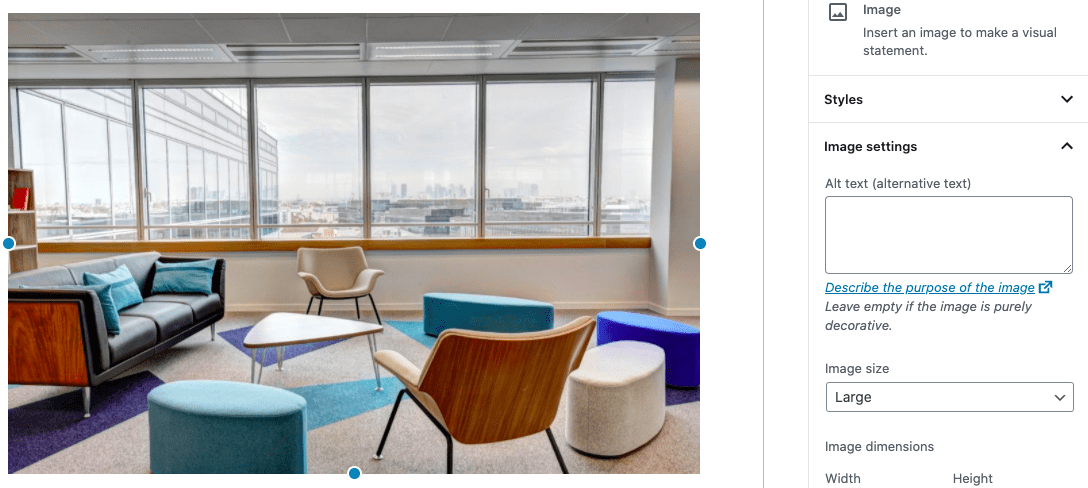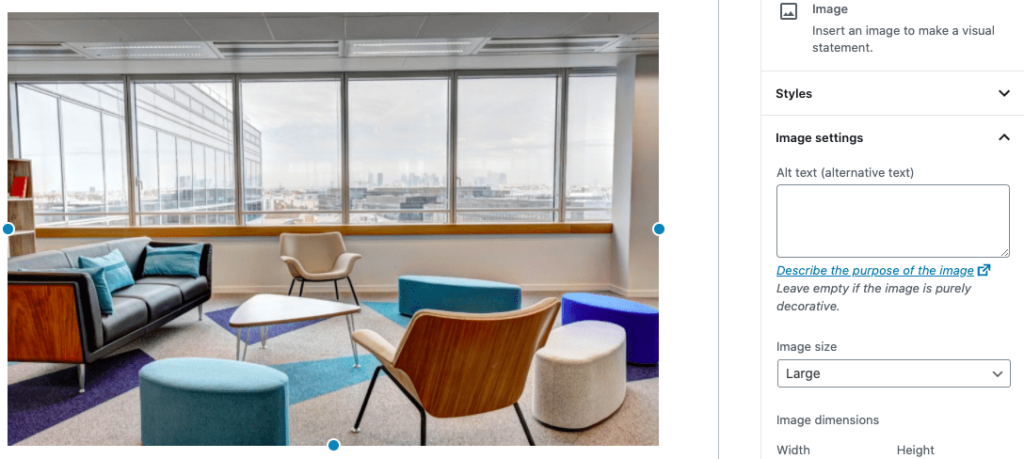 If you look at the image above and navigate to the right side, you'll see where to update the Alt text.
3. Know the URL Rules
Your URL or permalink will need to updated before the post is published. In order to optimize your content for SEO, you will need to update the URL to reflect your keywords or the shortened subject of the article.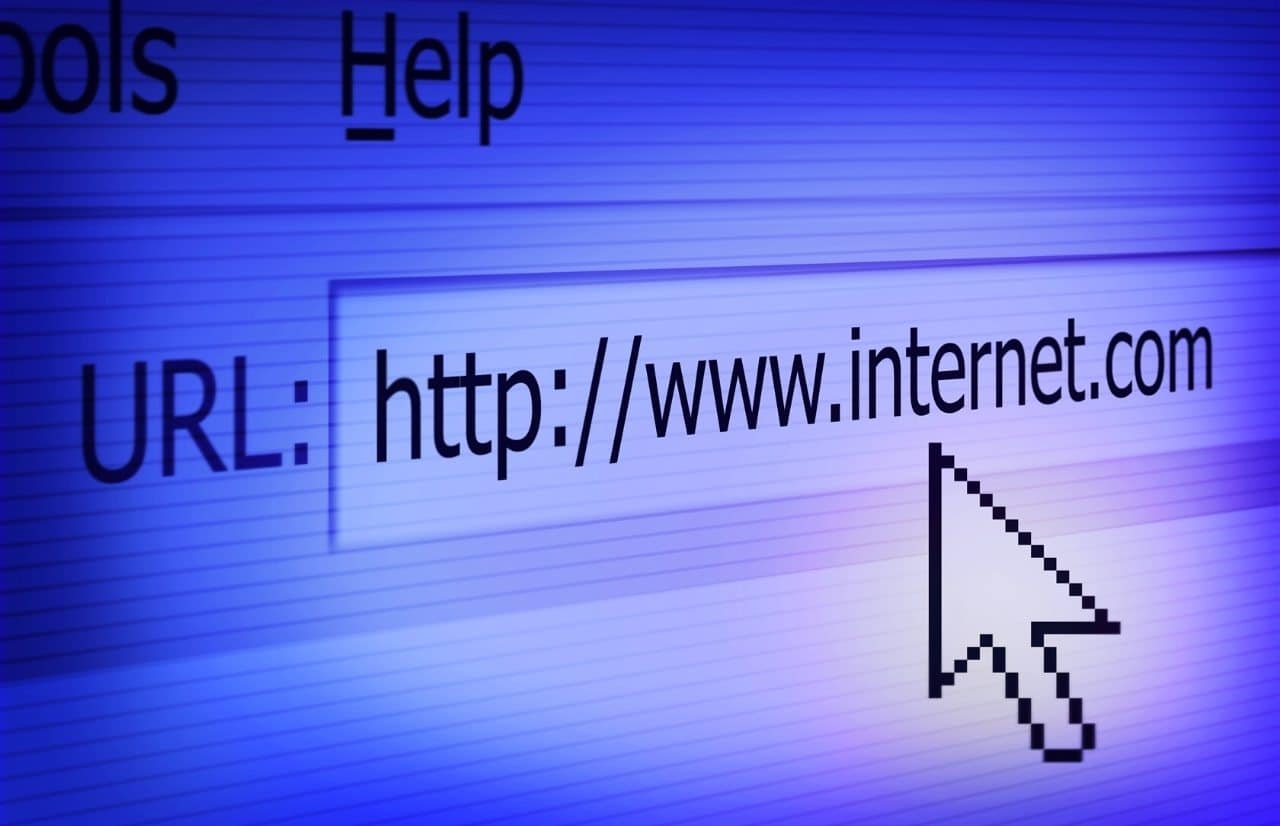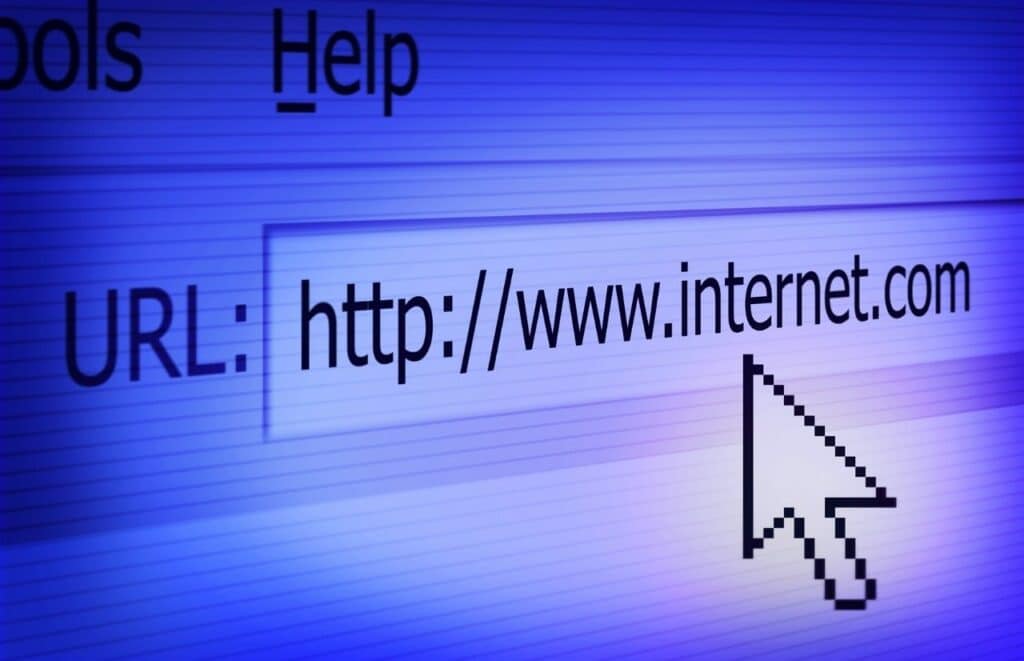 Here are a few examples of a good URL or permalink to help optimize your blog posts:
When updating your permalink, be sure to use your core keywords, if possible, along with an action item. There is a science behind a proper URL that gets indexed and it's beneficial to take the time to update that. It also makes it easier for people to share it!
Nobody likes a long URL! Shorten your permalink to reflect your keywords and core concepts in your blog. Simple is better.
4. Be Sure to Update Your Meta Description
Optimizing your content for SEO means you will have to do a little back end maintenance of your blog.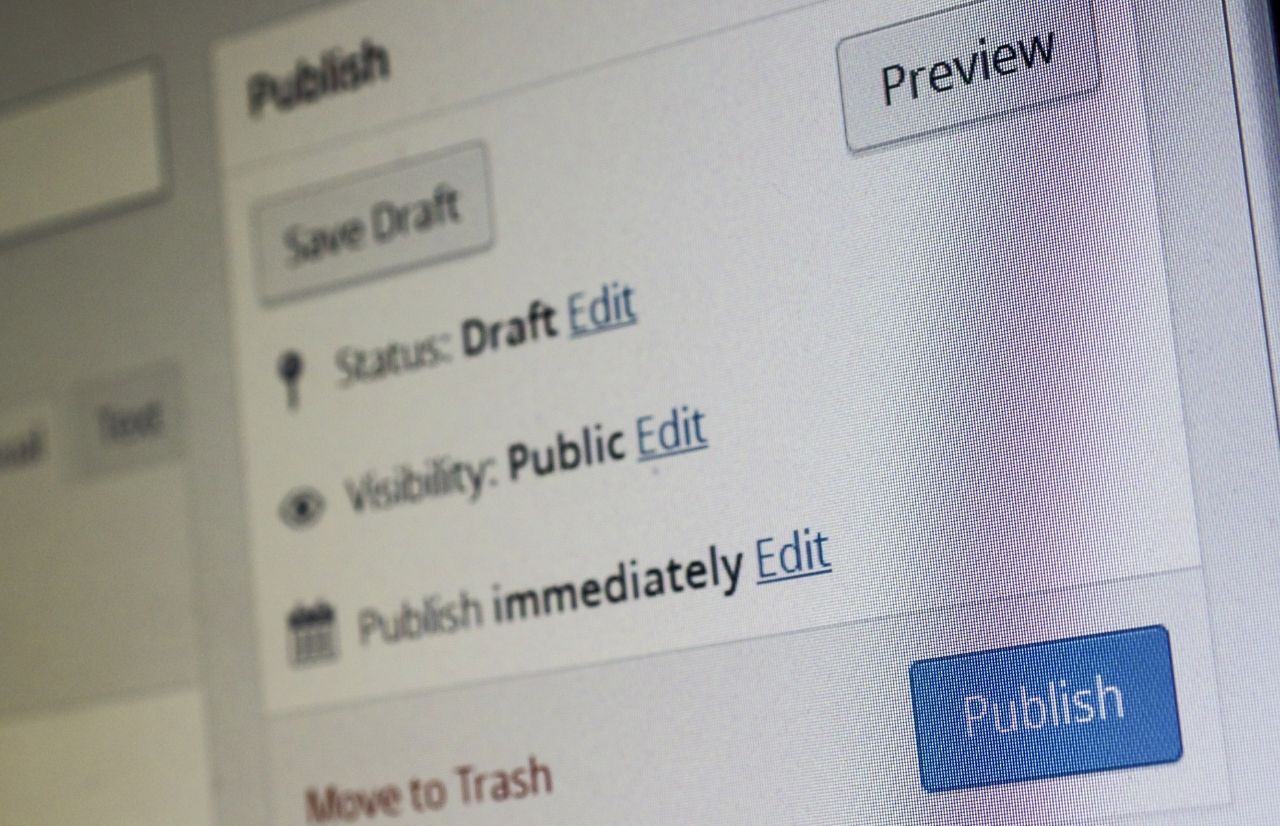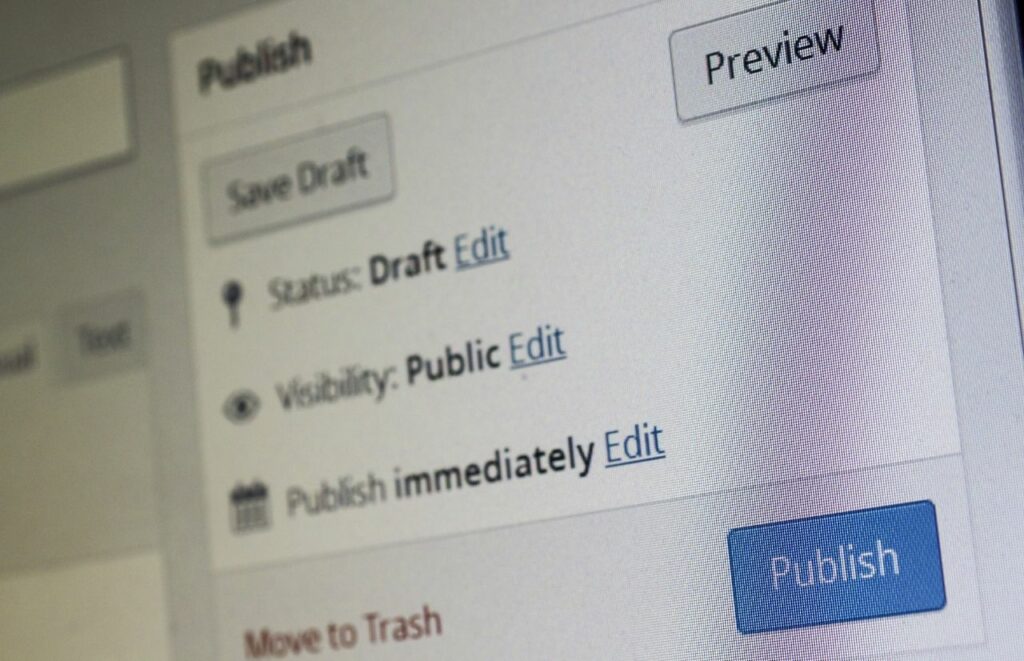 With every blog you write, there will be administrative fields that will need to be filled in before you publish.
As you upload your blog, you'll need to update your meta descriptions at the end. It's a simple task of updating the details of the blog.
Blogging for SEO Success: How to Write a Blog Post Meta Description
Navigate to the bottom of your blog or to the righthand side and find the SEO, Readability and Social areas of your posts page. Here is what you'll be updating:
Focus keyphrase – the title of your article
Snippet – the short description of your article, including your keyword
Permalink – the URL of your article
Categories – the options you chose in your blog library to store this article under
Tags – your keywords, use at least three
Featured Image – the image you would like to be featured on the top of your blog and on social sharing
Social – Update the focus keyphrase, snippet and featured image here as well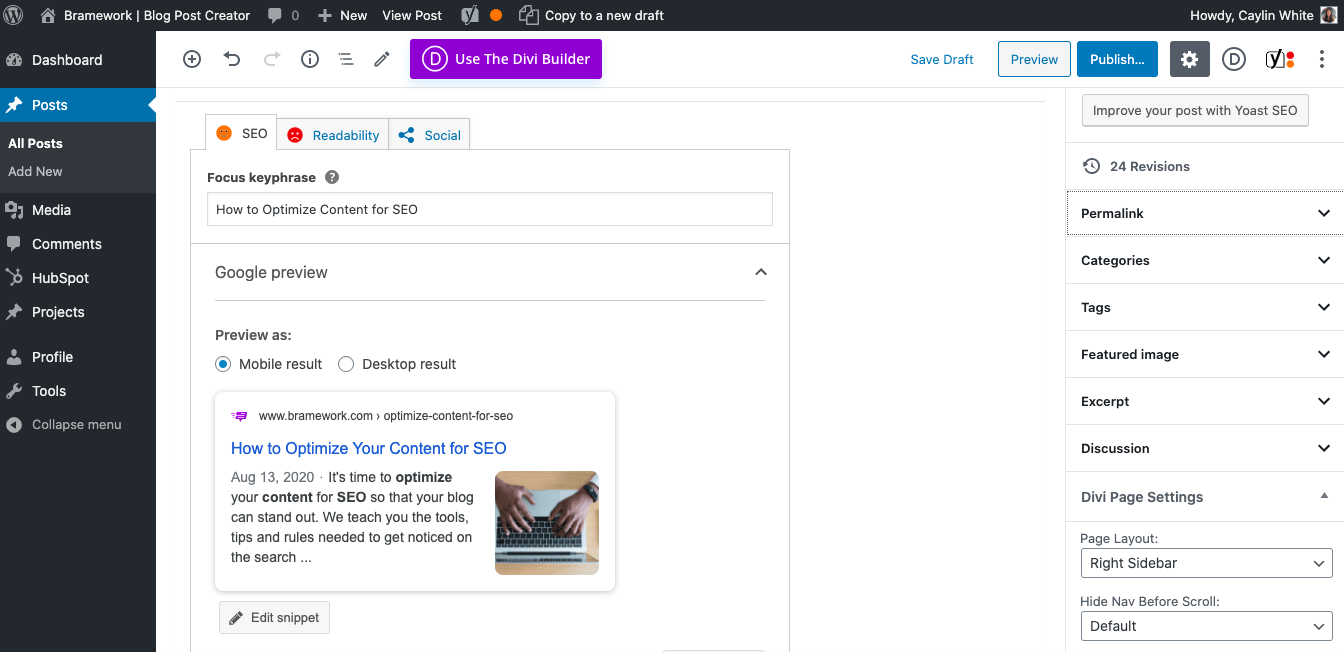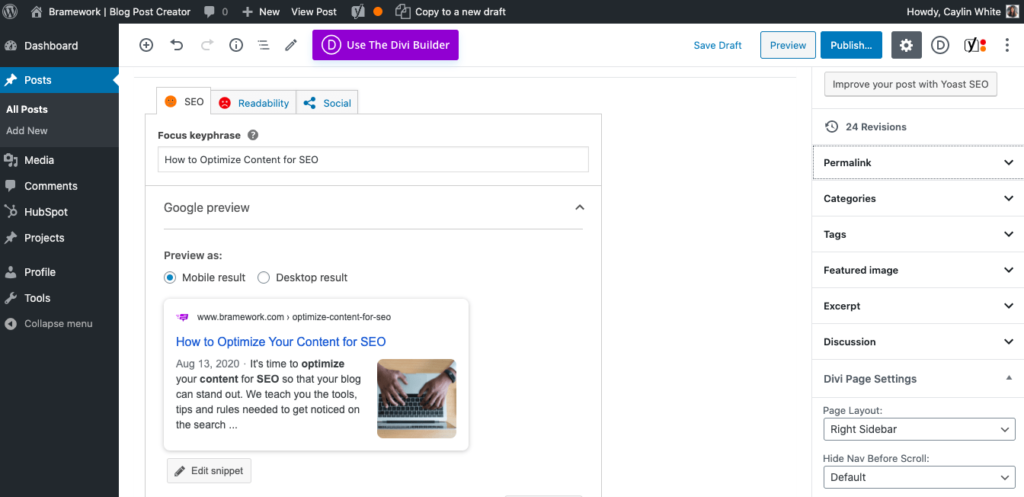 As you can see, doing this is one of the best ways to optimize your blog posts for SEO.
5. Look for External Links and Influencers
Ah yes, link building. We know a thing or two about it because we love building lasting partnerships at Bramework.
When you are optimizing your content for SEO, one of the most important aspects is link building.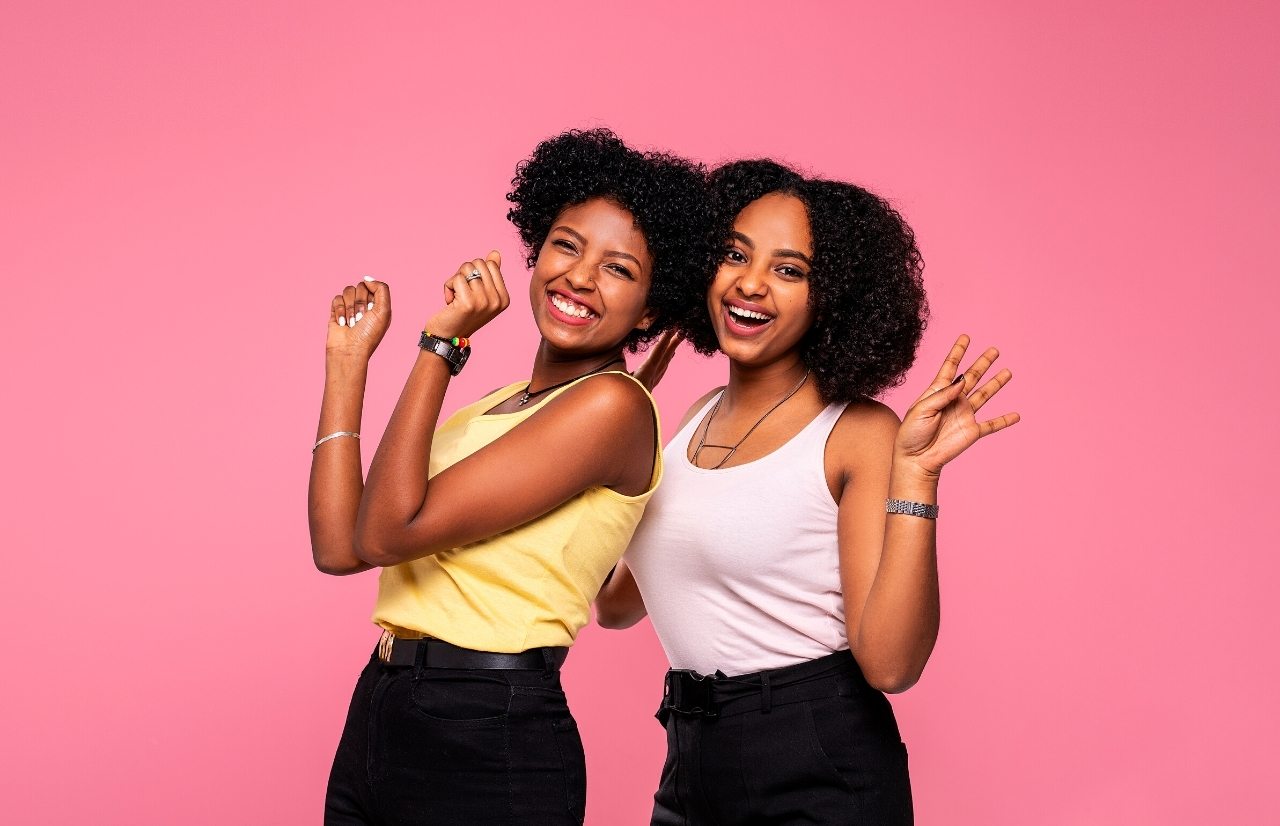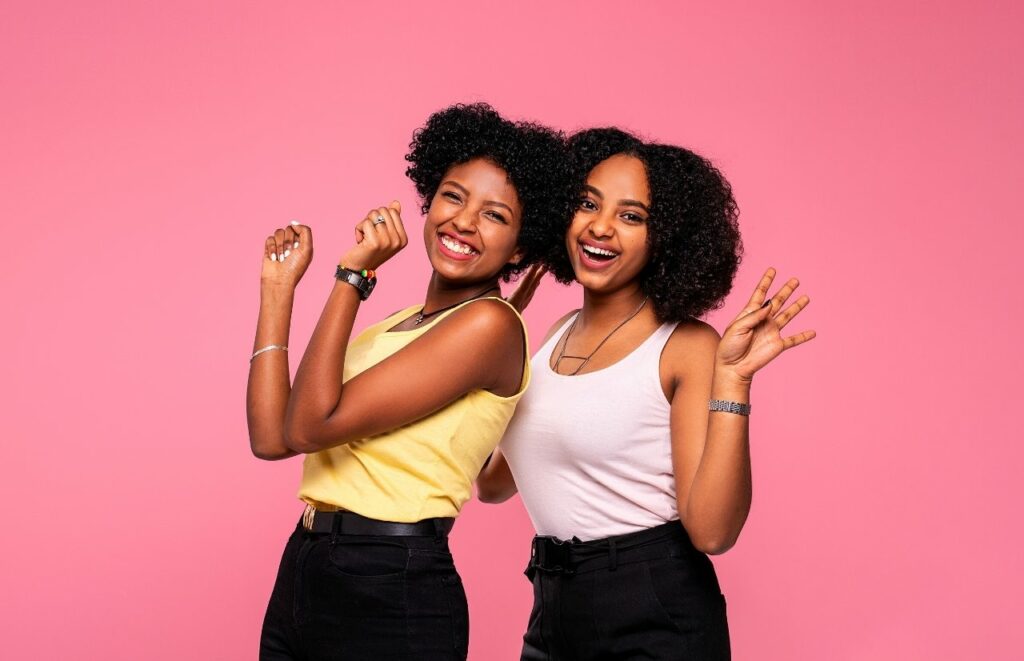 In short, link building is the process where you include internal and external links to additional resources for your reader to engage with. This brings value to your content and encourages those linked to, to share your content because they were featured.
Blogging for SEO Success: Why Backlink Partnerships are Important for Your Blog
External links are citations or references to outside websites, brands or resources that are included in your content.
These are the links included that can build partnerships, referrals or influencer relationships. It's one of the best ways to optimize your blog posts for SEO.
There are few rules to including external links in your blogging content:
All external links should open in a new tab.
Links are not created equal – so be sure you are not linking to a spammy or hacked site.
Do not link to competitor articles or websites.
Link to potential partners – people you would want to associate your brand with or grow from.
Do link to referral partners whenever possible.
Your external links should be used organically and flow naturally in the content.
Keep track of all external links used so you can reference them in the future.
Reach out to the brands behind the links you included to let you know that you featured them!
Including external links brings value to your content and encourages those included to share your content more.
6. Add Internal Links from Your Blog
Internal links are a little different and a bit more important to build trust with your audience.
You always want to position yourself as the authority of the subject in which you write. So you want to include several links to your own or previous content throughout your blog.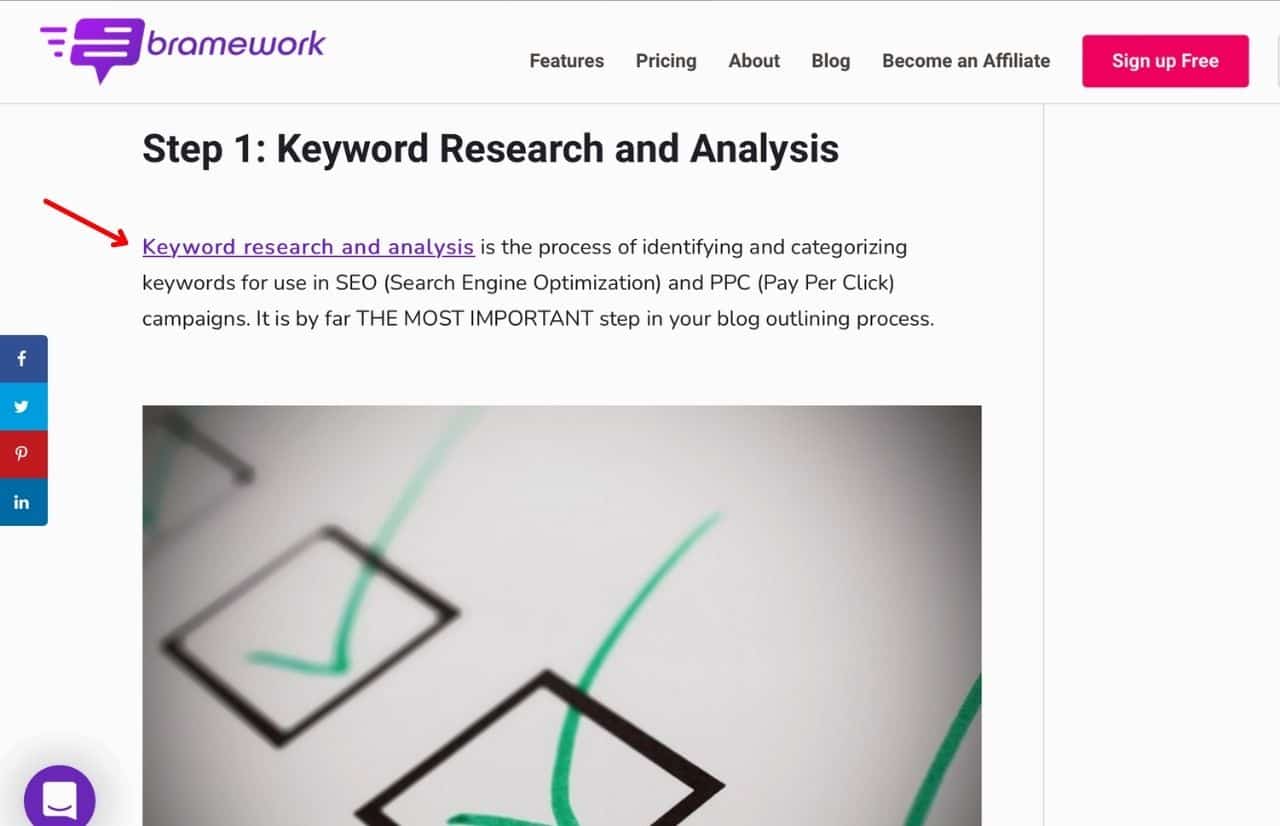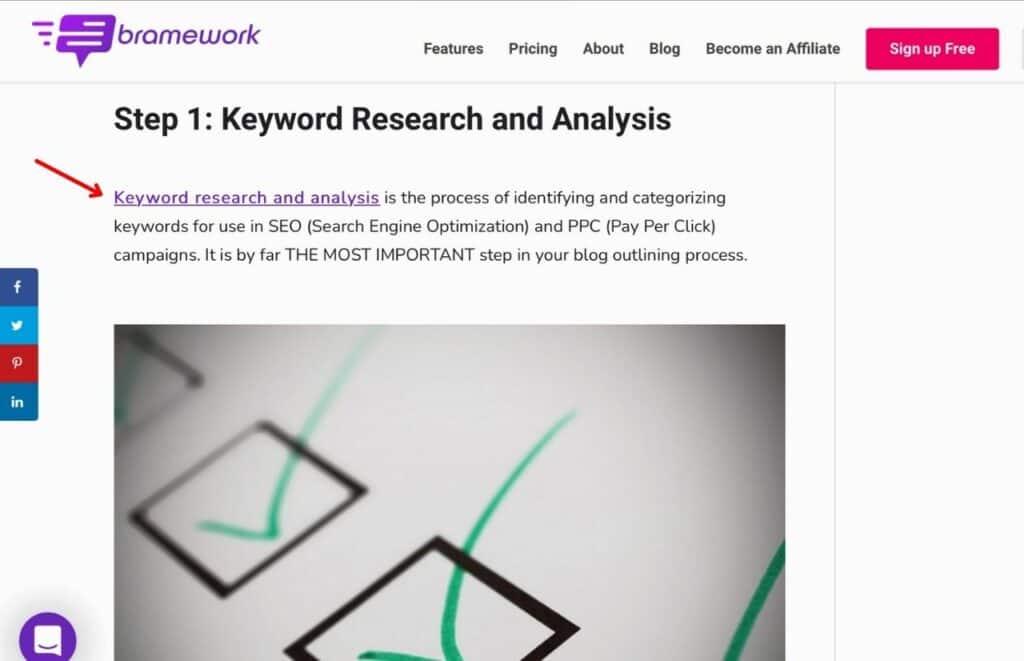 This can take on many forms! You can link internally to an older blog post or an ebook you created or so many other ways.
Blogging for SEO Success: Why Interlinking on Your Blog Posts Is Important
These links are meant to be additional resources you include in the article that are made or created by you or your brand.
The links will open in the same tab and will be linking directly to additional blogs or your service pages as a resource.
You should know that the only real rules here are to open in the same tab to increase conversion and keep your internal links natural with the flow of the article. It's one of the best ways to optimize your blog posts for SEO.
Here is a great example of both external and internal links that we included in the article The Ultimate Blogging Guide to Build and Sustain Traffic.
The first example you will see Bluelist.co highlighted in blue. That's an external link that opens up in a new tab to Bluelist, whom we mentioned in a positive light.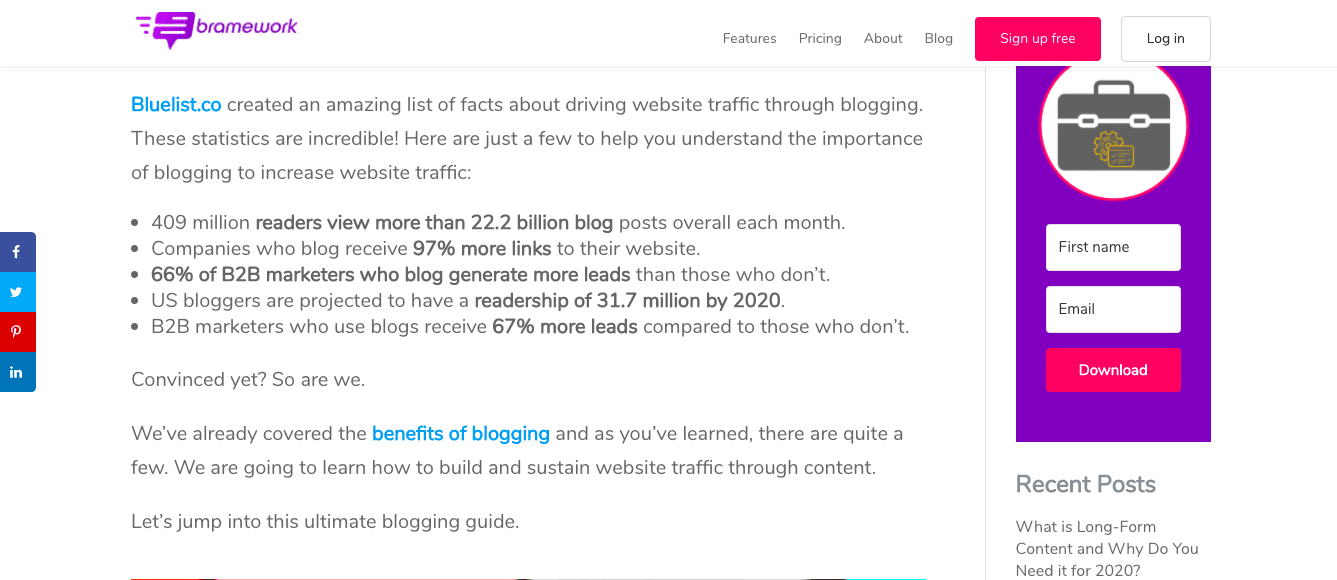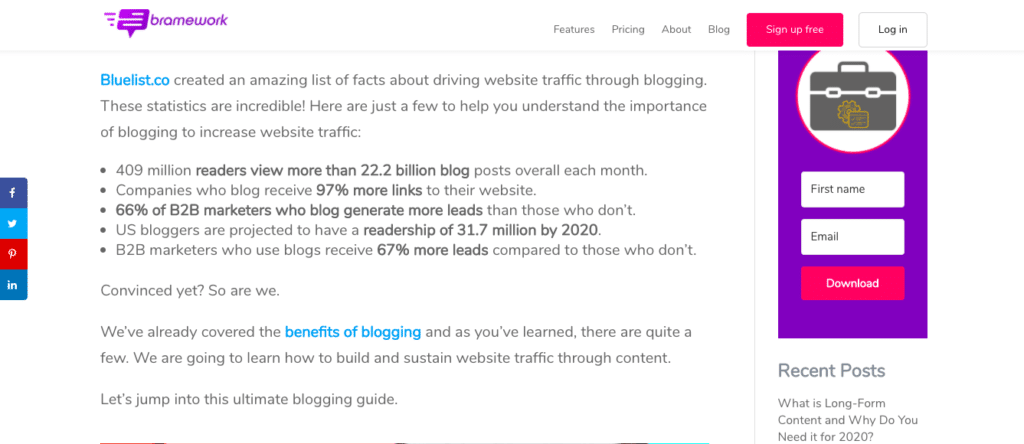 The second example you will see are the words "benefits of blogging" in blue as well, that is an internal link to a previous article we wrote entitled 41 Benefits of Blogging: Why Content is Important.
PRO TIP: You can use internal links in CTAs or downloadable content. It's encouraged to use these throughout the article so that you can build trust with your audience. Don't be shy to link to your older content!
7. Know How to Add Your CTA's to the Blog Posts
It's time to talk engagement! Your CTA or call to action is your top engagement tool to optimize your content for SEO.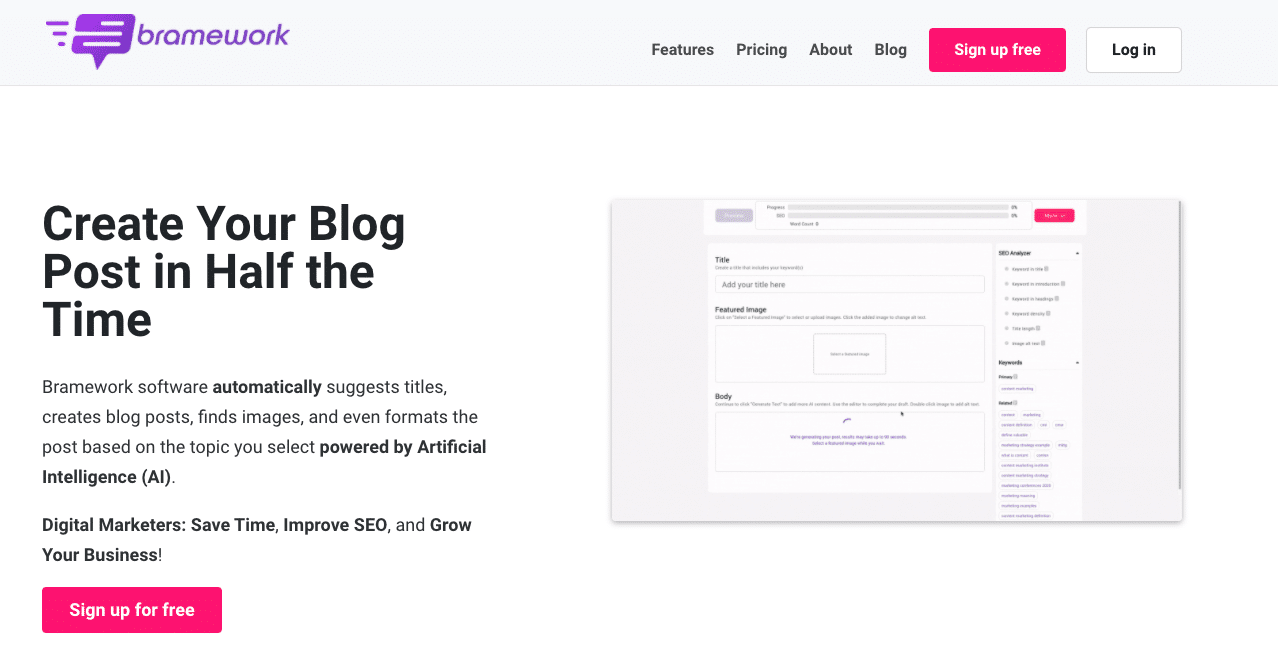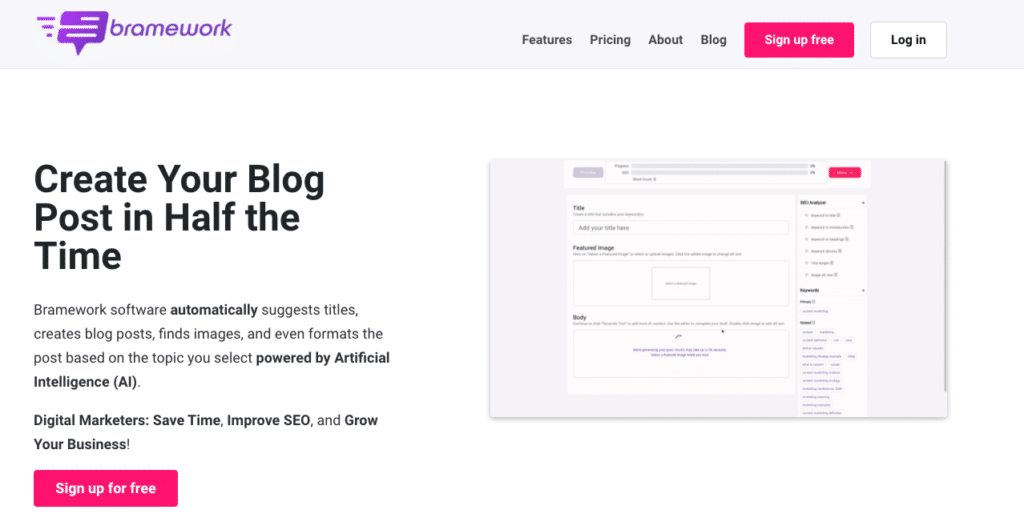 Your CTA is your lead magnet and will need to be integrated into your email marketing database, your sales CRM or your CMS.
The key is to obtain the needed information to add them to your database for lead nurturing. Offering a free resource, service or training brings value to your brand and increases authority on the web.
Your call to action can take on many forms! Here is a list of CTAs that you can include in your content for optimization:
EBook
White paper
Tutorial
Guide
Certification
Webinar
Podcast
Virtual Summit
Checklist
The rules of including CTAs in your content are that you must make them relevant to your keywords, you must include your keywords in them and you should include 1-2 per article.
At Bramework, we wanted to help bloggers increase their website traffic naturally. We created the downloadable Ebook – Boost your Website Ranking and Traffic and here is the CTA:
Here is the sample copy we used in the CTA to encourage more downloads:
Keyword research and analysis are core components of content marketing success. If done right, SEO can drive a higher conversion rate to your website.
You'll learn about:
How to do keyword research analysis successfully.
The importance of saving time in your keyword research with the right tools.
Tips, tricks and tools for keyword rank help.
Download it, and get started today!
When you create a well placed CTA (Call to Action) it optimizes your content for SEO and provides resources to your audience.
8. Add Monetization Features to Your Blog Post
Monetizing your website is a great way to optimize for SEO as well! After all, if you're working this hard to get traffic to your website, you should be able to pay yourself for the time invested.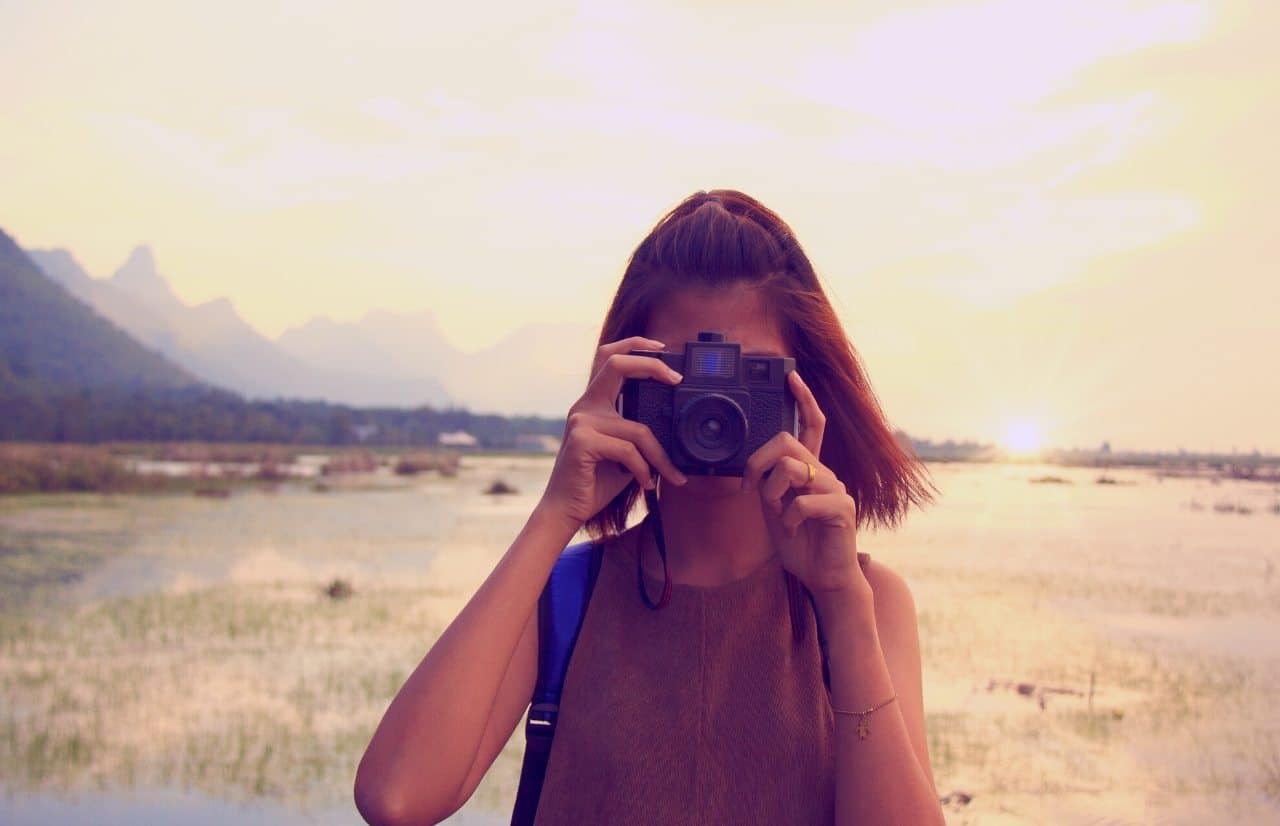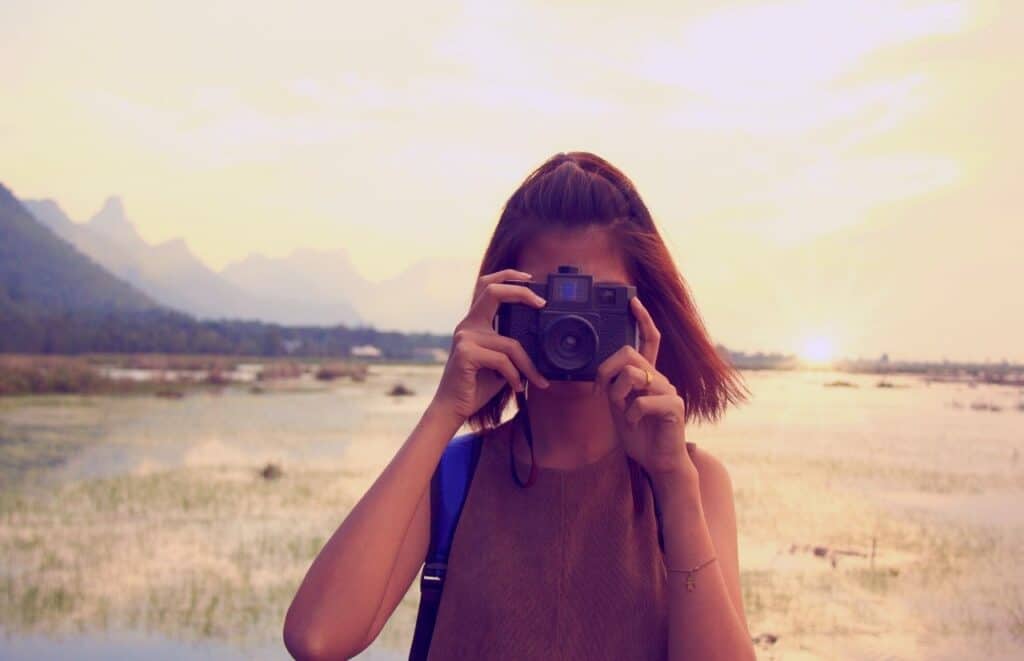 As some are not open to using paid promotions or affiliate marketing to grow their brand, this is an optional tip.
Monetizing your website can take on a few different forms as there are various levels. We wrote an article all about that – check it out!
Blogging for SEO Success: How to Make Money from Your Blog
You can begin an affiliate marketing program with your brand or join other programs.
These affiliate links can then be included in your blogs which helps the search engines associate you with those authority sites. It's a reach, but it's a small way to optimize your content.
You can also monetize your website with paid or promotional ads.
This can be done in small ways like adding a referral to your blog or you can add sidebars, widgets, or footers that include banner ads.
It keeps more people engaged, encourages clicks and time on page. You are always looking to increase on-page SEO!
Bramework Wrap Up: Optimizing Your Blog Posts for SEO
That wasn't so bad was it? Optimizing your blog posts for SEO doesn't have to be that complicated.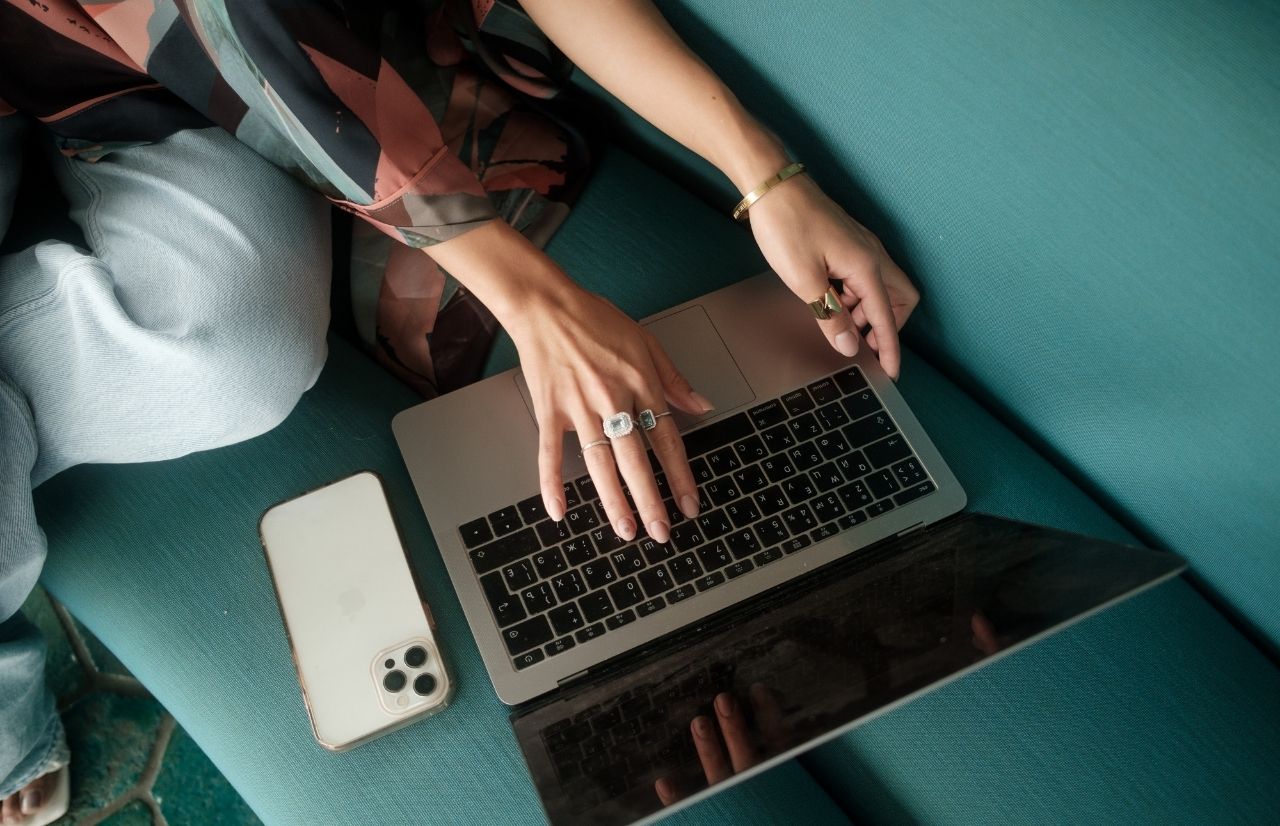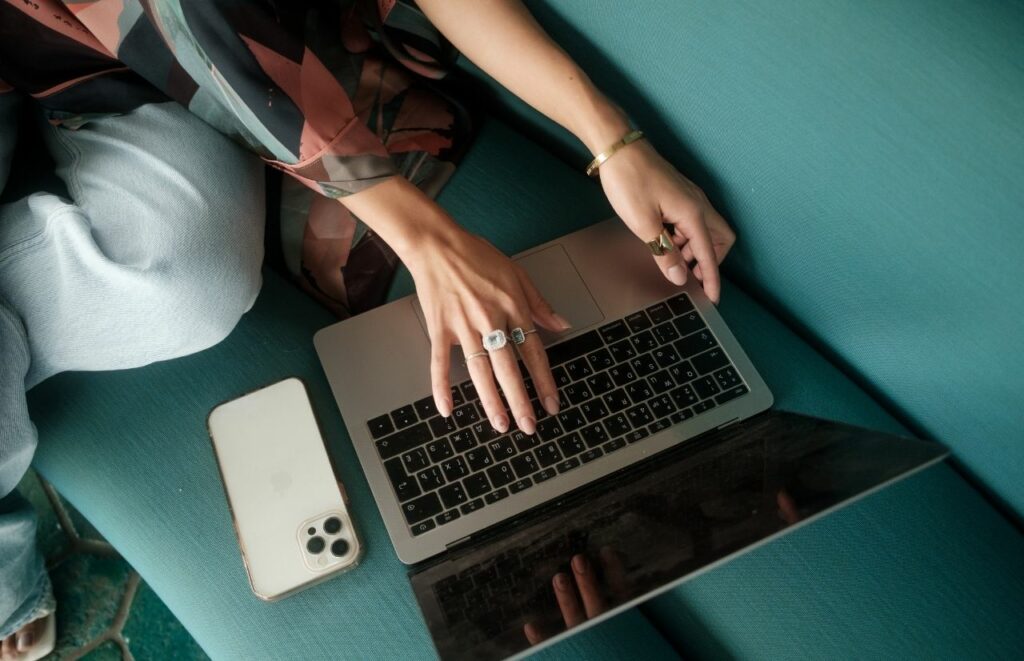 When you have the right tools for the job, like the Bramework blog creator you can grow your content strategy with ease.
If you are feeling overwhelmed by the concept of optimizing your content for SEO, we are here for you!
Reach out to us and let us know how you are reaching the search engines, we'd love to hear from you.
Stay tuned for more content from our team as we continue to grow our blogging resource library just for you!
Happy writing!
Image credit: unsplash.com, bramework.com
UP NEXT: Business Blogging: 11 BEST Practices to GROW Your Traffic Today!
(Original Article Date: August 25, 2020/Updated by Editor on June 8, 2022)
Get Your FREE AI Generated Blog Outline
Cut Your Blog Post Writing Time in half
✅ No More Writer's Block
✅ Instant Post Structure
✅ Write 5X Faster!